Arsenal returned to winning ways in the League, as they scraped up their first points of the season against Norwich City at the Emirates. While the three points are a relief in what happened to be a gritty start to the season – there were alot of positives to take from the game. While one of the highlight reel is Arsenal's latest recruit in Takehiro Tomiyasu, who looks sharp, bright, and has qualities the Reds from North London were longing for.
Let's get into some analytics and take up why the Arsenal have a Japanese army knife in Takehiro Tomiyasu;
Arsenal Lineup vs Norwich City
Arsenal lined up with a back five relatively unknown to each other. Two of the five were making their Premier League debuts for the club while Gabriel started his first games for the season and White made his 2nd appearance for the club in total.
Despite the yet undeveloped chemistry between them, the back four plus Ramsdale faired well against a Norwich side that didn't want to move away from their high intensity, front foot playing style which got them onto the big stage. Norwich were outshot 30 to 10 in what was Arsenal's 2nd highest shooting performance since December of 2017. Despite the shot dominance, Arsenal only converted 3% of their shots into goals, or better said – a goal.
Takehiro Tomiyasu: A good fit
The busiest of the back four was no one other than Takehiro Tomiyasu. The Japanese international has shown why he can be trusted in a role highly specific and complex, even in this day in age. We've seen him as a centre-back, a tucked-in midfielder, and an overlapping/underlapping fullback who doesn't shy away from a cross or even a shot for that matter. Others have played this role for Arsenal in the last two years or so but other than Maitland-Niles, there were always clear and visible flaws in each of Chambers, Cedric, and Bellerin's games. The role requires an above average technical level and a high level of positional understanding alongside certain standards of physical quotas which need to be met. Let's not forget he had one training session with Arsenal – a day before the game, which shows how quickly he's able to adapt to new surroundings and thrive.
So what makes him special? What doesn't? Physical specimen capable of defending high, wide, low, and narrow. 6'2 with a seemingly lean and yet physical frame. Granted, there are much bigger tasks than defending and covering Norwich's attackers but his fundamentals are well developed for the Premier League. Long strides and a fair share amount of pace really do make him a hassle to play against, which Tzolis found out after completing 0 dribbles against him. He's faster than he looks too, he can cover big spaces and isn't afraid when it comes to 1v1 defending.
Tomiyasu's role and versatility
Tomiyasu slotted in perfectly. Arteta is no stranger to hiding the flaws of others by simply being smart with the personnel around them. Tomiyasu did just that for White. He won 7 aerial duels alongside 3 ground ones. That wasn't on the account of volume either, in fact, he had a 77% success rate in total. The sample of one game is not near enough to slot him into any rankings yet but that number and success rate of total duels, especially aerial ones are among the league's best currently. When White ventured forward, Tomiyasu stayed alongside Gabriel. When White looked for an option at right-back, he was available. The duo of Gabriel-Tomiyasu on either side of White protected him and protected him well. That's not to say White hasn't repaid that back in the game. He had a total of three key passes – which is simply stunning in comparison to last season's numbers. This is one more than David Luiz's entire season last year.
Tomiyasu looks like the mainstay in Mikel's right-back role for now. Systematically he suits him to a tee. His position is a lot more advanced than just a Ben White cover. His versatility is what makes him so unique and comfortable in three positions he goes over in the 90 minutes.
Right sided centre-back
Metrics mostly have him as a centre-back from his Bologna days so this transition wasn't difficult. Depending on Tierney, this is probably the position he'll end up taking the most.
Right wing-back
Although he didn't join the attack as much, he showed he's got good close control and is comfortable using both feet. Is he what Pepe needs there? Probably not but that's more of a system issue and Arteta opting for a profile that suits him more in other areas of the pitch.
Inverted right back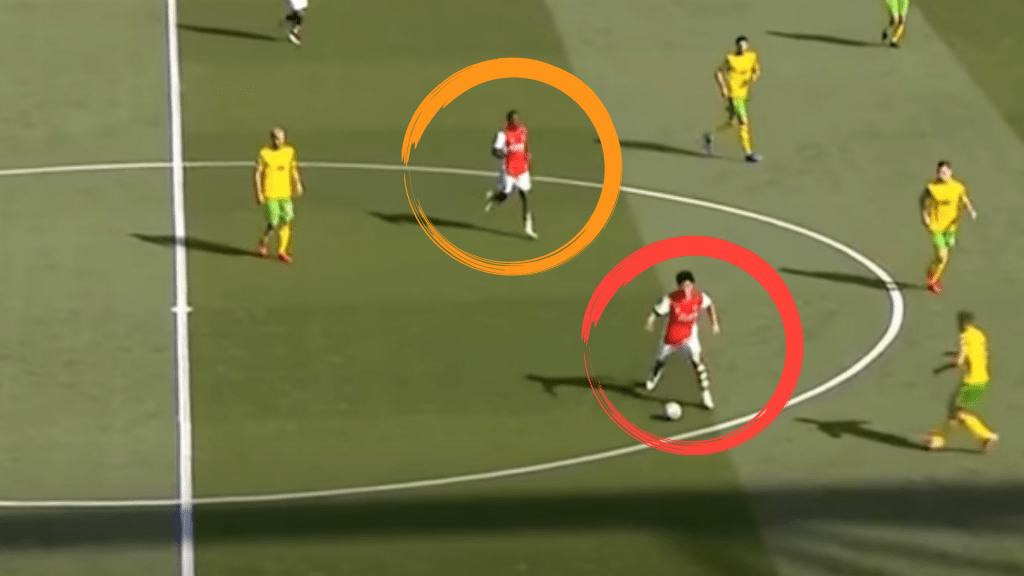 His high technical level allows him to offer himself as an option in midfield too, he's a good enough passer to not be uncomfortable in central spaces. Will Arteta lean towards a 4-3-3 more now that he's got someone mobile enough to fill the middle, cover the spaces and be a physical presence in duels? Maybe. Partey back and a mobile backline of White, Tomiyasu, Gabriel, and Tierney and options open up. Arteta might be convinced that he can allow more bodies forward now.
Life without Xhaka
With Xhaka out, Arsenal's left-hand side bias balanced out. Tierney was still involved as before but not at the expense of other attackers or as the primary go-to move in the attack. Tomiyasu provided the much-needed balance in order to get White on the ball as much as possible alongside giving Pepe the space and support he needs to thrive – even if that particular connection didn't combine too much. Supporting runs, drawing players away from him, and filling up midfield spaces to gain a numerical advantage. Pepe had time, space, and most importantly, constant involvement. In comparison to the first game of the season against Brentford (similar level of toughness and game state), Arsenal attacked down the right and through the middle 68% off the time versus Norwich compared to 55% versus Brentford. How much of this can be accompanied by Xhaka missing out and Tomiyasu slotting in? It remains to be seen.
One for the future
We still need to see what Tomiyasu's attacking game is like, we've only seen glimpses of what he can do once he gets into the final third. A tipped Krul save alongside a delicate cross into Pepe's feet were all that we saw from him once he gets going. Attacking in volume is obviously not his main ask in this role but if he can be useful and occasionally dangerous off that right flank, Arsenal are sorted in the right-back position for years to come.
We've seen how he can bring the best out of White already and help Pepe too. Consistency and high-level performances are all it takes for him to be great. Arsenal have one of the youngest cores in the league and at only 22 years of age, the world is at his feet. Arteta's future remains unknown but Takehiro's looks bright. Let's see what he can achieve.