It was a day of rejoice for Brentford faithful, watching their belovedclub making strides among England's most elites as the West London side marked their return to the Premier League with an impressive three-points off Arsenal. Mikel Arteta's side looked disoriented although with a glimpse of ironed training ground moves, while Frank Thomas' side bettered the visitors tactically as well as physically to carve out a historic day for Brentford Football Club.
Sergi Canos finished a tight angled pass past Leno on the near post (which the German is be expected to save) to announce Brentford's arrival to the Premiership. Arsenal worked tediously to notch one back but the Bees defence proved to be a wall that they couldn't breach. While the Gunners were looking for an equaliser, they shipped another one past Leno – this time from a long throw, which again, is expected to be dealt with rather than ending up in the back of the net.
While Mikel and Arsenal have a lot to look back on and improve, their counterparts are looking strong in the most chunks of the game. Although it's just one match to look back on; there were many recurring blunders that the men from North London need to sort out.
Though many would point out the absence of Pierre-Emerick Aubameyang and Alexandre Lacazette as critical to the final result. Although the duo has been Arsenal's paramount for goals over the past couple of years, the likes of Flo Balogun and Gabriel Martinelli are rated enough to get the Gunners results on their day. It definitely was a trip to forget for the North-Londoners.
LINEUPS
Brentford lined up in a three at the back, as their latest recruit Kristoffer Ajer was slotted in at right centre-back with Sergi Canos and Rico Henry playing the wing-back roles in the midfield of five. Ivan Toney leads the line partnering with Bryan Mbeumo upfront.
Mikel Arteta had to scrapper out for forwards, as Arsenal skipper Pierre-Emerick Aubameyang and Alexandre Lacazette took ill. The shepherds from Hale End excited everyone around the club as the likes of Flo Balogun was handed the start, alongside the talent of the century, Gabriel Martinell. Injury to Thomas Partey meant, Albert Sambi Lokonga played as a pivot with Granit Xhaka donning the arm-band. Arsenal's marquee recruit Ben White was partnered besides Pablo Mari at the heart of the defence.
ARSENAL BUILDUP VS BRENTFORD
As Mikel Arteta did in the majority of his pre-season fixtures, Arsenal maintained a front-five with a pivot of Xhaka and Lokonga supporting in the middle. Emile-Smith Rowe and Calum Chambers played condense role as when The Smith used to drop on pockets, the latter would replace Smith in the front five to maintain high density in the final third.
The Gunners started the game pleasantly, pushing Brentford into a low-block and trying to break lines with moments complemented by passes. Although this was the norm for the majority of the time Arsenal maintained possession, the appalling movements faded with plodding passes. Arsenal under Mikel Arteta are prone to slow buildups, and by the time they get into the final third, the opponents' defence have already settled which in turn forces them to get creative beyond eyes. While Emile-Smith Rowe has been someone who picks these passes every now and then but implementing a way that lets opponents settle has become a thing of frustration with the Gunners. [Many would argue, Arsene Wenger's Arsenal used to maintain a heck lot of possession in the final third – although, on the contrary, his team played with freedom and creativity complemented by moving the ball at pace]
The visitors tried to pick out Nicolas Pepe and Kieran Tierney to a great extent as they tried to overload Brentford's penalty box to snip in crosses. Arsenal did play Gabriel Martinelli and Folarin Balogun, both of whom can head crosses on regular basis – but this has become a norm for the men in Red and White. Arsenal are finally playing the way Olivier Giroud is in the middle, alas! that's not a profile they have. Even if PEA or Lacazette would have taken the field at Brentford Community Stadium, neither of them are physically competent enough to win aerial duals like Mikel wants them to.
Another thing to pick off Arsenal build-up is how high Kieran Tierney is deployed. The Scot has been a decisive figure in the final third multiple times with his never-give-up mentality. To utilize most of that, Tierney was availed as a winger rather. Every time Arsenal tried to buildup, KT was part of that front five looking for runs and turns.
BRENTFORD ON PRESS
One of the standings where Thomas Frank's side bettered Arsenal was pressing. The Bees' were humming around every Arsenal player with pace, agility and desire. It was not only about pressing the Gunners' into mistakes but also about snatching away the ball and making them feel uncomfortable. Arsenal faithful are used to see their club back into their cocoon when the stadiums are loud against them, and that's exactly what happened.
After a handful of minutes on the front foot, the hosts started pressing Arsenal for every touch and every possible pass. Most Arsenal players were forced to think about their next passes rather than the other way around. We will take up some situations from the match which depict the same;
– BRENTFORD PRESS ON GOALKICKS
Bernd Leno was nourished out of options every time he had to keep it on his six-yard line. The wide centre-backs waiting to start from pass one were weighted by the duo of Ivan Toney and Bryan Mbeumo, which was followed by Onyeka and Janelt pressing the midfield to make sure they don't get any space if the ball were to get past their warriors in readiness. This meant Leno couldn't risk passing it out to either Ben White, Pablo Mari, Sambi Lokonga, or Granit Xhaka. Leno, not trusting his defence to get past this press, was forced to kick the ball in the air hoping Arsenal could land possession on the second ball.
– BRENTFORD PRESS EVERYTIME ARSENAL WENT BACK TO LENO
Compact teams thrust opponents into finding spaces with their creative abilities, and Arsenal (as mentioned earlier) trying to plunk some zing into the final third after dawdling to get a perfect pass into the final third were forced to start getting the ball on the trailing end to open Brentford up. That's what exactly happened.
While Arsenal wanted to break Brentford's resiliency, the pace at which their front five came up the field caused a lot of distress for the Gunners. The Bees made sure Leno had to take a leap of faith every time Arsenal tried to accumulate passes at the back. The picture below exhibits how Leno has to perfectly weigh a pass to Calum Chambers (who also is on the wrong side of the ball) to get out of the box without conceding any mistakes. Arsenal's most competent player on the press, Ben White, is subject to a pacey squeeze form Ivan Toney. While Bryan Mbeumo is bulldozing Leno, he is also blocking a passing lane to Sambi. Sergi Canós is marking both Granit Xhaka as well as Kieran Tierney.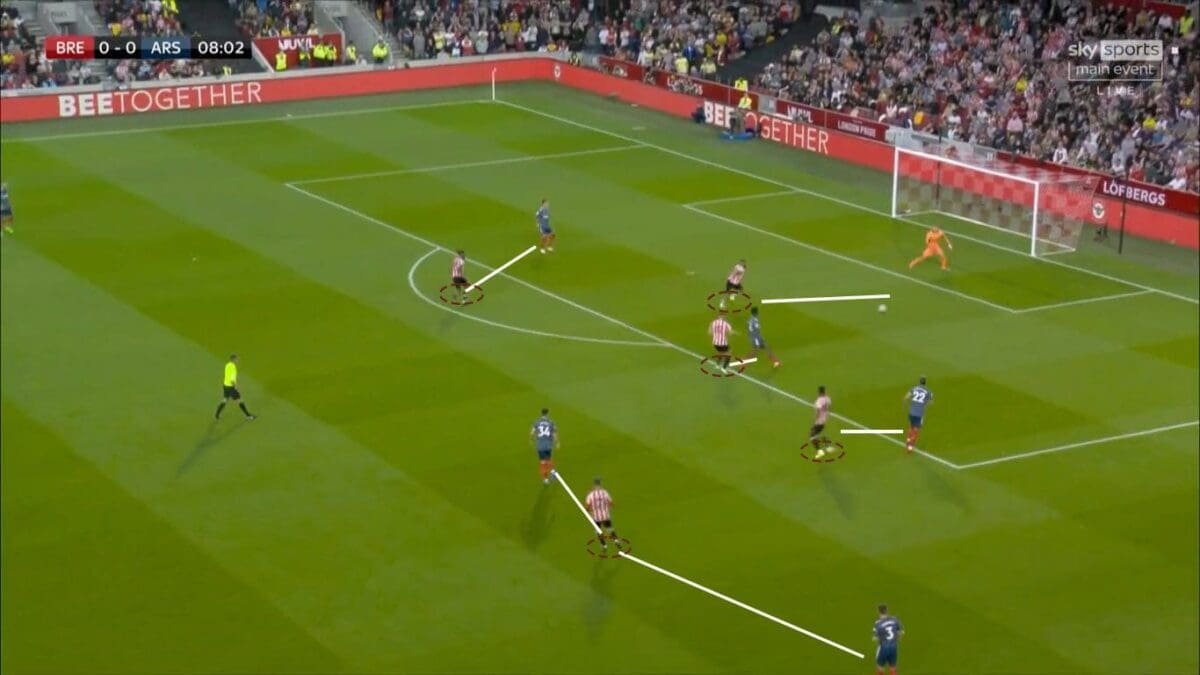 – BRENTFORD PRESS IN BUILDUP
As already stated in the above fragments concerning Brentford's peculiar presses, it was no different throughout the game irrespective of which third it was played. Thomas Frank made certain that Ben White didn't get the space to progress the ball and beat the press causing havoc. Although Benjamin did manage to do so on occasions, Toney didn't give him breathing space on the ball to pick out a pass or dribble through the press while also trying to block potential passing lanes. This was a risky move knowing how good Ben White is on the overhead balls as well, and those did end up close to a potential goal a couple of times – his progression was kept limited.
They tried to match Arsenal man-to-man in order to assure the Gunners would have to make swift moves if they were to move past them. Something which worked on the night, but also could have seen the back-of-the-net on other days.
BRENTFORD BUILDUP VS ARSENAL
While Arsenal were abysmal to wedge in final passes and match Brentford's intensity on press on the build-up – the Bees' were quick-witted to do so. They not only tried passing from between the lines of Arsenal's players but also used lofted balls to clear Arsenal's press. While Mikel Arteta has always been quite clever in dealing with teams who initiate three defenders and pressing wingers, their movement caused Arsenal players a lot of trouble.
Thomas Franks' side looked well drilled with all the passes and positions as they cleverly used the space to get behind Arsenal's midfield pivot of Granit Xhaka and Sambi Lokonga. It was as simple as it gets, commits players on you and pass the ball. Though their passes were not initiated to players they were nimble-witted into spaces – be it a through ball or an overhead pass.In the pre-season fixtures, Arsenal were caught out multiple times on a high line (as Mikel wants to win the ball as high as possible). Although the visitors were smart to ensure they don't provide space for Brentford to run in as they did against Chelsea, the likes of Ben White and Pablo Mari were cajoled up the pitch to open up space behind the defensive line. The below specimen shows how Arsenal's marquee arrival was persuaded into blocking the passing lane which in turn opened up for Toney to lay off a through ball.
The snippets below manifest how Brentford soaked Arsenal's left only to catch them by an overhead ball to start the attack.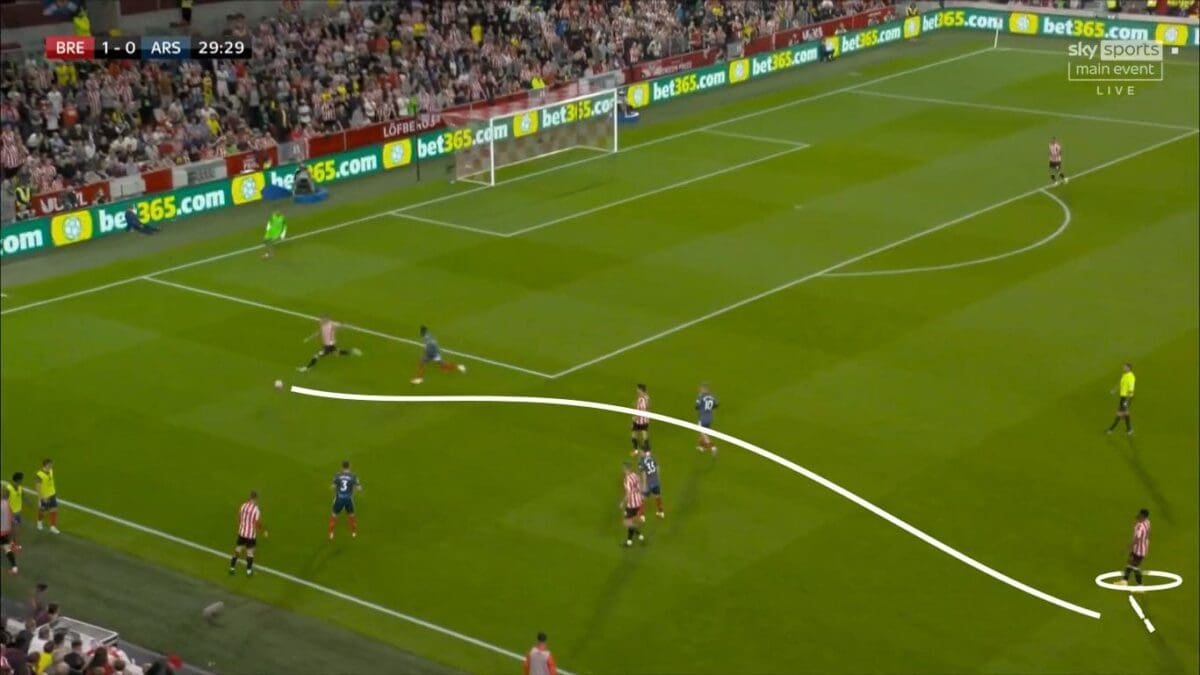 While elevated balls are considered the best way to beat the press, the hosts did that excessively. Some of them led to exactly what Thomas Frank was hoping for while the other times they handed the ball straight back to Arsenal.
ARSENAL ON PRESS
Knowing how much Mikel Arteta emphasizes on pressing and defending as a unit is adequate to suggest that the Gunners are one of most determined teams without the ball with all the small movements and tweaks for every pass and touch. Arsenal's front four played an compelling part to enhance Arsenal's capabilities to win the ball as high as they can. While Arsenal, like Brentford, did not try to run in with impulse to catch the opponents – they just tried to outsmart them into giving away the ball. This has been the case throughout the preseason and the same continued into the Premiership.
– ARSENAL'S PRESS ON GOALKICKS
Flo Balogun, Gabriel Martinelli, Nicolas Pepe ensured that David Raya cannot pass the ball to any of his defensive three and were breathing on their shoulders as soon as that happened. Raya, on multiple occasions, was forced to take the aerial route to breach Arsenal's offensive press. This also could be laid down to Raya's trend of hitting the ball in the air majority of times throughout the ninety. Tactical planning or impact of Arsenal press? – it kinda serves both purposes.
While the front four were critical when the ball came from David Raya, their pace and hunger also meant – they were sprinting to the defender when they have the ball. While Arsenal saw them dominating on the front foot, they tried to overload the player and the passing line to win the ball as soon as possible. This is quite a risky move which when didn't work lead to explosive counters but did make sure the Gunners could outnumber the hosts when they win the ball high up the pitch.
BRENTFORD EXPLOITING ARSENAL'S PHYSIQUE
There is no potent presence in Arsenal's defensive line who can dominate and dictate things with their physique. The arrival of Ben White is not meant to provide Arsenal with any flesh, he's meant to partner with a no-nonsense defender viz. Gabriel Magalhães or William Saliba, to form that nasty-and-nice combination at the back. While White is a smart player, being alongside Pablo Mari just doesn't complement his attributes.
Though with William Saliba shipped out on loan and Gabriel Magalhães recovering from injury, Mari was the only left-footed centre-back Mikel had at his disposal. Both Ben White and Pablo Mari are not built figures, and that leaves a hole in Arsenal's back-line. Thomas Frank's side tried to get the elevated ball high up the pitch and countered Arsenal on the second balls. It proved evident that Arsenal needs the Brazilian to return as soon as possible to form a much-awaited partnership with Ben White in heart of their defence.
This turned out to hurt Arsenal beyond Mikel's expectations. Arsenal's lack of physical presence was exploited brilliantly by Brentford as they put bodies against bodies at every chance they got. Both of the goals the Gunners conceded had something or the other to do with losing out on aerial duties;
Before Canos put the ball past Leno (Brentford's first goal), Granit Xhaka was silenced physically for Brentford to lay-off header into Arsenal's box which was crossed only for Xhaka to come close to giving away a penalty for a high foot. Chambers did clear the ball, only for Canos to run in and score his first Premier League goal past him.
The second one was very scrappy to concede. Toney getting better of his markers physically to ensure the ball is laid to the far post where Brentford players were quicker to react and sealed their three points with a header from Christian Nörgaard. Arsenal have brought in a set-piece coach from Manchester City and dead-balls seem to be one of the problems for their defence.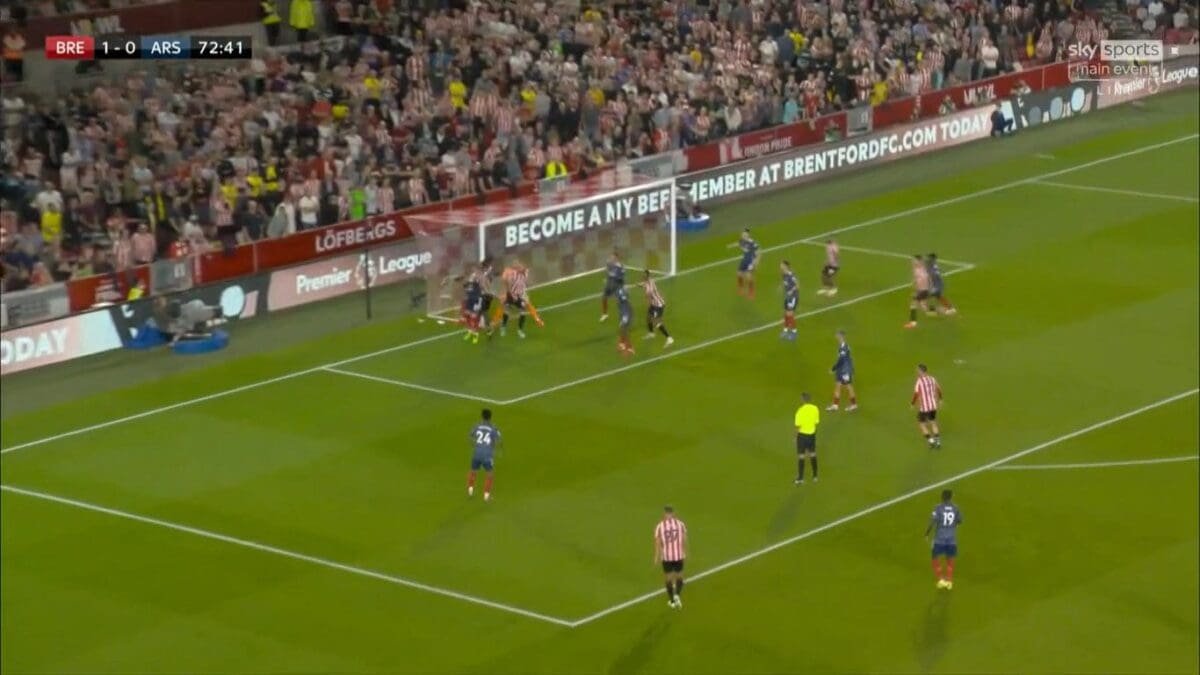 Arsenal were let down physically everywhere on the pitch, and they need to address it as soon as possible to avoid teams trying similar tactics to get better of their back-line.
BRENTFORD EXPLOITING WITH CROSSES
While Thomas Frank wanted to use his players' somatic build to cause Leno problems, whipping the ball behind Arsenal's back-line was just the start of it.
The hosts' have always been authoritative when balls are curved into the penalty box, we saw this in Championship last season where Ivan Toney used to run on his marker to get some space on the near post while his striking duo would drop between the defenders to pick up either the cross or Toney's flick on the far post. This is what Brentford stuck to on Friday night as well. Toney would run on Ben White and Bryan Mbeumo would drop between Pablo Mari and Kerian Tierney. The exhibit below shows how their movements caused Arsenal trouble from the whipped balls;
The Bees' also used long throws to get the ball inside Arsenal's six yards line to endeavour similar results. Yet this time around, they not only had their front two but also brought in reinforcements from the back to nudge in those free crosses. Brentford bust a gut with long throws a couple of times before they got their second goal from the same.
Sergi Canos could also have whipped in on a 3v4 at the time of the first goal. Toney already had an upper hand on Pablo Mari and Kieran Tierney while Mbeumo was between White and Xhaka as Nörgaard had the upper hand on Ben White at the near post.
TOO MUCH LEISURE
Mikel Arteta, from day one, has strived to bring in a pitch-perfect football where all the players are attempting to play their role in a habituated environment. This indicates how exclusively they train to ensure everyone is drilled in with their roles for any particular play. Although while Arsenal tries to walk in attacks with a front five or six with their midfield pivot taking charge of placing their balls in the final third – it's far from what the Gooners expect. Arsenal under Mikel are criticized for too much passing without any threat to opponents' defence and while their desperation does increase, they remain patient through the build-ups. While that's understandable considering how Mikel wants his team to behave, but it's silly to stick with that even when a clear opportunity for a key pass arises.
The Gunners were placing Kieran Tierney at the centre of their attacking outputs and while they tried to buildup from those 'side passes' they forgot all about passing when and where it mattered. Here are some instances where Arsenal with a through ball can cause problems to David Raya but chose to pass the sideways around;
Granit Xhaka, in the exhibit above, can initiate Gabriel Martinelli on goal with a through ball though he chose to go the KT path (as many of the Arsenal players did throughout the game).
Nicolas Pepe, similar to the first instance, can initiate Gabriel Martinelli on goal with a through ball though he chose to go the KT path.
It's understandable that these gets highlighted because it's the final third. Now imagine all the situations in the two third's, everybody can see the passing patterns players just won't execute. Might it be because of Micromanaged & technical capacities? – Just thinking out loud.
Calum Chambers can Nicolas Pepe from the right but does not spot the pass and takes the ball back to Ben White.
While there were cases where passing centrally almost led to goals, to everyone's frustration the patience Arsenal have to whip in a cross after hundreds of passes is abysmal. Below are some instances where passing in and from the middle troubled Raya & Co. to a decent extent;
This attempted pass from Nicolas Pepe almost led to a shot from Gabriel Martinelli, it was just too heavy.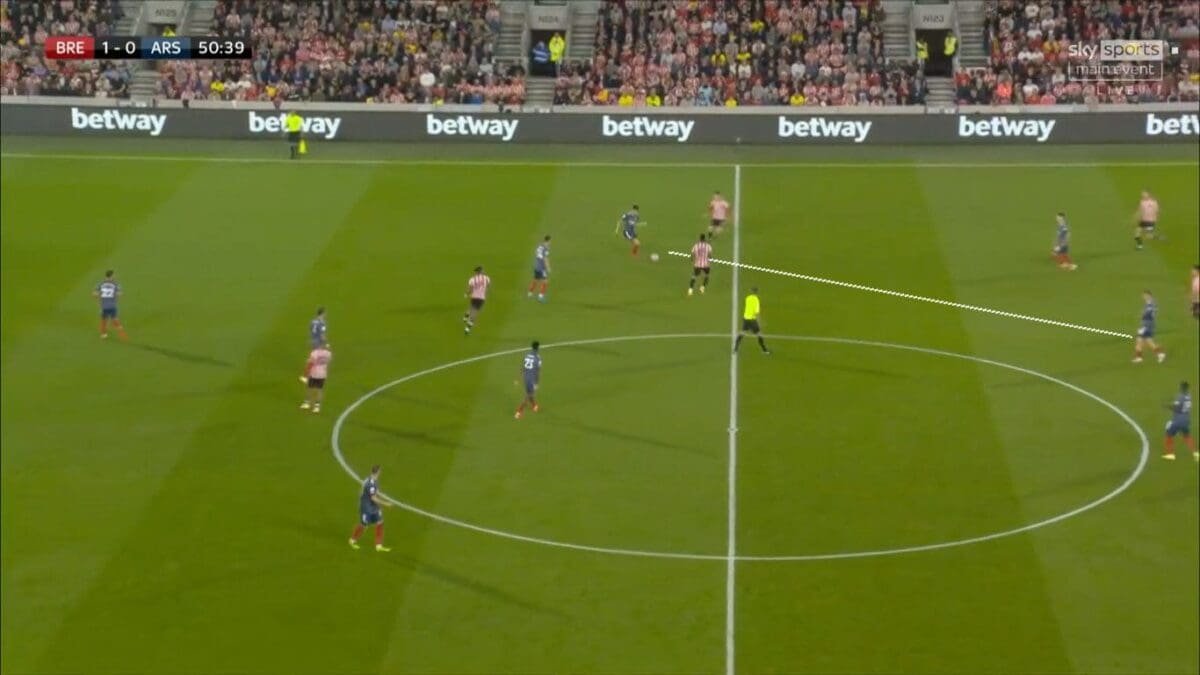 Tierney pushing Smith-Rowe from in between the lines turned for the Englishman to shot on Brentford's goal, only for Raya to parry it away.
DREADFUL MARI
With William Saliba being forced to play yet another year away from Arsenal, the Gunners have only a couple of options at the left centre-back in Gabriel Magalhães and Pablo Mari. While Arsenal relied on the Brazilian during most part of the last campaign, his injury means they had to play Pablo Mari. The Spaniard had a few decent games last year after Arsenal's Europa League focus meant him getting minutes in the League but he has looked far from Arsenal quality coming into the new campaign. His form in the pre-season raised a few questions about his potential involvement, one of the incidents that stood out was his role in Spurs' first and only goal in the concluding match of the Mind Series.
Let's walk through that Son goal before entering into Pablo Mari's performance against Brentford. Japhet Tanganga dispossessed Nicolas Pepe before playing the ball to Giovani Lo Celso who lofted it back to Tanganga as the Spurs' starlet crossed the ball to the South Korean International, who put it past Bernd Leno. While Tottenham supporters were celebrating their hearts out, Arsenal fans were left sour over the Spaniard's attempt to win the ball only for him to be left on the floor. Plenty of Gunners faithful expressed their startle over keeping Pablo Mari and finding William 'the Mbappe of defenders' Saliba incompetent to represent the cannon badge.
Against Brentford, Pablo Mari looked soaked up in all the pressure. Making mistakes which would have led to goals more often than not and pressing too high only to throw Ben White into a do-or-die situation at the back. Some of the representative cases showing his fallacy at defensive as well as offensive approaches on Friday night;
– POSITIONING WITHOUT THE BALL
Pablo Mari without the ball tried to maintain a high line alongside Ben White while corroborating Mbeumo, although the latter got the better of Spaniard on multiple occasions it was down to Pablo's movements and aptness to contain Mbeumo with his swiftness.
In the sequence above, Mari clears the overhead pass off Mbeumo only for Brentford to take up the second ball and lay it down to Ivan Toney. At this point Pablo is in two minds – whether to press Ivan or mark Mbeumo and as he pauses to contemplate the same, Toney flicks a through ball to Mbeumo who ended up banging the near post after some air to work with upfront.
The above-mentioned extract is another example of how Brentford lured Pablo Mari up ahead and exploit the space with passes. Arsenal were caught off up ahead which led to Mbeumo getting running space only for Ben White to cover for it and things eventually led to a one-on-one with Bernd Leno, which lucky for Arsenal – Mbuemo missed.
As Arsenal started on the front foot in the second half, things could have gone from bad to worse early into the subsequent half as Pablo Mari committed early on Mbeumo inside the penalty box which not only resulted in him being beaten (just like Japhet Tanganga against Tottenham) but also put Bryan Mbeumo clear on the cross. It's comprehensible that he wanted to catch them as soon as he can, but two similar consequences at the same place trying to do somewhat the same thing shows a lot about the problems than the solutions.
Arsenal's problems in passing out from the back are customary and that seconds why they brought in a ball progressing defender for 50million in Ben White. While White is competent on the press, his counterpart is equally ill at ease. Brentford tried to not give the Former Brighton defender any space to beat the press though as Mari's feet touch the ball – they started to press him with motivation to regain it rather. In the instance above, as the hosts tried to drain Mari's passing options, Mbeumo looked to regain possession up the field. That press perspired into a mistake from the Spaniard and Brentford regained possession high up the field.
– MUDDLING WITH THE BALL
While Mari is not the best passer of the ball, he does rotate the play decently. Playing alongside Ben White has its convenience about progressing the play – though at times, Pablo gave away the possession poorly and it may be down to desperation or concentration. Both of the aforementioned causes were at the play in the fixture;
This first instance (above) is a show of scarcity of concentration. Mari wanted to hand in a simple pass to Gabriel Martinelli which he got wrong and led to almost a counter. Yes, both of the centre-backs were quick to react and haze off the threat but such sloppiness is not expected from someone playing for Arsenal. Pablo Mari also attempted some over-head balls to his credit, although it also can be reasoned down to draining options on press rather than systemizing a skill.
The second instance manifests a desperate clearance made by Pablo Mari, although he had the options and the space to convert Brentford's high-pitched passing lanes into a counter for Arsenal. Many would grind that he went for a safe route and didn't have the time to showcase passing skills though the likes of Lokonga, Xhaka, and White have showcased their passing and spotting skills. For a team wanting to rely on beating the press with passes and the defensive pivot the central forecasters, Mari needs to start spotting and making these passes rather than giving possession away out of desperation.
OH NO! LENO
Mikel Arteta wants to play from the back and that means the Gunners need someone between the woodworks who is resilient with his feet. Bernd Leno, although he has saved Arsenal on multiple occasions in the past and I may be harsh on my criticisms, has not looked at his best since that injury against Brighton.
From the very first boos in the Brentford Community Stadium when Leno was trying to pass out from the back, the German looked rocky. He switched his approach from playing it out from the back to booting long balls. When you want to buildup on passes the CBs are stretched wide to draw oppositions out and this kind of shape is worst to lose the ball, as your primary defenders are isolated in space and can do nothing out of it. This kind of football is very difficult to play with someone like Bernd Leno at the back, whose passes generate either a turnover or are too lose. The majority of Brentford's chances came when Leno was exposed. Below is one such specimen;
Brentford came close to doubling their lead in the thirty-seventh minute when Leno pushed an ill-weighted pass to Granit Xhaka. Playing out from the back is non-advantageous if your team gets exposed on a consistent basis. Bernd, despite being calm under pressure, doesn't always repel the passes right. This has been a trend late off, from the horrendous preseason passing range to what happened a couple of nights back.
Bernd also was at the centre of letting in two soft goals which certainly doesn't help his case. The first one from Sergi Canos is a savable shot at the near post – agreed it is hit at pace but at the near post with a tight angle, that should be hitting the gloves. And from set-pieces, Leno tried to get off his markers but isn't a goalkeeper's job to beat it and catch the ball? – the second goal; Leno stays on his marker and can't come out to punch the ball or generate any possible touch to differ the ball ending in the back of his net. Leno, at times, takes too long and is hesitant which ends up putting Arsenal back under pressure.
Arsenal are looking for a backup goalkeeper, though the fact they were ready to shell out 30million on Aaron Ramsdale indicates that the new arrival will not just be a fiddle. Arteta, when Emi Martinez left, indicated that he wants to create competition for goalkeeping position to bring the best out of available options, and the arrival of someone like Onana or Ramsdale might just feed more into the mistakes Bernd has been making off late.
NOT POCKETING THE SMITH
Emile 'The Smith' Rowe has been filling out that number ten role marvelously and was the center of everything Arsenal produced going upfront. You could argue Kieran Tierney played that role, though anything that went centrally and was a potential threat to David Raya's goal went through ESR.
Smith-Rowe has been exceptional in the pockets and picking out spaces. Arsenal's number 10 had an impressive Friday night with a hundred per cent passing accuracy in the final third and creating a couple of big chances. He, alongside Sambi, were only ones who passed between the lines and were bankable to beat Brentford's press.
Below are some instances where ESR caused Thomas Frank's side problems;
The one time when Kieran Tierney was back on his natural left-back position, he carved out a pass for Emile-Smith Rowe – whose turn exposed Brentford's press and his run was paced in a way to dribble past the host's midfield and ended up with a shot on Raya's goal. That could have gone in. As the canvas (above) indicates how his run beats three midfielders and Smith-Rowe has defenders scrapping to serve their goalie in any manner they could.
This (above) is one of the best offensive displays from Arsenal on the night. Smith-Rowe combined with Albert Sambi Lokonga as he passed one-off and ran into the space in the middle of Brentford's defence and received just a little high-weighted ball from the Belgian. To David Raya's credit, he was quick to read the lofted pass and come out.
With everyone around him passing sideways, Smith-Rowe deeming to break the press gassed himself diagonally to beat his counter parts breaking his lanes followed by a pass to Gabriel Martinelli in the final third. This was not an occasional occurring, ESR did this many a times on Friday night. Below is another such instance where the Englishman not only beats the press but also puts in a progressive pass to Nicolas Pepe.
Emile-Smith Rowe was the central figure of creativity since he made his mark against Chelsea last season. Coincidently, Arsenal will host the Blues from London next week. Although Mikel Arteta needs to address the creativity affair sooner rather than later. The hosts of players linked with a move to North London does provide that creative edge and they could partner the Smith to break lines for that front five on possession.
EXCEPTIONAL BEN ON THE BALL
As we've established for a fact that Mikel Arteta wants his Arsenal to play out from the back, though with the resources available at his disposal it was difficult to instil a passing regime in front of Bernd Leno. Yes, Rob Holding is a good figure to have in your defence binging in the orthodox defensive style to the back-line. Although he has been jabbered a lot due to his passing hassle. So, Arsenal went and brought in someone who can progress the ball from the back in Ben White from Brighton, who also plays a lot similar to Mikel's composed build-up.
Benjamin had a decent outing at the Brentford Community Stadium, having to cover for Pablo Mari for most of his involvement at the back. It was this one time when the England international was bettered by a sharp turn from Bryan Mbeumo. Other than that he had a promising outing and one thing which stood out was his passing, he worked out multiple overhead balls as well as there were times when Brentford had to think twice about pressing White – if he could dribble past that then Thomas Frank's side are exposed. Below is the video showcasing some of White's passing abilities vs Brentford;
As stated above, White is a smart defender – he is not a player who would physically dominate players and he needs someone likes Gabriel Magalhães or William Saliba alongside him. Lewis Dunk played that role at Brighton and paring Ben with someone like Pablo Mari would not help Arsenal's defence.
HINGING ON KT CROSSES
Arsenal have a lot of young players with booming potential, and one of those lot is Kieran Tierney. KT has a sensational left-foot and he knows how to cross the ball. Mikel Arteta and Arsenal need to maximise the best qualities of their best players, and having the Scotsman curling in the crosses is one of them. Many claim the Gunners were too reliant on the 23-year-old and his abilities to whip the ball in. He doubtlessly did an exceptional job, but it's too foolish to rely on just that.
Tierney's ability will be sensational if Arteta uses a counter-attacking setup, but against teams that have a low block, he needs to approach them by using Tierney's ability to stretch the pitch on the left-hand side and passing the ball across the pitch quicker. You remember that thing about Arsenal's performance in the final third is slow. If they move the ball quicker and stretch the pitch then Tierney's crossing ability can be used even against low block teams simply because he puts it in a dangerous area.
Arsenal tried to use the offensive abilities of Gabriel Martinelli, Flo Balogun, and Nicolas Pepe to get on the end of Tierney's crosses. Although rather than questioning Tierney's crosses and whether Arsenal were too reliant, it is the movement of the players inside the box that need's to be worked upon. Alexis Sanchez used to do that brilliantly when Nacho Monreal or Mesut Ozil used to whip the balls in. Alex Lacazette did that quite well in his first season as well.
As much Mikel Arteta has deputised under Pep Guardiola or played under Arsene Wenger, many forget he played his formidable years as a player under David Moyes and that shows a lot on the pitch. The Spaniard not only wants to dominate the game with loads of possession and free-flowing football, but he also wants to get his full-backs involved offensively to barge in with these crosses.
The visitors definitely need to work upon creating abilities beyond Tierney, and even if they do they need to get these movements inside the penalty area right. Even Liverpool, you could argue, do not have target men nudging for those crosses – but Andy Robertson and Alexander Arnold are their chief creators because they know how to use their crossing abilities.
THE INVERTED MARTINELLI
Gabriel Martinelli was a confused figure in the middle of it all. The Olympic winner started on the left but was used on the inside line with Kieran Tierney running up ahead on the wings. As explained above, Mikel chose to rely massively on Tierney's crossing abilities – the Brazilian was tasked with drifting in the middle from left to try to get on the end of those balls.
In the pre-season, Arsenal played with Eddie Nketiah and Flo Balogun in similar roles where they not only try to use their swiftness from the wings but also their goal-scoring prowess in front of the goal. To be fair on him, Eddie did this job brilliantly. But Martinelli is not at his best when transitioning around the clock – he needs to stick on the left line and come in with the ball at his feet.  Arsenal can use Ben White to explore his overhead passes to Gabriel and cause massive problems to Brentford considering how good Martinelli was last season doing the same from David Luiz' crosses.
While Tierney was always a threat, Martinelli struggled to keep up with this. Despite being the centre of Arsenal's offensive tactics, the 23-year-old made just one pass to Martinelli all match, with the Brazilian returning the favour precisely zero times.
Under using Gabriel Martinelli has been one of the fans' highlights under Mikel Arteta's management and the Spaniard needs to find the right balance between his tactics and the Brazilian's abilities to make sure he is the threat which Arsenal faithful know he is. This will prove very critical if Arsenal are to get a result against Thomas Tuchel's Chelsea next week.
BUKAYO COMING ON TO IMPACT MASSIVELY
To start with heads down to the Brentford fans for giving a standing ovation to B when he was subbed on. This not only shows that discrimination can be ended but also indicates that those who are abusing racially will not be forgiven and forgot – it will only unite the world and movement against them.
Bukayo Saka replaced Gabriel Martinelli on the left and brought a great deal on the wings. He was not only available for Kieran Tierney to bounce passes off him but also was a threat every time he gassed from the left. Saka changed Arsenal's fortunes last season and looks like the youngster has to shoulder the club for yet another season unless Arsenal brings in some considerable signings. You could argue Saka was playing a much different role to Martinelli once he came on, but the chemistry between him and KT was visible as the Scot passed six times to B, with seven going the other way.
Saka was also leading the press from the front, this time not what Arsenal did till the hour mark – he wanted to engage every opportunity he got. This shows much about his desire to not only win the ball but also not being afraid to do so. If Aubameyang and Lacazette remain absent against Chelsea as well, Saka could replace Balogun into the starting eleven with Gabriel Martinelli leading the ship. It could work in Arsenal's favour as they can use ever-moving Martinelli in the middle as well as the chemistry of Tierney and Saka on the left.
WHAT'S NEXT?
While Mikel Arteta is trying to make a team that everyone fears and can walk on everyone. It's important that players in half-space need to be agile & shift possession quickly (on his current tactics with five or six upfront). All the great teams have great players and Arsenal have massive potential youngsters to back what Arteta is doing. Yes, quality players are needed to do that and it brings me to potential incomings that can improve this side massively. Mikel and Arsenal have a long-term plan in place, while supporters' frustrations are considerable – they are building something which will provide Arsenal for years. It's not about how (as many media outlets are stating), it's only about when.
While one-off nights like these can create massive frustrations, Arsenal host Chelsea at the Emirates next weekend, and with fans back at N5 – Mikel Arteta & Co. will be hoping to upset 'title contenders' Chelsea. Though potential involvement of Romelu Lukaku means Pablo Mari cannot afford another game like Brentford. Arsenal could bring in an attacking-midfielder by then to partner Emile-Smith Rowe in the middle. You never know!