3 losses in 3 Premier League games, no goals, no points on the league table; Rock Bottom? Maybe not. 
The advantage of keeping low expectations is that one will surprise most critics when you get a good result as an underdog. However, that is not quite the case with Arsenal. They have been shambolic across the pitch, and the expectations of their fans do not drop year after year because they are still one of the 'Big 6'. Not a term most people enjoy, especially because of Leicester City's excellent half a decade in the last 10 years.
However, Arsenal are a big club, and they perhaps do have the right manager. The idea of a rebuild is a little lost on most people because it can be frustratingly long, especially when your rivals are going from strength to strength. The likes of Liverpool, Chelsea, and both the Manchester clubs have done incredible business in the past 3 years and have built sublime teams with a lot of quality squad depth as well. 
Arsenal will get to that position one day, it is just going to need a lot of patience. There is no manager currently available in world football that is competent enough to complete a re-build job. More often than not, it is ex-players who come in handy during such situations.
Ex-players are often the right people to conduct a rebuild:
Zinedine Zidane led the way with Real Madrid when they thought that the loss of Carlo Ancelotti would be a void they would not be able to fill. However, due to Zidane's expertise and the quality of players in Madrid was enough to win them the biggest titles.
Manchester United were in tatters when Jose Mourinho was sacked. The club was at a new low, and they were making all the wrong decisions – decisions they are paying for till today. However, Ole Gunnar Solskjaer has completed quite a re-build there, but that is also due to United's financial clout being a little more than most clubs in England. 
People will always have something to say about Frank Lampard, and even if it was a forced move, he did inculcate the youth into Chelsea. In his second season, he brought in some of the world's best players for £50million more than Arsenal's expenditure this year (approximately £150million). However, his team was also 9th on the table during a tough period. Although Chelsea's hierarchy are much more ruthless in terms of their managerial turnover, they knew they had the squad to move on from here and bring in a brilliant manager. 
Where do Mikel Arteta and Arsenal fit in here?
Arsenal's situation is a little different. A world-class manager will just go and buy experienced players and win the Emirates outfit a minor trophy or two. That is not what the fans want. They want to see a future, and the reason they moved from Highbury to the Emirates. Slowly but surely, Arteta is doing his job brilliantly.
Take out the financial aspect of it from a moment. Ben White, Albert Sambi Lokonga, Aaron Ramsdale, Nuno Tavares, Takehiro Tomiyasu, and Martin Odegaard are brilliant signings.
Ben White was probably one of the Top 5 defenders outside the Top 6 clubs. 

Sambi Lokonga is an incredibly adept box-to-box player.

Aaron Ramsdale is an astute shot-stopper.

Nuno Tavares is a tireless full-back. 

Takehiro Tomiyasu was one of the most versatile centre-backs in Serie A last year and performs his job really well. 

Martin Odegaard is a brilliant creator and already knows how the club functions.
On top of all this, Arteta also invested very smartly last year by signing Gabriel Magalhaes and Thomas Partey. The only signing that has not worked out until now is Cedric Soares, but he arrived on a free transfer. 
Moreover, with the existing lot, Arteta can create something special. However, the worst thing that could have happened to him at the start of the season is injuries, and they had a bucket load of them.
Arsenal's list of injuries at the start of the season:
Partey got injured in pre-season while Magalhaes has also been out for more than a month. Aubameyang and Lacazette both suffered from Covid-19 and still look a little weak. Bukayo Saka returned to training later than most players because of his international commitments during the summer. Ben White suffered from Covid-19 after the first Premier League game. 
Additionally, the likes of Martin Odegaard and Takehiro Tomiyasu have been signed-in the last 10-15 days, with the latter coming to the club on deadline day. 
Thus, Arteta has not even been provided a chance to perform with his signings. The results might be quite different once everyone is fit. Here's why!
Arsenal's Ideal XI and bench once everybody is fit:
Starting XI: Aaron Ramsdale/Bernd Leno; Kieran Tierney, Ben White, Gabriel Magalhaes, Takehiro Tomiyasu; Albert-Sambi Lokonga, Thomas Partey; Emile Smith Rowe, Martin Odegaard, Bukayo Saka; Pierre-Emerick Aubameyang. 
Bench strength: Bernd Leno/ Aaron Ramsdale, Pablo Mari, Cedric Soares, Granit Xhaka, Nicolas Pepe, Alexandre Lacazette, Ainsley Maitland Niles, Mohamed Elneny, Nuno Tavares, Gabrielle Martinelli, Sead Kolasinac, Rob Holding, Calum Chambers, Folarin Balogun.
This is a more than capable 25-man squad that can reach the Top 6 of the table and build on from there. The selections are also justified:
Aaron Ramsdale is exactly what Arsenal need right now. He saves most shots and has a good starting position, and even though he is not excellent with his feet, he can complete short passes very well. 
Kieran Tierney and Takehiro Tomiyasu are two perfectly complimentary full-backs. Tierney likes to venture forward, Tomiyasu likes to keep a more reserved role, although he can also bomb down the wings if need be. Right-footed Ben White on the right, left-footed Gabriel Magalhaes on the left– two tall ball-playing centre-backs with an average age of 23 and just the right amount of experience.
Thomas Partey is an excellent circulator of the ball, while he is also quick to win the ball back and is a real physical presence in the midfield. Alongside him, 21-year-old Sambi Lokonga, who can run for days, play the ball out of pressure and do every single job that a box-to-box midfielder needs to do so. 
Moving ahead, Bukayo Saka is probably one of the best teenagers in the Premier League currently, while Emile Smith Rowe is extremely talented and hard-working on and off the ball. Martin Odegaard is an astute creator and is the only Arsenal player who knows how to play in-between spaces and find the threatening pass. 
Pierre Emerick Aubameyang is a very good finisher, and he has a lot of experience of scoring important goals in important games. 
Off the bench, Arteta can bring on the likes of Nicolas Pepe, Alexandre Lacazette, Gabrielle Martinelli, Folarin Balogun, Granit Xhaka, Nuno Tavares, and several others. Regardless of the opinion of most fans on these players, they are more than capable enough to act as backups and substitutes. 
That is really all Arsenal need. They are not competing in European competitions this year, and they can just focus on re-building, but one needs to back Arteta to play his best team for at least three weeks. The results will surely come because the aforementioned starting line-up is extremely talented and has the right balance of experience and enthusiasm that comes from the youth.
The direction of the club: The Bigger picture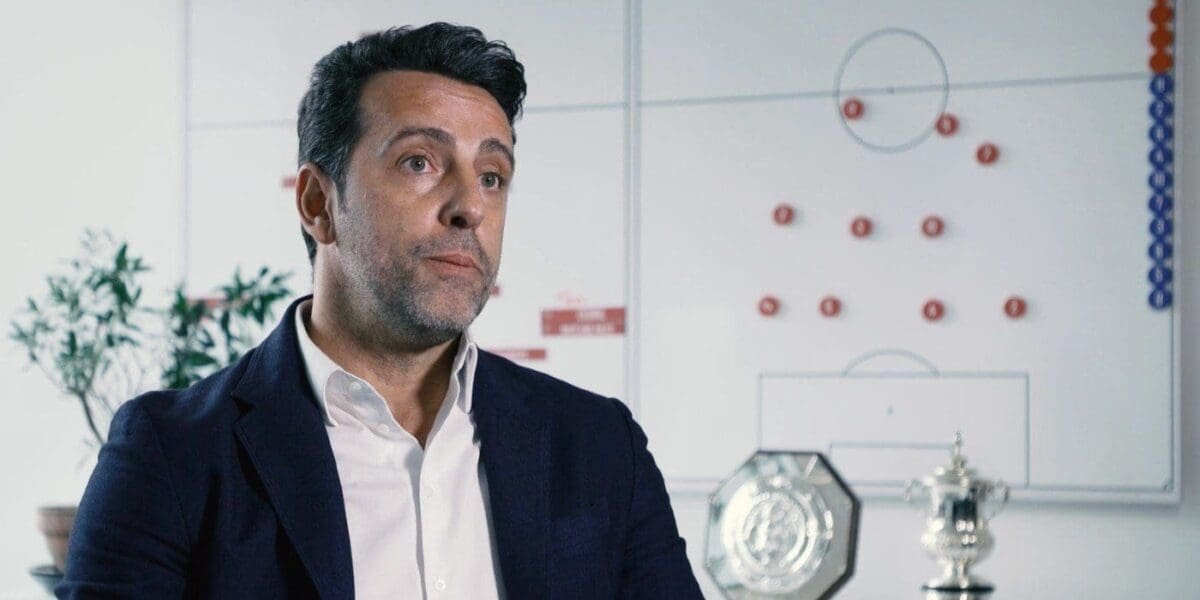 Arsenal's technical director, Edu, recently did an interview with Sky Sports, and there was a lot of sense in what he was explaining and asking of the fans. He was asked about his squad building process, to which he answered: "We have to balance the squad better. We have to recruit the players with the right characteristics and the right profile to make the squad better, more solid, and much more consistent because last season we suffered with consistency.
"Now, I want to give Mikel Arteta and the board a much better squad."
He went on to explain that he understands the frustration the fans have with the club but asked to be judged when all the players are back fit.
"I really understand that, but I'd also like them to understand the reason and the direction we are going as a club. Of course, it has hurt us to be in that situation. We are hurt, I am hurt. I don't want to see the club there, but I want to see the team playing together. 
"I want to see the team play together, and then let's judge the team when they play together. Then, after that, no problem. Judge us then. I understand the situation we are in now is really tough. It's not an excuse but let's judge the team when they play together. "
Lastly, he also stressed the need to have a foundation, which is going to take a little time. 
"Why are a few clubs around the Premier League just signing one or two players? It's because they already have the foundation. They already have the team prepared. I'm sorry, but the reality is we don't. Now you have to create. That is the reality.
"I don't want to be here and try to lie. What's Arsenal's reality at the moment? We need to create a solid foundation. I don't want to see the squad in one season. I'd like to see Arsenal strong in one, two, three, four, and five seasons."
Conclusion:
Arsenal are headed in the right direction. The right direction does not necessarily mean there will be no hurdles or obstacles in the way or a sense of cluelessness at times. But it takes time. The Gunners will have a near-fit squad by the end of September, and they will be match-fit as well by then. But until then, it is cruel to kick a man when he is down. 
Backing by the fans is necessary because it boosts the confidence of the players and the manager alike. It is asking for a lot, but it is the best solution in the long term. The recruitment has been sound and the tactics are in place to a certain extent. It just needs alignment and that will take a little while. 
However, the Gunners will not go on losing streaks anymore. An embarrassing defeat might come every now and then.
But right now, for Mikel Arteta, it is two steps forward, one step back. It is progress, and it is good progress. One can only believe they will turn over a new leaf after the international break. However, it needs just a little more time and then the foundation will be there to compete amongst the biggest clubs not just in England, but in Europe as well. 
It is the final lap, and it is only a matter of time before Mikel Arteta can reach out and touch the finishing line. He is almost there.