Sergej Milinkovic-Savic has been the subject of transfer speculation with his future rumoured to be away from Lazio. Latest reports coming out of Italy have stated that Arsenal are interested and have apparently already had a €55m offer rejected already [IL MESSAGGERO].
It has to be noted that practically no English journalists have reported on these rumours, while the links with Tielemans have been much stronger.
So what would "SMS" bring to Arsenal?
Standing at 6'3, Sergej Milinkovic-Savic operates mostly as a box-to-box midfielder who isn't shy to go both ways of the pitch. At 27 years of age, the time to move is now and that stands for both Arsenal and him.
A supreme header of the ball and a nuisance in the box, SMS is often looking for the end of crosses with his runs often causing confusion inside the penalty area. With Jesus coming in and Arteta letting go of his idea of bringing in a "target man" centre forward, this could be a nice addition as Arsenal search for more ways to score from next season.
Any time I see these huge CMs trying technical moves a lot, I can't help but have reservations about their ball retention. And other than his pass completion rate (81%) which should be higher at the Premier League level, he passes with flying colours. He carries the ball and dribbles extremely well and progresses play a lot. He's also among the absolute elite (98th percentile) for progressive passes received regarding midfielders.
What I love about this move is that you don't lose the size and tenacity in duels of Xhaka and gain a ton going forward. He isn't necessarily a good presser (very much comparable to Xhaka looking at the numbers) but the role he's playing could have a lot to do with that but it's something to keep an eye on. He has the physical tools to be a good presser. What you do lose is the 1st phase buildup power Xhaka offers. I personally wouldn't task SMS with that, his style simply doesn't look to me like it would translate well into really deep positions on the pitch. Xhaka playing higher up has had him not occupying these further back areas in buildup anyways but it's something to note.
He does have a preference to roam to the right, rather than left – where Arsenal would probably ask him to play.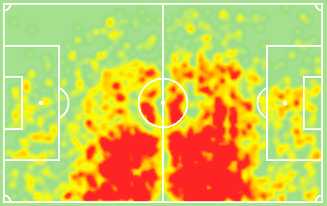 GOAL OUTPUT AND AVAILABILITY
This is where he blows the competition out of the water.
A double-double in the league last season (11G, 10A) that would put some wingers to shame, let alone midfielders. He isn't a lousy finisher either, with the metrics stating that he's scored 4 more goals than his xG warranted (7.3 xG). It's also worth noting that he didn't take any penalties last season.
I always like to take a look at the bigger sample when judging if someone's a good finisher or not as players can fool the data by having one or two seasons where they overachieve BUT he regularly coincides with his xG numbers or tops them.
He has a presence about him in the box which isn't only about his size, he's regularly shown he has a nose for goal. Darting runs into spaces makes him a big target to hit and he regularly draws markers onto him which helps others if he can't get onto the end of things. I can see this being a big plus for Arsenal for the in-swinging crosses of Saka and Ødegaard.
LAST 5 SEASONS
"Best ability is availability".
Since 15/16, Milinkovic-Savic has missed a total of 26 games. In the last 2 years, he hasn't missed out on more than 2 games in succession. He's a key player for Lazio and starts on the regular. He only missed out on 1 game last season accumulating 3100 minutes in the league.
No one has started more matches or played more minutes for Lazio last season.
WRITER'S OPINION
A signing which would take a hit on our budget but one which would definitely raise the level of how we attack. If Xhaka is willing to stay, it could be nice to have both in and around the team. He could take time to get used to the league as earning space for yourself in this league can be brutal.
However, Tielemans might be a more attractive option to Arteta when we put some things into perspective (age, already used to the league, a lot cheaper). Their overall stats are surprisingly similar too, but with SMS overlapping him in the goal output territory while looking more well rounded on the eye. SMS is a more physically gifted midfielder and has more tools at his disposal looking at the big picture while Tielemans can control 1st and 2nd phase of play better. Either way, we get the picture of what kind of preference Arsenal have for that left sided #8 for next season and it looks like we'll find out who it is soon.
MUST READ:
– Lisandro Martinez could be Mikel Arteta's polyvalent weapon
– Fabio Vieira: Arsenal's maestro addition in midfield
– Why Eddie Nketiah staying makes sense for Arsenal
– Emile Smith-Rowe: Arsenal's Present & Future
– Profiling Arsenal target Gabriel Jesus: What will he bring to the Emirates?
– Arsenal's next talented Hale End product: Brooke Norton-Cuffy – Scout Report