After three months of inactivity, the Premier League returns back to the frame on Wednesday behind closed doors.
Manchester City play host to Arsenal at Etihad Stadium on Wednesday in their matchday 28 outstanding fixture in the Premier League.
Both Pep Guardiola and Mikel Arteta like to dominate not only from the middle but also from the flanks, which generally has an added companion of full back up ahead which frees up the wingers. And two wingers who like to cut inside and make impact are Riyad Mahrez and Nicolas Pepe, two of Premier League's best.
In 2014/2015, Riyad Mahrez had his first full season in the Premier league with Leicester City which he joined in January 2014 from French league second division side Le Havre. He signed a three and half year deal with Leicester City.
In his formative years, it was obvious that he's blessed with incredible skills and techniques, but was often being let down by his slender frame stature.
As per report, Quimper's youth manager Ronan Salaün and his assistant Mickaël Pellen were said to have earlier appraised for the Algerian winger, stating that: he possess great techniques and astonishing dribbling skills with either feet and they praised his set piece ability too but noted that Mahrez was slim and also lacked the tactical aspect of the game, revealing that he has been relying on his instinct instead due to his lack of proper football schooling, having grown up playing street football.
Due to Mahrez' style of play his manager Salaün opined that he use his intelligence to avoid challenges and hard tackles, as the manager believed that Mahrez was not physically strong enough to withstand tackles.
Upon signing for Leicester City, their former head of recruitment Steve Walsh stated that: "Riyad was a bit raw but he had a great touch. He could kill the ball dead and go past people. I liked his positivity. Some of his decision-making wasn't that great and defensively he wasn't the best, but you could see that he had real talent."
In his debut season for Leicester, Mahrez scored four goals and provided three assists in 32 appearances across all competitions. While his most productive campaign in England was during 2015/2016 season where he amassed 18 goals and providing 10 assists, making it 28 goal contribution in 39 appearances across all competitions while at Leicester.
Mahrez is known to be a versatile player who's capable of playing any position across the front line, whether in the centre or on either flank. Though he has been more productive while playing as a right winger, a position that allows him to cut inside and shoot on goal with his stronger (left) foot, or choose to cross the ball into the box.
The Algerian winger's main traits are his dribbling, balance, bursting runs, flair, and composure. He is capable of scoring goals and is also an excellent assist provider by creating numerous chances for his teammates.
In the current campaign, he has recorded twenty-three goal contribution (scoring 7 and assisting 10) in 23 Premier league appearances, in as many minutes as 1,385.
His tactical nous has improved and he's starting to influence games much better this season which is his fifth season in the Premier League but has he done better than Ivorian international winger Nicolas Pepe?
The Ivorian international winger started out as a goalkeeper in his early days before trying out his luck as a winger due to his pace, flair and trickery.
He is comfortable on either flanks but prefers to play on the right wing whereby, cutting onto his left foot to take a shot or create a goal scoring chance for his teammate; he had a brief spell as a centre forward as he was converted by former Lille head coach Marcelo Bielsa to play as a striker.
Pepe had his best campaign so far during 2018/2019 season with Lille where he contributed 35 goals (scoring 23 goals and assisting 12) in 41 appearances across all competitions.
This season he has managed to score 4 goals and provided 6 assists, making it 14 goal contribution in 24 Premier league appearances, in as many as 1,591 minutes.
Looking further into areas where both players have made huge contributions.
With Riyad Mahrez's 7 goals and a total of 22 shots on goals, it results in a goal conversion rate of 13.73% from 22 big chances. While Nicolas Pepe has 4 goals and a total of 14 shots on goals with a goal conversion rate of 9.52% from 14 big chances.
Riyad Mahrez has a total of 8 assists from 17 key passes and created 25 chances. While Nicolas Pepe has amassed 6 assists from 8 key passes and 14 chances created.
Comparing their passes completion rate into the opponents box this season, Riyad Mahrez managed a rate of 20% for passes into the box. While Nicolas Pepe comes on top in this aspect has he accumulated 33.33 % for passes into the box.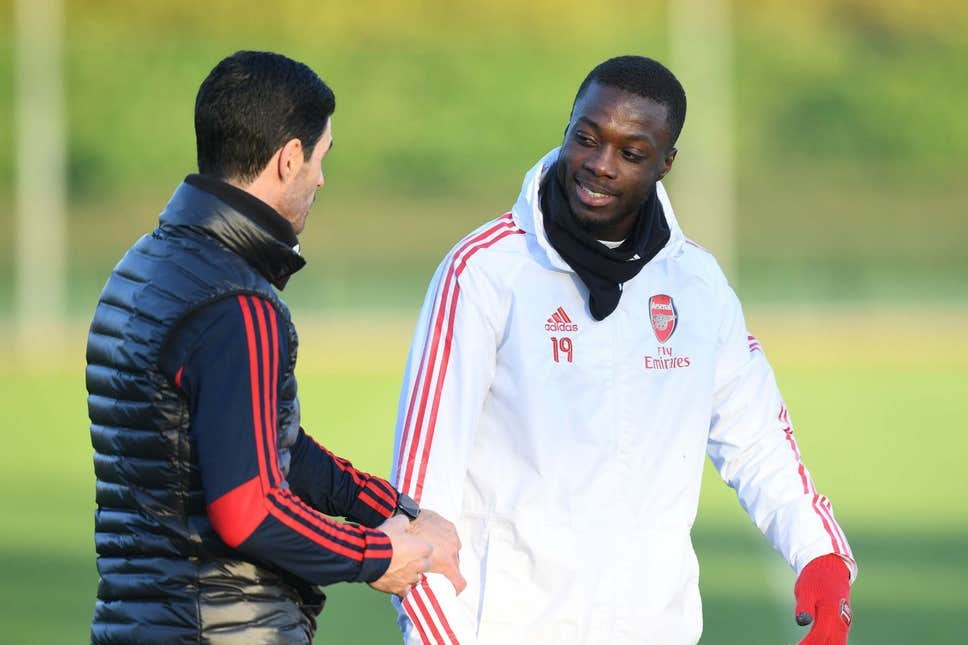 In their performances and productivity, the Algerian winger has made more offensive contributions which has yielded more results for his team meanwhile, with Nicolas Pepe having his maiden season with Arsenal and in the Premier league, it could be argued that the Ivorian international winger has been impressive compared to Mahrez's first season in the Premier league.
In less than a season with Arsenal, Pepe has had to work under three coaches which would have disrupted his adaptation and form but yet, the 25-year-old winger has shown some flashes of brilliance, picking up man of the match awards on four (4) different occasions.
With Man City and Arsenal about to battle it out at the Etihad Stadium on Wednesday evening upon Premier league return, both players' contribution for their respective team will undoubtedly play a huge part in their club's victory.
RELATED ARTICLES