We are rolling at World Cup 2022 in Qatar and Brazil are tagged quite favourites to take this one home. Let us get into specifics that carve the Seleção an opportunity to come into this one with the confidence and halo that they will, and how Tite's men can make their moment count!
Let's get to it, shouldn't we?
WHAT MAKES BRAZIL THE FAVOURITES?
Brazil are the top most ranked team in the world and have been quite consistent for a while now. They are coached by Tite who was a winner of the Copa Libertadores, two domestic championships and a FIFA Club World Cup winner, a competition they secured by defeating Chelsea in the finals. Additionally, he is responsible for ending a 12 title drought for Brazil when they lifted the COPA America back in 2019.
International football had taken a big hit due to COVID-19 pandemic but after 2021 when things start to function a bit more normally, Brazil's flight of victories has taken off and in 24 matches they have managed to win 19, draw 4 and their solitary loss came against Argentina in last year's edition of the COPA America. In that time they scored an astonishing 54 goals and let in just 8.
Defensive stability is a big part of Tite's vision on how to play. The backline is marshalled by Thiago Silva and his former PSG teammate Marquinhos and Brazil's depth in the centre-back position is really good with Gleison Bremer (Juventus) and Éder Militão (Real Madrid) have all been called in the recent international fixtures. This stable backline has seen just one instance of the opposition scoring more than one goal and that was in a 2-2 draw against Peru.
Defensive solidarity is important to win any cup competition and the Brazilian despite being known for the Samba style attacking football have had the best defenses in the tournaments they have won most recently in 1994 and 2002 when they had the best and second-best defense for the entire tournament.
There were no fixed formations for a Tite side but most recently he has been using the 4-2-3-1 and its adaptation which can also be a 4-3-3. This looks like a very well-balanced and settled side with players beaming with confidence while they are playing for their clubs.
It's a very attacking team considering West Ham midfielder Lucas Paqueta, who for the past two seasons has played as a 10 or as a false nine. But his inclusion gives us an idea on how attacking the team can be and he supports his team well even defensively making 24 pressure per 90 while completing a decent 2.4 defensive actions per 90.
AN ATTACK TO BE FEARED
At the heart of every great Brazilian side has been a great attacking side with stars. Be it Ronaldinho, Ronaldo Nazário, Rivaldo, Pele, Romario, Kakà, Zico and many more have played for this country and this current side too has some of the best attackers in the world putting on the famous Canarinho shirt and there is little debate as to who is the best-attacking side coming into Qatar.
Tite might have a good problem to solve with selection of such an amazing crop of talent to choose and he cannot keep every player happy. He needs to choose what would be the best XI on November 24th when they play their opening fixture against Serbia.
Raphinha and Neymar have been the two preferred players by the head coach to start in the attack alongside Richarlison and Vinicius Jr. Raphinha & Neymar are the two of the most dominant attacking players in the side with 42.5 passes made per 90 and 65 passes made per 90 (99 percentile for passes completed in all five leagues across Europe).
On the contrary, the duo of Vini Jr. and Richarlison make just 60 combined passes between them although the Real Madrid star likes to have the ball – also completing 12 progressive runs per 90 and 4 progressive carries per game. But Vini Jr. can also play well without the ball, providing an outlet for his side with 13 progressive passes received per match. Even with Gabriel Jesus, who has been outstanding for Arsenal this season, Tite has a headache of options for that role upfront. Both Jesus & Richarlison boast marvellous work-rate off the ball in applying pressures, defensive actions and winning aerial duels for the team which in turn allow attackers like Neymar and Raphinha to play with the ball while they look for empty areas to cause damage to the opposition's goal.
If other teams would have used Jesus/Richarlison and Vini Jr. we would have seen a big drop in the attacking stats of the team but when they play with Neymar and Raphinha it becomes more of a complementary role. Add Paqueta to this attack and we can say all the boxes for an offence with pace, vision, dribbling and positional fluidity will cause the best of defenses some big problems.
BREACH THIS DEFENSE IF YOU CAN
Traditionally two of the greatest attacking full-backs of the modern era Dani Alves and Marcelo were always asked to play a little more conservatively in big tournaments games to help out the defense and keep the shape intact. But with the current set of full-backs Alex Telles (Sevilla, on loan from Manchester United), Alex Sandro (Juventus), Renan Lodi (Nottingham Forest, on loan from La Liga club Atlético Madrid) on the left-hand side and Danilo (Juventus), &  Militao (Real Madrid), the Seleção will feel no need to ask them to bomb forward.
Casemiro is currently at the peak of his powers and help the team in shielding his centre-backs as he has done for years and years for Real Madrid and he has a partner in Lucas Paqueta who keep doing the work of pressuring opposition players into giving up the ball and thus reducing efforts of his teammates to do so.
With the exception of Neymar Jr., Brazil's forward line can also work hard and it seems like the opposition teams will find it difficult to breach this backline.
THE DEPTH OF THE SQUAD
The bench strength of the Brazilian squad is so good that if we make a squad out of the players who do not start for this team, they could themselves reach the quarterfinals of the competition.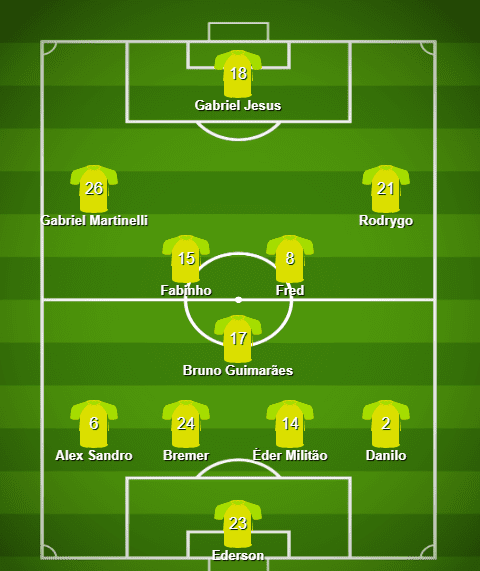 With Ederson in goal, the team has probably got to have the best backup goalkeeper and if it weren't for Alisson then Ederson will surely start for any of the teams playing in this tournament. Bremer who has just joined Juventus after having a terrific season with the Old Lady's rivals Torino and is adjusting to his life as the future leader of the backline.
Fabinho is probably considered as one of the best-holding midfielders in the world and whenever we see Liverpool without him, they do not look the same. Bruno Guimarães is leading a new revolution in Newcastle and has been exceptional since joining them back in January. Rodrygo and Gabriel Martinelli look set to have a breakout campaign in their respective league with five goals already scored by both of them while the striker Jesus alongside Haaland looks like the best piece of transfer deals done during the summer window and he has helped Arsenal stay at the top of the league, ahead of favourites Manchester City.
A great depth in the squad like that will be needed if Brazil wants to go deep into this tournament.
CONCLUSION
With a settled and harmonious squad like this one whose players are mostly doing well in their domestic leagues added with great depth which covers all the areas of the pitch, every single thing points to the team of Samba stars being crowned as the champions of the word for a record sixth time. Major rivals like Germany, Spain, England, Belgium, France and Portugal all have lost momentum coming to this tournament with Lionel Messi's Argentina, the only team looking likely to challenge Brazil but they did look off against Saudi Arabia, but even here the team wearing the Canarinho jersey looks very strong if we compare them on head to head matchup. So I feel this tournament is Brazil's to lose.