Liverpool brush off City, while Man United and Chelsea pick up wins…
Chelsea who have grown increasing solid since the loss to Liverpool picked up all three points when they welcomed Crystal Palace to Stamford Bridge. A Palace team that has enjoyed a good campaign so far failed to match the Blues' quality after the break, as Willian played Tammy Abraham through neatly for his 10th Premier League of the season to open the scoring.
Christian Pulisic made it 5 in his last three Premier League appearances when he headed from close range after Michy Batshuayi's deflected shot.
Mauricio Pochettino's woes with Tottenham Hotspur keep adding as they were held by Sheffield United at Tottenham Hotspur Stadium. The draw leaves Spurs without a win after their 2-1 victory over Southampton in Round 7.
Arsenal suffered their second loss in their last five games in the Premier League after second half goals from Jamie Vardy and James Maddison deepened Unai Emery's troubles. The Arsenal boss is struggling to produce results for his side as they lie sixth with 17 points taken after 12 games.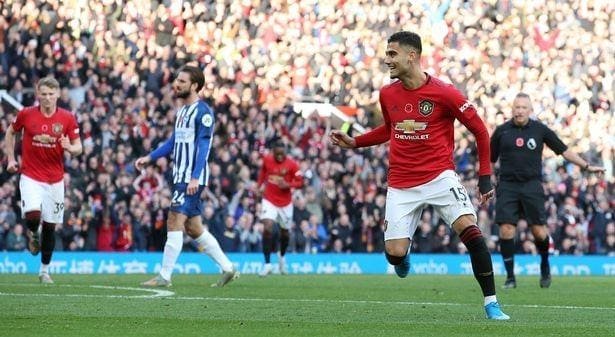 Manchester United found their scoring form at Old Trafford once again when they scored goals past Brighton and Hove Albion with Lewis Dunk pulling one back for the visitors. The win moves United 7th on the table, 9 points behind fourth placed Manchester City.
Liverpool and Pep Guardiola's side met on Sunday in what could prove to be a title defining match. The Citizens left Anfield disappointed after suffering a 3-1 loss. Two first half goals from Fabinho and Mohammed Salah left a depleted City side with no chance going into the second half. After starting the second 45 minutes better, Sadio Mane struck after 51 minutes to put the Reds three up before Bernardo Silva placed the ball into the bottom-right corner to get a consolation for Man City. The boys from Manchester will feel they have been treated unfairly but moves Liverpool further above the Citizens.
HERE ARE THE RESULTS FROM THE PREMIER LEAGUE MATCHDAY 12:
Norwich City 0-2 Watford
Chelsea 2-0 Crystal Palace
Tottenham Hotspur 1-1 Sheffield United
Newcastle United 2-1 Bournemouth
Southampton 1-2 Everton
Burnley 3-0 West Ham
Leicester City 2-0 Arsenal
Manchester United 3-1 Brighton and Hove Albion
Wolves 2-1 Aston Villa
Liverpool 3-1 Manchester City