Pep Guardiola finally got his revenge on Thomas Tuchel thanks to a deflected goal by Gabriel Jesus. Manchester City completely dominated Chelsea and shut down their opponents for most parts of the game. Tuchel would have expected more from his Chelsea side as they struggled to create anything meaningful.
The European Champions started in a 3-5-2 formation with N'golo Kante replacing Mason Mount in midfield. Kai Havertz was named on the bench for Timo Werner who partnered Lukaku upfront. Pep Guardiola was able to start both Kevin De Bruyne and Phil Foden for the first time this season along with Rodri and Laporte returning from their respective injuries.
The strategy implemented by Pep Guardiola was questioned at the start of the game because he adopted almost the same pressing scheme as the Champions League final. But this time the result was different mostly because of three reasons. (apart from the new personnel in both the teams)
– Manchester City pressed Chelsea aggressively from the front. The energy level they showed made a difference as Chelsea struggled to play out from the back.
– Pep Guardiola preferring Gabriel Jesus at right-wing ahead of Mahrez was a game-changer as the former is excellent in terms of work-rate.
– A slight tweak in Bernardo Silva's role.
1. Manchester City's aggressive press
Last week, Southampton caused all sorts of trouble for City but this time Chelsea struggled to get out of City's energetic press. They committed men forward even though it was a risky strategy as Lukaku and Werner were in a 2v2 situation against City's centre-backs.
Manchester City usually press in a 4-4-2 shape with one of the central midfielders joining the centre forward. This time they switched to a 4-2-3-1. Phil Foden (centre forward) immediately closed down Chelsea's centre-backs when they received the ball. As the ball shifted to the right side, Kevin De Bruyne diverted his attention to Kante. Gabriel Jesus – City's right-winger moved infield to mark Jorginho as they pressed Chelsea very highly with aggression. Once James (later Azpilicueta) received the ball, Cancelo (left-back) was on to him in a flash.
When the ball was on Chelsea's left-hand side, Kevin De Bruyne moved in on Jorginho which allowed Jesus to press Rudiger. This time Kovacic – Chelsea's left-sided central midfielder dropped deeper and he was followed by Bernardo Silva as Walker also closed down Marcos Alonso quickly. Chelsea – who are usually very good at switching the play and creating overloads, struggled as City counter-pressed them aggressively. This was shown by the fact City had close to 70% possession in the first half.
2. Gabriel Jesus' role
Pep Guardiola started Jesus on the right and it made a huge difference to the way City pressed. The Brazilian is excellent off the ball with his positioning and movement. His work rate is second to none as he troubled Rudiger. In the Champions League final – Pep started Mahrez on the right. Chelsea was able to bypass City's press with Rudiger and Chilwell having time and space to pick out passes between the lines. Infact, the move to Kai Havertz's only goal that game started from that side.
As a result, Chelsea stumbled when trying to build out from the back so they mostly took the direct route towards Lukaku. The front two were isolated for most parts of the first half – Timo Werner had a couple of opportunities to run in behind the defence but Chelsea did not utilise it. The chances were far and few for the European Champions as they defended deep in their half.
3. We have to talk about Bernardo Silva
Bernardo Silva is arguably the glue that holds this City side together and on Saturday he performed multiple roles to perfection. Pep Guardiola usually plays his central midfielders high up the pitch but this time he directed Bernardo to play deeper. On the ball, City build up in a 3-2-5 shape and on some occasion he dropped in as a third centre back.  As a domino effect, this allowed Walker who usually plays that role to move wider and Jesus to drift inside, making runs in behind Marcos Alonso or Antonio Rudiger.
Tuchel instructed Kovacic to play high up the pitch when the ball was on the right side of the pitch and drop deeper when on the left. Bernardo Silva was instructed to mark Kovacic out of the game and followed him wherever he went. This game plan was crucial as City always had an extra man to cover Chelsea, something that was lacking in the Champions League final.
In the Champions League final – Chelsea got the better of City by creating overloads, especially on the left side. To combat this Pep played Bernardo Silva in a double pivot alongside Rodri once Chelsea got out of City's high press.  This meant that Chelsea struggled to switch the play quickly and free Alonso on the left.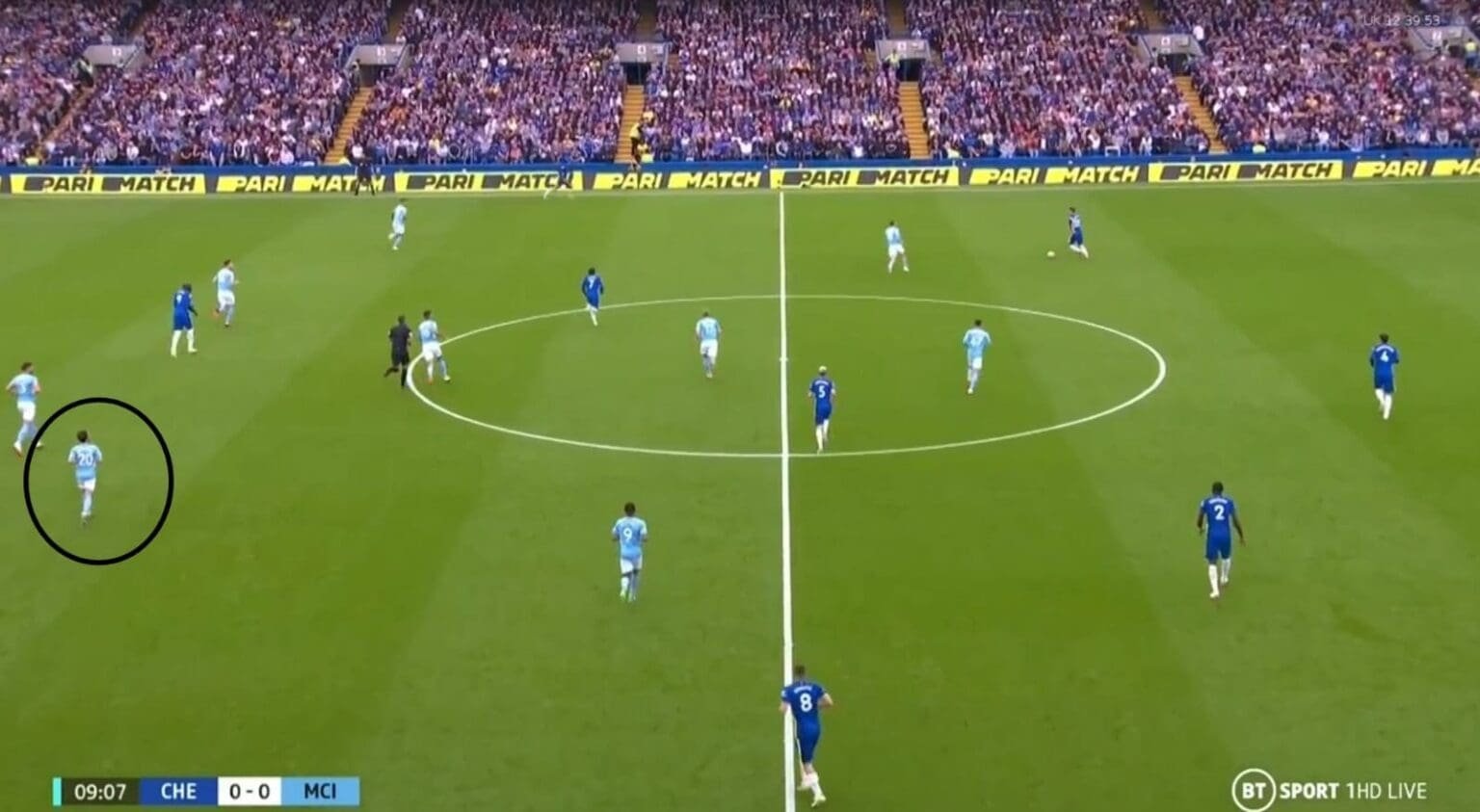 After City went 1-0 ahead, Tuchel changed his formation to 3-4-3 by introducing Havertz and Bernardo's role changed again. Havertz and Alonso on the left created a 2v1 situation when City pressed high. This time Silva was tasked with marking Alonso which ensured Chelsea did not create overloads.
This was a complete performance by the Portuguese midfielder. He was exceptional in all phases of play. His pressing in the first phase was crucial, he carried the ball from deeper positions, evading Chelsea's press in midfield and the energy levels he showed throughout the game was extraordinary.
The second half started similarly to the first with Chelsea sitting deep and City trying to breach the defence. Pep instructed Cancelo to overlap more with Grealish moving inside, therefore, occupying one of the centre-backs. This made City's attack more oriented towards the left as both Grealish and Cancelo looked dangerous throughout the second half.
The deadlock was finally broken via a deflected strike by Gabriel Jesus. Manchester City completely deserved the goal as they looked even more threatening at the start of the second half. Chelsea improved after going behind but the Manchester City defence led by Ruben Dias showed resilience and held their nerve. As Chelsea chased the game, gaps started opening up in midfield and City would have scored a couple more if not for Edouard Mendy.
Thomas Tuchel's troubles
Tuchel's game plan was clear from the first minute as Chelsea sat back in a compact 3-5-2 shape. They tried to use Lukaku's presence and Werner's pace upfront to hit City on the counter and be clinical. Pep Guardiola's side maintained possession throughout and tried to outclass the Chelsea defence.
Chelsea's two number 10s (Havertz and Mount) played a crucial role in Porto against Manchester City. This is where Mason Mount shows his worth as he was badly missed by Tuchel and his side. His injury meant Chelsea struggled to find a link between the midfield and forward line. They missed his ability to break the lines with his passes, as someone who is press-resistant and can drag defenders with him.
After going a goal down he immediately replaced Kante with Kai Havertz to make it a 3-4-3 and the side from London immediately looked better. They brought Lukaku into play and had a couple of decent opportunities to level the game but they failed to make use of it.
Conclusion
Pep Guardiola tactically outwitted Thomas Tuchel, but this was always going to be a game of fine margins. Chelsea's game plan of sitting back and hitting City on the break could have worked on another day. Manchester City's players stepped up to the task and collected a crucial three points in what looks like a statement victory. With Paris Saint Germain and Liverpool coming up this win is so crucial in many ways.
There is an argument that Tuchel should have played an attacking brand of football. The formation change into a 3-5-2 certainly did not work as they missed the two number 10s in behind the striker. As for Chelsea, their fixtures get much easier in the coming weeks and they will look to create momentum in what looks to be an exciting title race.