"He's a target man, maybe the best in the world. I think so. When he gets the ball, he can hold it and we can go with him. For us, he's a player to play with." If I were to ask you who these words were said about, there are a range of players you might guess, from the likes of Karim Benzema and Zlatan Ibrahimovic to Robert Lewandowski or maybe even Roberto Firmino. Not many would hazard a guess that it was actually said about Olivier Giroud, after the French striker's brilliant display against Arsenal in the 2019 Europa League final. If you did guess Giroud, you are probably one of the following- a Chelsea fan, an Arsenal fan thinking about better times or the one who originally made the comment- Eden Hazard himself.
This is high praise, especially when it comes from a man who is considered by many to be the Premier League's player of the decade. As a Chelsea fan, I rate Giroud very highly ever since his brilliant Europa League campaign last season. However he has been good for quite some time now, but has only just started getting the appreciation he deserves. When he joined Arsenal from Montpellier in 2012, not many people batted an eye. 105 goals, 3 FA Cups and a Puskas award later, he left for Chelsea in January of 2018. Strangely, not many people rated him very highly, despite all of this. With his recent performances and the best goal-scoring return of his entire career, the 18 million pounds that Chelsea paid Arsenal for the services of the beautiful Frenchman feels like a robbery. And it is now, after almost a decade of proving himself in the Premier League, that people are finally looking at Giroud as the brilliant striker he is.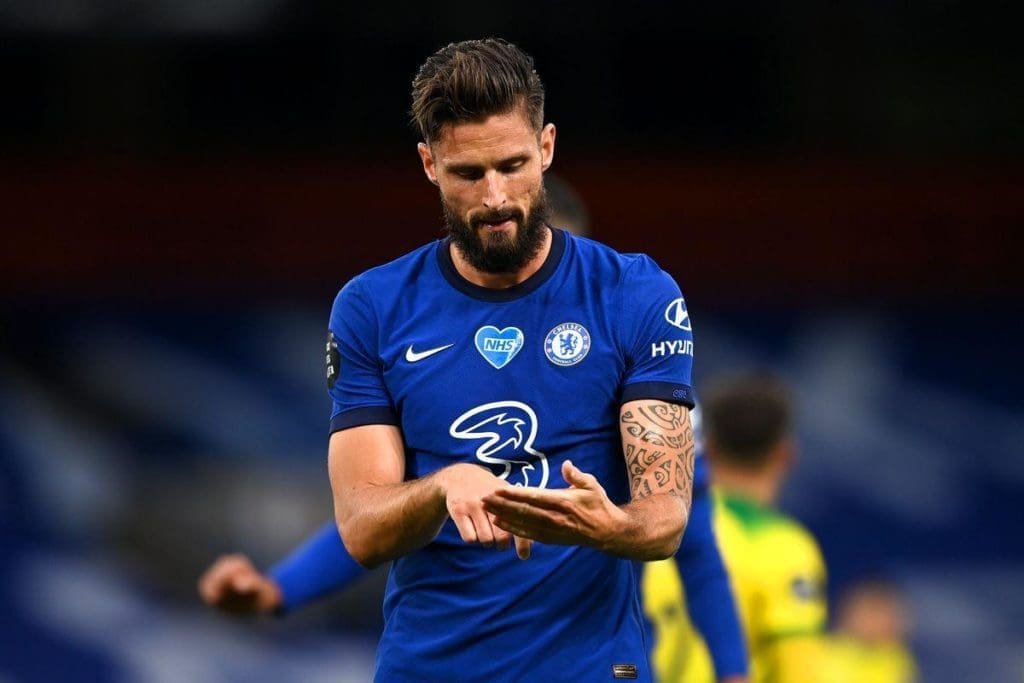 In his 236 Premier League appearances for both London clubs, Olivier Giroud has 84 goals and 28 assists. Out of the 84, 31 are headed goals, 45 are goals with the left foot and 8 are goals scored with his right. This shows he is as dangerous in the air as he is on the ground. It would be completely justified to say that Giroud is or at least was underrated. In all competitions, he averaged about 17.5 goals per season (105 goals in 6 seasons) in an Arsenal team that was not necessarily the best team in England. However, anyone who watches or has watched Giroud knows that his game is more than just goals. His world class hold up play makes him a winger's dream. Although he has 28 assists, he has 4672 passes during his time in the Premier League, averaging about 20 passes per match. That, along with 40 big chances created, show how much he not only passes in and around the box, but also helps in transition as well as build up play. While he is not a fast striker, he helps massively on the opposite end of the pitch, with 144 tackles, 64 interceptions and numerous clearances.
Last season, in the 7 Premier League games Giroud started, Eden Hazard scored 6 times. That meant that 37.5% of Eden Hazard's league goals came from starting alongside Giroud despite the Frenchman just featuring in 21.2% of Hazard's appearances. Playing with Morata, Hazard averaged a goal or an assist every 171 minutes while he got a return every 47 minutes while playing with Giroud. It is no coincidence that Hazard had what was statistically his best season in the dark blue of Chelsea, playing alongside the imposing Frenchman. Giroud's specialty is that he enables wingers and attacking midfielders and brings them into the game. He uses his physical strength to hold off defenders as well as a wide array of flicks and feints to lay the ball off for his team-mates to shoot. While he may not be a traditional striker, he is invaluable to the team and great for experienced and young attacking players alike.
Now, his influence can be seen with the rise of Christian Pulisic, whose brilliant performances have started after the restart, the same time that Giroud started playing regularly. Before the match against Norwich City, a tunnel cam showed Giroud guiding Pulisic on exactly what he wanted him to do and how he wanted him to cross the ball. And that is exactly what happened in the final minute of added time in the first half. Pulisic crossed the ball down the right side and Giroud headed it into the net for what would go on to be Chelsea's solitary goal of the match. Giroud's influence was also seen on Callum Hudson-Odoi last season, as the latter put out some impressive performances in the Europa League.
Funnily enough, for a player who is criticised for not scoring enough goals, Giroud was Chelsea's first ever player to score 10 goals in a European competition and the only player to do so last season alongside a certain Lionel Messi. He was criticized for not scoring during the World Cup but the fact that his 2 assists led him to the top of the assists chart is overlooked by many. Would a player like Benzema get more goals for the national team? Absolutely. However would the French National team perform at the same high level without Olivier Giroud? I wouldn't be so sure. Again, Giroud has 39 goals for the national team. Only Theirry Henry and Michel Platini have more goals than him, at 51 and 41 respectively. Only 2 goals behind the latter, Giroud could very well go on to become France's second all time top scorer.
Coming off of 2 consecutive man of the match awards, the achievements keep piling up for Olivier Giroud. Despite this, he remains criminally underrated by the media and a lot of football fans. The media labelled him not good enough during his time at Arsenal and many fans were left frustrated, as his inconsistency prevented Mesut Ozil from equaling or breaking Thierry Henry's long standing assist record. While these may be valid to some extent and his style of play may not always be as visually pleasing to the eye as he is, one thing is for sure- put some respect on Olivier Giroud's name.