Brighton & Hove Albion have reportedly reached an agreement with Paraguayan Club Libertad to sign the teenage sensation Julio Enciso. The Premier League club had initiated talks in January, but the deal collapsed in the dying minutes of the winter transfer window. The deal is believed to be worth around 9.5 million pounds, including various add-ons.
The final negotiations are yet to take place, but as informed by football transfer guru, Fabrizio Romano, Enciso will be a Brighton player in the upcoming days. If things go as planned, Enciso will be Brighton's 3rd acquisition from South America, following Caicedo and Mac Allister.
Who is Julio Enciso?
Paraguay had just lost by a whisker at the hands of Spain in the FIFA World Cup 2010. Their best performance in the world's biggest tournament. At just 6 years old, he watched Paraguay's hope, Oscar Cardozo, miss a penalty in the match. 12 years later, Julio Enciso is leading the goalscoring chart for Oscar's Club Libertad in Paraguay's Primera division, having successfully replaced the veteran in the starting 11.
Enciso began his football career in Caaguazu, the Paraguayan capital of wood, where he was born and played for the city's local team. At the age of 11, he impressed Libertad scouts and was invited to join the club's juvenile divisions.  The wonderkid has had a productive season thus far in 2022, scoring 11 goals and giving three assists in 14 league appearances—an amazing result for someone so young. The 5ft 6in forward also has five international caps for Paraguay. Six international appearances at the age of 18, no matter what the country is, speaks volume.
Playing position
Enciso has filled in a lot of shoes for Libertad. Usually deployed as a center forward, Julio has also tried his luck on either side of the wing as well as as a second striker. Different positions take out his various strengths and weaknesses.
I believe that playing in different positions has hindered his understanding of his function in each position. He appears to be uncomfortable in certain roles at times and is unsure where to step. Club Libertad has utilized him in almost all of the attacking positions in the past year.
The 18-year-old attacker has shown glimpses of what he is capable of doing in some of these positions as he is seen to be more comfortable being a part of the attacking trio on the pitch. Heatmap below shows how Enciso is inclined to play in a more central role, inclining towards the left-hand side of the pitch just outside the penalty box. We will look into a detailed analysis in the following part of this scout report.
Playing style
After discussing his playing position, we will look into the immediate next element of his game, his playing style. Julio Enciso is an excellent dribbler. The wonderkid likes to take on his markers in a 1v1 situation as he dribbles past them to either set up a pass or get into a better shooting position. His excellent dribbling skills help him to get into open spaces, highlighting his ability to carry the ball progressively. To understand this section, we will analyze a few clips of Enciso's matches.
As seen in Figure 1, Julio gets the ball and has the opposition defender eyeing at him. Julio has an open chance to lay a through ball into the open space for his teammate.
(above) Figure 2 shows the 18-year-old challenging the defender on a 1v1 battle which he easily wins, thanks to his pace, as he himself utilizes the open space to pass the ball into the penalty box.
The 18-year-old prefers to draw opposing defenders in close before beating them and advancing towards the goal.
Figure 3 shows Enciso having the ball in the middle of the pitch. He gains momentum to beat the first defender as he rushes into the crowded space, knowing that the opposition defenders will come to put pressure on him.
Figure 4 shows exactly what Enciso wants. He is surrounded by 3 defenders, and this time, instead of trying to dribble past them, he makes way for himself to pass the ball to his teammate, who is in a better position to even shoot.
Enciso is not a very clean dribbler, but what keeps him going is his low center of gravity and agility, which grants him the access to get into those spaces and still have the ball at his feet.
However, now that he is moving into the Premier League, arguably the world's toughest league. It is highly unlikely that he will be allowed to have the ball at his feet despite getting himself into such situations and will be interesting to see if he keeps on with this trick or has to succumb to the league's pressing defence.
Other than his dribbling, Enciso is also a good carrier of the ball. Often, he drops down as low as a CM's position and carries the ball forward. What helps him achieve this is his quick thinking. The way Julio makes good use of his tricks, which might look pretty basic in general.
The above movement was possible with a few stepovers and body feinting. Enciso is also adept at reacting to the actions of opposing defenders, preferring to watch and wait for them to make a move in an attempt to take the ball away from him before reacting and exploiting the fact that they've committed to a challenge by knocking the ball past them.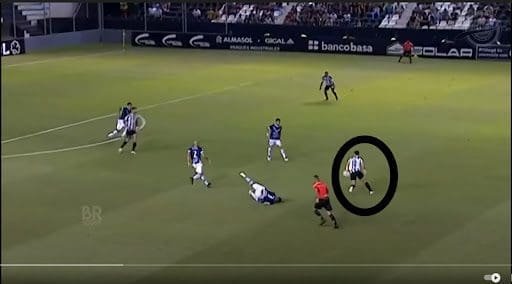 Julio Enciso is at his best when he plays on the wings, preferably the left-wing.
In the previous section, I have already mentioned that he prefers to have defenders closing in on him. Figure 6 is another example of his classic act. He is closely marked by the opposition defender. Although instead of dribbling his way into the penalty box, Julio does the least imaginable.
He cuts into his right, carries the ball forward, and gets rid of his marker with some ankle-breaking skills as he sets his eyes on his teammate on the far right of the pitch. This shows his credibility to completely change the path of attack in a few blinks of the human eye. Enciso's vision is excellent; he can easily identify his teammates in space, but he frequently fails to reach them due to his poor passing over longer distances.
The above movement shows how special Julio's dribbling is. Operating again from the wing, this time on the right side of the pitch. Julio attempts to cross the ball into the penalty box. A small twist in the tale has Julio stopped from crossing the ball, which actually helped him to go past the already committed defender. Sensing the kid is up to something, the other 2 defenders rush into the open space to put pressure on Julio. This little trick opened a lot of space for Julio's teammate right outside the penalty box.
The 18-year-old showed good vision and decision-making when he identified him on the edge of the box and swiftly found him with a short ball, setting up a shooting/crossing opportunity for him in the left half-space.
Weaknesses
Despite being an efficient dribbler, Julio is no Messi. Often, Julio has been let down by his own confidence in relying on his dribbling skills. He tends to spend a few more seconds with the ball at his feet, trying some fancy footwork. He really needs to improve his decision-making with regards to releasing the ball at the perfect time. A simple demonstration will put this into perspective.
Julio runs for the ball as his team senses a quick counterattack. Figure 13 shows him dribbling past the first defender while another defender is glued to him. He could have easily passed the ball to his teammate who was in a better position, but he refused to do so and instead tries to take on the defender all by himself and just about the time he is going to fall down, he deftly passes the ball which was easily intercepted by the advanced defender. This shows how his bad decision-making cost his team a glorious counterattack, which also brings me to another significant flaw of the game.
Julio Enciso has shown signs of being easily overpowered by strong defenders. His low center of gravity however allows him sometimes to still have the ball but in the long run that is not going to work as clumsy dribbling is not really successful in the Premier League. This is another reason why he never really enjoys playing as the Center forward as he can easily be shrugged off by the opposition defenders.
Enciso is a keen fan of finishing with grounded shots. This is not a problem in hindsight however if you keep on doing this for almost all of your goals, you become predictable and that is something he really needs to work on. His crossing abilities are not great either. He often fails to control the final ball before crossing it. Just like his shots, a lot of his crosses are low-angle and can be easily cleared off by the Premier League defenders. If he is actually used as a winger by Graham Potter, he surely needs to improve his crossing abilities.
Author's opinion
Enciso is an exciting talent. The most surprising aspect of his promotion to the Libertad first team is that it came at a time when the club's squad was at its strongest in years, meaning he had to fight extra hard to earn his spot. Crossing, through balls, shot selection, and aerial ability are all areas where he can develop, but that's to be expected from a 17-year-old – especially one operating at the first-team level. Enciso is a man of exceptional dribbling skills, tricks, pace and most importantly the mentality and confidence to be a future star. Based on the analysis, his strengths and weaknesses, I believe his best position will be to be left inverted winger in 4-3-3.
*Note: All the match clips are screenshotted from Youtube and TotalFootballia.net & the opinions are based on players' stats, match videos and research.*