It has been talked about for weeks now, and it is the elephant in the room– Manchester City needs a centre-forward. They need somebody to put the goals in the back of the net. 
Now there are different ways of looking at this. Is a centre-forward their main concern? Yes. Do they have nobody in their ranks who can score as many goals as a No 9? Perhaps they do. The idea of a striker is often ruined by the old English stature of a tall burly man up top or just a tall centre-forward.
But that has not always been the case and those kinds of forwards are not only long gone but clubs with such players have also failed. A club like Arsenal, who have two traditional forwards in its ranks, are languishing at the bottom of the table. Manchester United were content with a centre-forward like Mason Greenwood until Cristiano Ronaldo arrived. Liverpool have not had a proper striker since Luis Suarez. 
The only team currently with a world-class forward, whose job is to hold up the ball, is Chelsea with Romelu Lukaku. However, even in that case, he has a plethora of talented players around him who are shaping a strategy suited to his strengths. So, it is not exactly necessary to have a humongous No. 9 up top as long as you have somebody who is supplying the goals.
Perhaps Manchester City's answer to their striker problem is somebody already lying in their ranks. Ferran Torres, a very able goal-scorer has proved in a very short time at the start of this season that he can be that centre-forward.
Thus, let us take a look at why the Spaniard could be a long-term solution, if not a short one to City's striking options.
1) Attacking instincts: 
Although he failed to score in his first two Premier League outings this season, his performance against Arsenal was an eye-opener. The Spaniard was finally played in his ideal position, and he took full advantage. Moreover, nothing he did had anything to do with the fact that the Gunners were down by a man. 
a) Runs between centre-backs: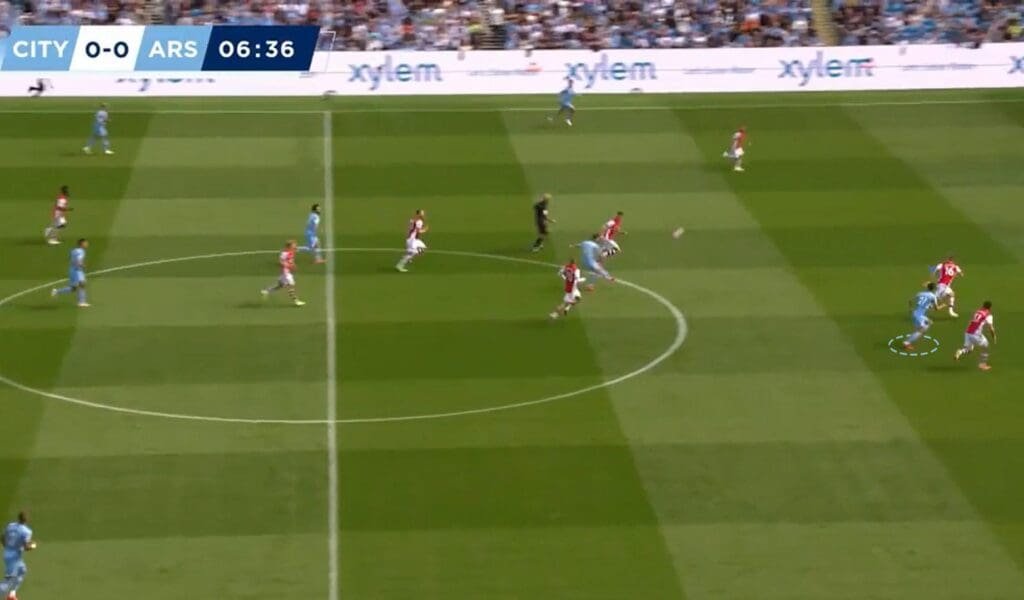 The first goal City scored against the Gunners was due to the open space Jesus had to run into on the right-hand side. However, this space was created because Ferran Torres was running between the two centre-backs and thus keeping them central rather than shifting out to one side to overcrowd Jesus. 
His second goal was also a prime example of a forward smartly shifting in between the two centre-backs while he also judged the flight of the ball perfectly. Something people often forget is that the Spaniard is 6 feet and can get high enough to win headers or at least score them comfortably if he times his run and finds the right space. As you can see above, he has gotten between the two centre-backs, after which he goes on to head the ball into the back of the net. This quality is like the calling card of a centre-forward and Torres was right on cue to show that he possesses the same qualities.
b) Keeps on running and hopes for the best outcome: 
Although this might seem like a very easy quality to have, it is the hardest to practice. As for wingers, midfielders, and defenders, the basic instinct during a set-piece is always to hold back and see if a ball comes your way or just be prepared to run back in a counter-attack. But an attacker always hopes for the best and keeps on running to be in the right position if the ball misses everybody.
As you can see in the picture above, there is a swarm of Arsenal players in the box, but only one City player i.e., Ferran Torres, is right on the line of the last defender hoping to put the ball in the back of the net if it misses everybody. Torres gets his reward in the end as the ball falls to his feet, and he scores his first goal for the day. Although this can be credited to shoddy defending on Arsenal's part, the Spaniard gets the plaudits here as he always hoped that the ball would fall his way and kept on running. An instinct that genuinely cannot be taught but one that comes naturally, Torres has shown that he might be a winger but has the instincts of a pure goal-scorer. 
c) Drops deep to collect the ball: 
The build-up of the third goal begins with Ederson at the back, who needs an outlet to ping the ball into. Ferran Torres understands this and runs into the open space in the centre of the pitch and calls for the ball. This is the true mark of a modern-day centre-forward. Collecting the ball from deep and letting the wingers stay up so they can run behind the full-backs and keep the opposition defence stretched at the same time. Thus, Torres drops in the empty space and collects the ball.
The above picture is what happens in the aftermath of the 21-year-old collecting the ball. Running with the ball towards the opponents and keeping all his options open. He has Jack Grealish out on the left-hand side, while Gabriel Jesus is ready to make a run beyond the defender if a through ball does come his way. Torres picks the correct option and passes it out to Grealish, who, in turn, runs into the box and slides it onto a plate for Gabriel Jesus, who puts the ball in the back of the net. The modern-day No 9 is as much a facilitator in build-up play as he is a goal-scorer, and Torres encapsulated that perfectly here. 
d) Finds the pocket of spaces against a low block defence: 
This was one of Kun Aguero's top qualities during his decade-long tenure at the Etihad. An accusation that was never thrown at City during Aguero's time at the time club was finding goals against teams that just sit back. A lot of the teams have been found guilty of not finding a way through, but City always did, thanks to Aguero. 
Ferran Torres is doing something similar in the picture above. There is a hoard of Arsenal defenders just trying to stop any shot or space for City's midfielders to thread the ball into. However, Torres finds a pocket of space between the full-back and the centre-back, but instead turns and lays the ball off to Rodri, who finishes sumptuously. Although some wingers can also do this, what separates the winger from an out-and-out centre-forward, is the ability to call for the ball at the right moment and then making the right decisions in these areas. Thus, it is these little but crucial things that make a striker worthy of that role, not their size or stature. Attacking instincts are crucial in any team, and Torres showed in the matter of a game itself that he has these in abundance.
2) Loves to score goals:
There is a difference between a forward scoring a goal and a winger/midfielder/defender doing the same. The latter kind are more often than not grateful for scoring the goal but the centre-forward always has a sly smile on his face and confidence oozing from within that provides them with the confidence to score more goals in the same game. 
The likes of Harry Kane, Cristiano Ronaldo, Robert Lewandowski, Romelu Lukaku, Erling Haaland, Kylian Mbappe, and Karim Benzema, and several others do not like stopping their goal-scoring feats in a game at one goal. They want to score more, and it is just an infectious hunger within them that urges them to go for multiple goals in a game. 
Although it is still early days to say that Ferran Torres possesses this quality, he does have a certain knack of scoring more than once. It is not that he has done so before, but he has had several chances. The Spaniard is far from the finished product, but he is 21, hungry, and is just getting the knack of scoring goals in big games. Moreover, Guardiola does not allow his team to sit on their laurels as he has an equally qualified bench to provide the tons of goals he wants his team to score. Moreover, Torres' natural ability to fall into the right places and score the goals shows the hunger he has to increase his tally continuously. 
It is the perfect prototype for a team like City. Young, full of desire, eager to learn, capable enough to lead a line – Torres ticks all the boxes and can be converted into an efficient goal-scorer for the club in the long term, something that is certainly possible under a coach as talented and experienced as Guardiola.
While attacking instincts and a general love to score goals prove why Torres could be the No 9 City need, the Spaniard provides something different as well– something that could urge Guardiola to field him in his team week in and week out. 
3) Tactical Flexibility: Playing as a Nine as well as a False Nine
It is no secret that Guardiola likes to tinker with his system. It has been his greatest doom at Man City. Their lack of success in the Champions League is often pointed towards the fact that the Spanish manager 'overthinks' the big games. This is where Ferran Torres comes in. 
Torres fits into any system Guardiola wants to play with. The 21-year-old has had one year under the former Barcelona manager and now knows exactly how most of his tactics and formations work. The added advantage that Torres gives is that he can play as a false nine as well as provide an out-and-out goal-scoring option. It is clear from the evidence above that he can operate as a No 9, but his first season at the Etihad, or rather the latter part of last season, also turned him into an effective false nine option.
City have mercurial and talented wingers. Phil Foden, Riyad Mahrez, Raheem Sterling, Jack Grealish, and even Gabriel Jesus to a certain extent are excellent options to have in a Pep Guardiola system. Every single player is comfortable in every area despite playing as a false nine or a proper striker, apart from Jesus, who can do so but his qualities are much better when he converges from the wings into the central areas. 
Torres' disadvantages, which are lack of quality in 1v1s; lack of ball progression; and ability to outmuscle opponents, plays into Guardiola's favour. Other players in his squad can make up for the Spanish forward's inabilities, but his strengths allow his manager to play any formation.
If Guardiola prefers a false nine, Torres knows how to hover in open spaces and create goals for the wingers. He is also extremely adept at connecting play, as he always finds pockets of spaces to receive the ball and then turn. His awareness of the players around him and passing the ball almost instantaneously after receiving it make him a great connector between the overlapping wingers and the central midfielders. This tactical flexibility will come key for Guardiola against some of the bigger teams he tends to overthink against. 
For example – a team like Chelsea allow absolutely no space in between their defenders and midfielders and they press constantly when the opposition has the ball. At the same time, they also keep a low block. This bothered Guardiola in the Champions League final massively. A false nine, especially one like Torres would have been a nuisance to the Chelsea defence because he would have been able to constantly drag defenders with him and create space for his teammates to run into. His abilities as a pure No 9 were on show against Arsenal, against whom he could also have functioned as a false nine, but it did not make sense after the Gunners were a man down.
Additionally, the fact that Torres is a sponge in Guardiola's hands also helps massively. The duo both hail from La Liga and are familiar with the culture, the language, and the football. Thus, Torres does not necessarily need to be flexible because he does not have a set position in the squad. He is a player who can do all sorts of jobs for Guardiola, who in turn can use him in different formations, with different tactics to counter the variety of teams in the Premier League and in Europe. 
He is not the solution City were looking for at the start of the summer, but Ferran Torres is certainly one of the most talented players in City's squad who can provide an answer to the most telling problems of City's season. He can be worked upon and be moulded into a fearless forward, and he is more than capable enough to lead the line this season. In a team full of big-money stars, Torres is a diamond Guardiola found in his homeland– a diamond he now needs to sharpen if he wants to win the biggest silverware again this season.