Leroy Sane officially signed a five-year deal at Bayern Munich for £54.8m plus add-ons and has left the premises of Manchester City.
Sane spent the majority of his youth career at Schalke 04 and was promoted to their first-team in 2014. He made his debut and scored his first goal in the same season. The German winger rose to fame when he scored in Schalke's 4-3 win over Real Madrid in 2015. His performances led to interests from various top European sides and Manchester City signed him for a reported £37 million transfer fee on a five-year deal.
He spent four seasons at Etihad and made 135 appearances for the Citizens, scoring 39 goals in the process. He was about to sign for Bayern Munich last season but his injury in the Community Shield blocked the move. He spent the entire 2019-20 campaign on the sidelines and made just one Premier League appearance. Bayern Munich were ready to offer £140m last summer but they got him for £54.8m after negotiations with City.
Did Leroy Sane leave Manchester City too soon?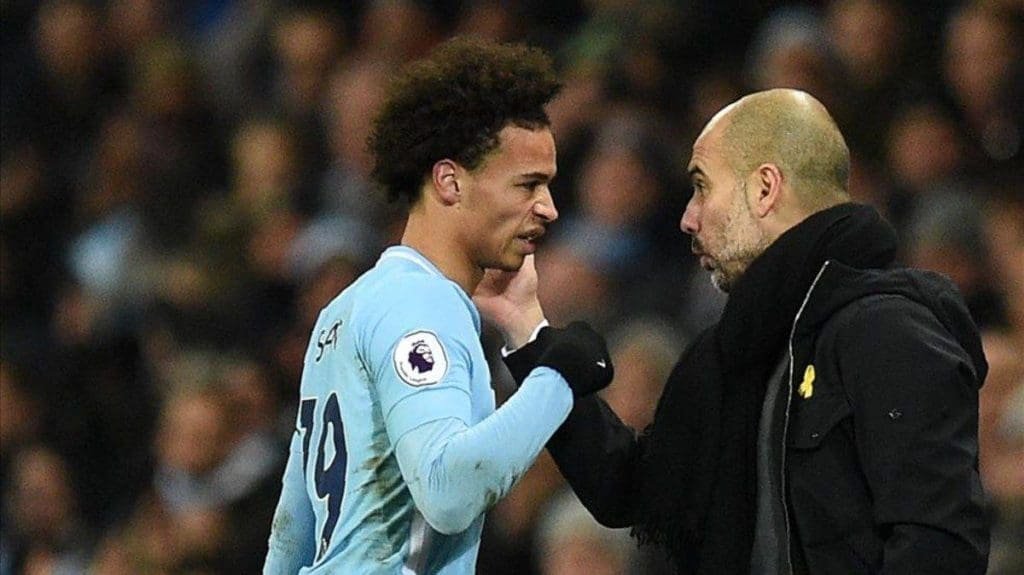 The German international was an undisputed starter last season under Pep Guardiola. But still, he wanted to leave for Germany despite the 10-month injury. It was reported that Sane and Guardiola didn't have a good relationship, however, they still had a professional relationship on the pitch. In January 2017, Guardiola criticised Sane for attending New Year's Party and arriving late to training sessions. It was also reported that he talked to the German media about Sane's behaviour. The Catalan manager has also mentioned Sane in his book.
"It's about his mental attitude. If he wants to keep improving, if he wants everyone to see how much he has progressed, then first he has to accept there is room for improvement and apply himself. Then he will be a better player. He has got the talent."
Leroy Sane's game-time reduced after March 2019 and since then he has barely played for City. Bayern were looming around and they were able to sign him finally this year.
He has been very important for Guardiola's formation. Even though they had a fallout, Sane was still very crucial for Guardiola's tactics. Almost all of Guardiola's wingers are wide players who like to cut inside while playing on the flanks. This is visible when Sterling, Riyad Mahrez, Bernardo Silva and Phil Foden play. Sane is a left-footed left-winger and is a more direct player. His style suited Guardiola's gameplay. Sterling has been poor on the left-wing since Sane's injury and this has changed the whole dynamics of the lineup.
Sane absence has led to City struggling in the Premier League with eight losses. Here are his overall Premier League stats:
| | |
| --- | --- |
| Matches | 90 |
| Goals | 25 |
| Assists | 28 |
| Wins | 68 |
| Losses | 9 |
This stat proves how good City were with Sane. Sane and Sterling on wings suited Guardiola's 4-3-3. Pep likes to utilize the depth and full length of the ground. In this formation, full-backs are allowed to move further with Fernandinho dropping deep between the centre-backs. The attacking midfielders (Kevin De Bruyne and David Silva) then push further up, while Sane and Sterling are encouraged to stay wide and provide width. From there, they are allowed to make runs inside the box to latch onto the clever & exquisite through balls from De Bruyne. Sane's absence has clearly helped Mahrez to prove to his worth but it has severely affected City's dynamics.
Another setback from Sane's departure is Manchester City's Champions League hopes. Manchester City have an advantage after the first leg of R16 and have a good shot at the trophy this season. Sane's early departure shows how desperate he was to leave England. Now Manchester City will have one less quality player in their squad for the upcoming UCL fixtures to be held in the month of August.
However, it was a good move for Sane as he will get to start on his favourite position on the left-wing and will be complemented by fellow teammates Lewandowski and Gnabry. Bayern move has now also ensured a spot in the national team and next season's Euros.