Reports around the Emirates are rife with the speculation that Ben White could join Arsenal soon, although there have been no concrete details about the deal as of yet. While that might be the case, it is interesting to see that Mikel Arteta is going out and buying a centre-back even though he already has a player like William Saliba in his squad.
It is important to understand that both Ben White and William Saliba can co-exist because while the Brighton defender already has the know-how of playing in the Premier League, Saliba has played very little football at the top, let alone in the Premier League. While both are certainly long-term options for the Gunners, it would be interesting to see how the two compare based on their performances last season.
Before evaluating the two on various statistics, it must be noted that Saliba is four years younger than Ben White and played half the games than the Englishman last season, courtesy of which, the comparison shall be on averages and shall be divided into three categories i.e. defensive actions, passing, and standard all-round performance. 
A) DEFENSIVE ACTIONS:
While both defenders are cautious more than rash and do not jump into tackles, their numbers are moderate and shape up like any other modern defender today. In terms of tackles, Ben White averaged 1.4 tackles per 90 minutes last season while Saliba was averaging 0.8 tackles per game. This clearly shows that White has the confidence to lunge into tackles more than Saliba but this statistic could also be influenced by the league both the players are playing in. While the Englishman plays in the Premier League, which has high flying pressing games, Saliba played in the French League last season with OGC Nice, which includes more technical play. 
In terms of interceptions, White averaged 1.7 per 90 minutes while Saliba averaged 1.3 interceptions per game, which is a very encouraging number for the Frenchman. Given that Saliba is only 20-years-old, it shows his level of awareness in the game as well as his potential to do better. One outstanding statistic of Saliba, however, is the 0.1 dribbles against, which means that it was next to impossible to dribble past the 20-year-old last year.
In comparison to him, Ben White averaged 0.9 dribbles against, which, although is an impressive statistic, is nowhere near Saliba's number. While this statistic is often misinterpreted, Saliba was actually on the end of several counter-attacks last season, courtesy of which his numbers are impressive. 
The last statistic to evaluate the two defenders would be successful pressure percentage i.e., the percentage of time the side gained possession within five seconds of applying pressure. Ben White averaged a 34.7% successful pressure percentage while Saliba edged out the Englishman with a 42.7% successful pressure percentage. This means that Saliba is isolating the forwards in the right areas whereas he is also pressuring the opposition at the right time. This statistic is also however influenced by other players in the team, courtesy of which White's numbers suffered a little last season in this area. 
Thus, Ben White could be a better player in a better team while William Saliba is already a great defender, and a loan move will help him develop his tackling skills more as his awareness is already up to the mark. 
B) PASSING:
In terms of basic passes, Saliba's numbers (73 passes per 90 minutes) were far better than Ben White's (45 passes per 90 minutes) as he was making nearly 30 more passes per 90 minutes than the Englishman. However, that depends on the style of play of the team as OGC Nice were a possession heavy side last season whereas Brighton averaged less than 50% possession in most games last season. While that may be true, Saliba's pass completion rate (91.3%) is also better than White's pass completion rate of 83.2%.
Thus, Saliba is already a far better passer than Ben White, but now let us take a look at the kind of passes both players attempt i.e., long passes, short passes, mid-range. 
While both have similar numbers of passes attempted in all three areas, Saliba's pass completion rate is better than White's in all three areas. However, it must be noted that the difference is marginal, and both players have averaged more than 85% pass completion rate in short and mid-range passes. While Saliba is averaging an 82% pass completion rate with long passes, White suffers in comparison, with a 64% completion rate.
A modern-day defender is also judged on how many defense-splitting passes they are completing. Ben White was the outstanding candidate here as he made 0.5 passes per 90minutes that directly led to a shot, whereas Saliba very rarely attempted such passes. Thus, this shows White's experience in the game and how much Saliba needs to develop in this area. However, Saliba made nearly four passes per 90minutes into the final third of the pitch last season, as compared to Ben White, who completed nearly three passes per game into the final third of the pitch.
Both good numbers for Mikel Arteta, whose method includes keeping the ball on the ground, thus, both defenders will fit seamlessly into the style of the Spaniard's game. 
C) ALL-ROUND PERFORMANCE: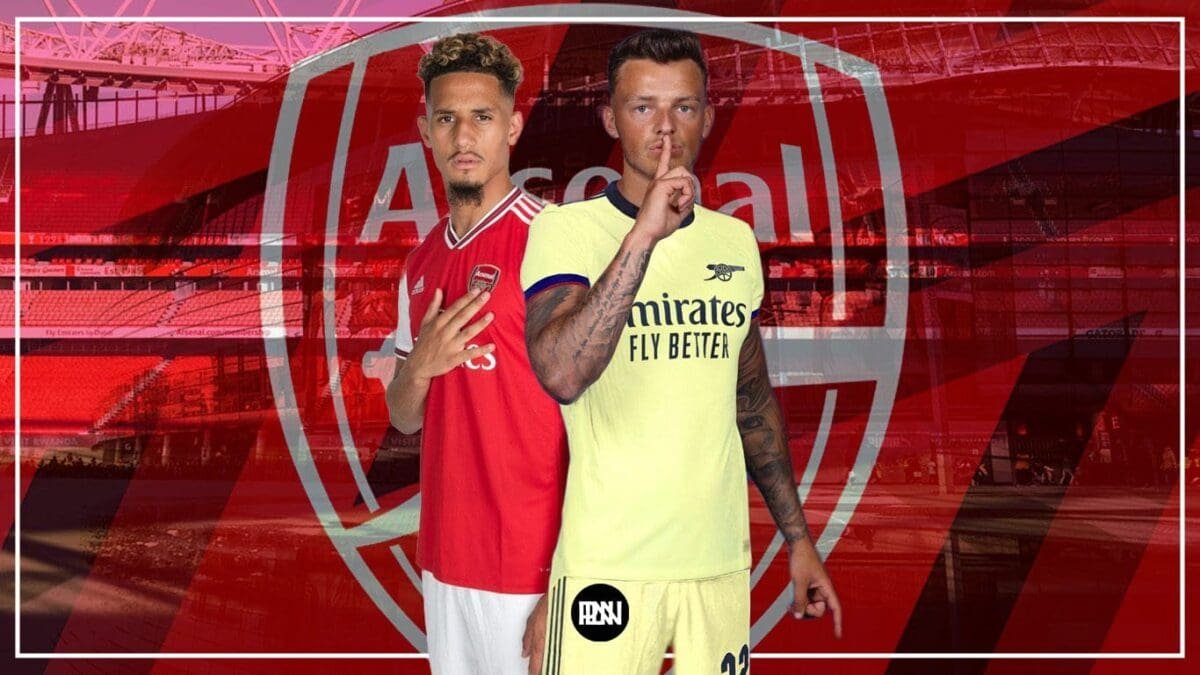 While both defenders could eventually fit into Arteta's mould of play, they still need some work to do. Although Saliba's numbers are better in a lot of the areas and he is younger than Ben White, the Frenchman has played in a comparatively less competitive league, while he has also arguably had a less competent team around him. Pressure also plays a role on a player's performance. For example- there was more pressure on Ben White last season as he was the starting centre-back for a club that was successful in avoiding relegation, and thus he played a more cautious role. 
On the other hand, William Saliba played in a team that finished in the top half of the table while Saliba was not the starting centre-back for the club, relieving the pressure off him considerably. Thus, this allowed him to play a more adventurous role. However, given his age, he has certainly excelled in most areas. 
Thus, Ben White is a Premier League-proven product, and while he may not be worth £50 million to the Gunners, he is certainly worth that to Brighton & Hove Albion. But one can see why Arteta wants the Englishman as he brings a sense of calm in an otherwise chaotic defence. 
Similarly, William Saliba needs to go out on loan, preferably to a Premier League club, but even a club in Europe's top 5 leagues will also do as it won't be long before the Frenchman is a ready product and for all we know, in a couple of years, both Saliba and White could be playing for the club together under Arteta. 
Two good players, but both will have different seasons next year. While both have their journeys at different clubs, they will be keen on impressing Mikel Arteta next season– the ultimate end goal which bodes well for Arsenal as well as the two players.