Manchester United have signed the butcher. No, not Bill. Lisandro Martinez. The Argentine who has earned such an intriguing name for his menacing look and his tough, blood-on-nose style of defending.
Since the move was confirmed beyond any doubt (now made official), discussions have followed over how much United stand to gain or lose from sailing largely untested waters in the modern Premier League era and recruiting a 175cm central defender, who'd be the shortest in the league by a distance.
This article is filled with details on Martinez, so that at the end you will have a firm understanding of his strengths and weaknesses. But it also takes a broader look, at team dynamics, center-back partnerships, and codependence between players. So we can extrapolate how much United could gain or lose from the move.
Lisandro Martinez – a rundown
Martinez excels commendably at last-man defending, at least fundamentally. Which is a positive. He is not the rash, duel-crazed bloodhound fans seem to have him marked down as; even if his small frame often forces him into uncomfortable situations and causes him to overcompensate when defending.
Lisandro is more calculated than he comes across, and uses a lot of 'street-wiseness' when defending, as well as possessing great awareness which allows him to partly make up for his small size.
He reads the flight/weight of passes and long balls to his opponents as good as the tall, towering CBs. And this is one of the factors that has ensured his aerial duel numbers remain respectable for a defender of his size.
Erik ten Hag has confirmed that Harry Maguire will retain his captaincy and pair Martinez in central defense for United this season. This being the case, there are some key dynamics we should expect to see from the duo as the season goes on.
Ball progression
Perhaps the single best rationale for sanctioning such an audacious move is Martinez' ability on the ball. His and Maguire's combined ball playing abilities are certain to raise the technical level and strengthen United's ability to bring the ball out from the back.
Harry Maguire is at his best as a ball-playing CB when on the right of defense, operating at angles that favour him and allow him to sort his feet out quickly, for long passes and surging runs forward with the ball at his feet. While Martinez' ease of movement and inventive feet should make United much harder to press.
Switches to the opposite flank and to the inverted full-backs should be a constant release valve for United under pressure or when looking to start offensive moves, as both players excel at passing to the far side.
This quality will also allow United more often bypass the midfield when progressing the ball and move the ball to the forwards faster, since both CBs can find the winger on the opposite side with just a swing of their feet, or slip the ball between the lines for central players to receive.
Tracking movement in behind
Defending in a high line mostly involves a host of defensive actions other than chasing back. Pace isn't a major requirement for CBs in a high line, because they mostly have to only defend what's in front of them. But having CBs who can track and match quick opposition players, either through quick acceleration, good turning speed, large strides, is also a feature of the best defenses.
Of the duo in the new CB pairing, Harry Maguire is slow on the turn and struggles with lateral movement, while Lisandro Martinez takes very small strides due to his short legs and mostly struggles to keep up with players when they start running towards his goal. Having this combination of physical profiles in two aggressive CBs could prove to be a huge problem for United when opposition players attempt to run in behind or if United ever get caught high up the pitch.
In the preseason friendly against Melbourne Victory, the Australian team scored a goal that preempts some of the issues United could face with a Maguire – Martinez pairing. It was Victor Lindelof this time playing the role of an aggressor and got caught out near the halfway line while Maguire struggled to move laterally and block the angle for the cross that ultimately assisted the goal.
The sequence leading to Melbourne's goal could easily be repeated with Martinez at left center-back. Often times him or Jurrien Timber would step out to engage opponents and, if they failed to win the ball, would struggle to deal with the runs into the space behind them.
Man-to-man marking
Ajax often used a man-to-man marking scheme under ten Hag. A set-up that might further expose the issues noted in the foregoing section.
CBs getting dragged to the wide areas, or tracking opponents into midfield increases the possibility that space is exposed behind them. For hyper-mobile players like Jurrien Timber and Martinez a man-to-man scheme would have more success, but in a Maguire – Martinez pairing it could prove to be disastrous given Maguire's lack of swift movement on the ground compared to Timber's.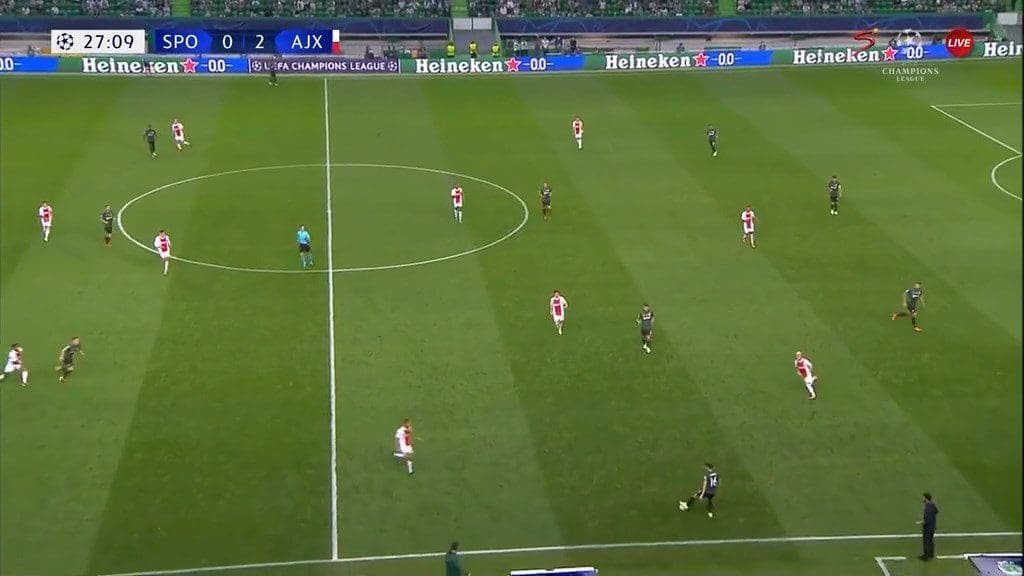 If ten Hag were to persist with such a set-up he'd need a defensive midfielder who can offer a strong physical, duelling presence when shielding the defence and is comfortable slotting into center-back positions. A role Edson Alvarez and more notably Casemiro played remarkably well for their respective clubs last season. But United don't have such a profile, so the defensive organisation needs to be more righteous.
Opposition players will sometimes have to be tracked into areas that are unnatural for a CB. But for the most part, a zonal marking scheme is less likely to expose creeks in this CB partnership.
Box defending
Martinez does the basics of box defence to a high level. He constantly checks over his shoulder, scanning for threats in his box. He stays aware to prevent opposition forwards from getting ball-side of him or attacking his blindside. And he closes down opponents in the box, with intensity.
These are all positives, but the basics can only help so much when the need for physical exertion/dominance arises.
Martinez doesn't have a large enough frame for blocking shots in the box, or crosses into the box. He lacks an outstanding leap to make up for his height deficiency, which could cause some problems when defending his blindside and when opposition forwards arrive in the box to head the ball from deep.
Forwards are often able to get shots off with Martinez guarding them either by using a burst of pace or simply shooting from an angle far from his rather small reach.
Maguire, on the other hand, struggles with lateral movement and often can't keep up with a burst of pace. He has a large frame but fails to make the best use of it, as he constantly tries to block shots with a poor body orientation. He'll often turn away when shots are played, skew his body and leave room for dangerous deflections. And other times simply can't angle his body the right way to prevent shots from reaching his goal.
Maguire, however, likes to get across and assist his partner in defence, especially when defending in a low block. And does quite well in this aspect. So Martinez will always have support. Problems will arise only if Maguire doesn't move across swiftly enough, or doesn't do well to block shooting angles or prevent shots. Which, as already explained, is not unlikely.
Long-term potential
For all the strengths and weaknesses noted in the previous sections, Martinez' and Maguire's weaknesses will be much more exposed with David De Gea in goal, or any goalkeeper at all who is poor at coming off his line and taking pressure off of his defence. You'd be safe to assume that a pairing of Maguire and Martinez will outlast the Spanish goalkeeper at Manchester United.
Martinez and Maguire should form a pair of aggressive ball-playing CBs good enough to rival any team's on the ball. But as the Premier league keeps going from strength to strength, it's not difficult to imagine United needing better athletic ability and physical dominance in one of those positions soon if they will carry on with playing a high line. Especially since United won't benefit much in the way of on-ball ability that elite Premier league and European teams don't already have alongside better athleticism.
In which case, United would have spent within a scratching distance of 200 million euros without getting a long-term defensive partnership in return. And that would simply be poor planning.