In an exclusive interview with the Guardian, former Arsenal manager Unai Emery has now revealed all about his time at Arsenal and behind the scene problems in the dressing room and among the management.
He spoke fondly about his first season at the club, saying: "The first season we did a lot well," Emery says. "I thought: 'This is my team.' People said: 'Unai, we can see your personality in this side.' There was spirit, games with intensity, energy – Tottenham, Manchester United, Chelsea – and we reached Arsenal's first [European] final in 13 years, playing very well against Napoli and Valencia. Finishing third was in reach but we lost four decisive points against Crystal Palace and Brighton."
He identified the impact of Ramsey's injury, how it made the team weaker at a very crucial part of the season.
"[At first] things went magnificently; there was a good spirit in the dressing room," Unai Emery begins.
"[Aaron] Ramsey's injury, when he was at his best, had a big influence: he conveyed positivity, so much energy. And playing a lot of important games in April without him, we needed 100% implicación from every player."
Lack of commitment and low mentality were always the major talking point during the past season, with pundits and fans criticizing the players for not showing enough commitment and been weak mentally especially against top teams in the league. This is a situation which Emery also revealed and linked with the Europa league loss to London rival Chelsea and he also criticized the board over their failure on some of his proposed signings and loss of four of his captains, he continued:
"In Baku Chelsea were better, I accept that. In the second half Eden Hazard made the difference. Preparations were good and everyone was committed. But some players had a mentality that says one day 'yes', one day 'no', when in football it has to be 'yes', 'yes', 'yes' every day. We lacked that little extra to get through a lot of games in those final weeks. If your application and commitment falls below 100%, you can lose, and that's what happened.
"People were happy but something was missing," Emery continues.
"I told the people running the club. And then there were decisions that didn't go well. Mistakes were made, and as coach I take responsibility for mine. For example, all four captains left. Ramsey had decided he was going. It would have been better for the team if he had continued, and for me. Petr Cech was retiring; fine. But I wanted Laurent Koscielny to stay, Nacho Monreal to stay. All those leaders went, which makes the dressing room something else.
"We signed [Nicolas] Pépé. He's a good player but we didn't know his character and he needs time, patience. I favoured someone who knew the league and wouldn't need to adapt. [Wilfried] Zaha won games on his own: Tottenham, Manchester City, us. Incredible performances. I told them: 'This is the player I know and want.' I met Zaha and he wanted to come. The club decided Pépé was one for the future. I said: 'Yes, but we need to win now and this lad wins games.' He beat us on his own.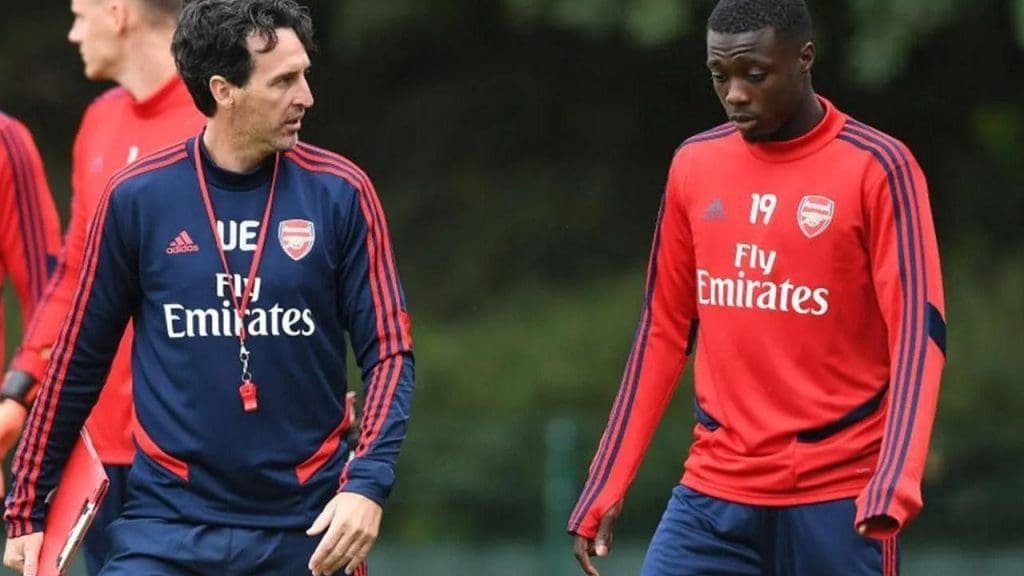 "It's also true he was expensive and Palace didn't want to sell," the Spaniard concedes. "There were a series of decisions that had repercussions."
"[Initially] he wanted to stay," Emery says of Ramsey. "He needed to negotiate a new contract and they didn't reach an agreement. The club had doubts about renewing for a certain sum. Ramsey wanted to feel valued. It was a financial matter; I can't get involved. And I still didn't know him well when I arrived. He's important but I can't say what they should pay him.
Emery also discussed Arsenal's captain dilemma and the manner of their of appointment: "I believed Xhaka could be captain. And the players voted for him, he was respected in the dressing room." But why vote? Why not own that decision yourself?
"My strategy was 50% me, 50% them. I like to have players' input, their opinion. There were people with the character to be captain, but you need time and backing. Without the support of certain people or the fans, it's harder. If Xhaka had Koscielny and Nacho, or Ramsey, he could have eased into it. Emotionally, certain results and attitudes inside didn't help the team have the commitment and togetherness of before."
The issue of Ozil's lack of game time and improvement couldn't be swept under the carpet, as he (Ozil) was one of the worst performer and mostly been tagged as a scapegoat when things doesn't click offensively: "I spoke a lot with Özil," Emery says with a long pause and possibly even a hint of sadness.
"He has to be self‑critical too, analyse his attitude and commitment. I tried with all my might to help Özil. Throughout my career, talented players have reached their best level with me. I was always positive, wanting him to play, be involved.
"In pre-season I told him I wanted to help recover the best Özil. I wanted a high level of participation and commitment in the dressing room. I respected him and thought he could help. He could have been a captain but the dressing room didn't want him to be. That's not what I decided; that's what the players decided. Captains are ones who have to keep defending the club, the coach, teammates."
"Sometimes they were better, sometimes worse, like all players. Sometimes he wasn't available because he was ill or his knee hurt. Watford was his first after the robbery, and I put him [straight] in. I was always open to talking, he was always in my plans, but he had to do his bit. And there were things I couldn't control."
Replacing Arsene Wenger obviously wouldn't be an easy feat for any manager coming to replace the legendary Arsenal manager but claims of lack of support from the board during his reign at Arsenal will come as a surprise to many followers, especially the fans whom were craving for his exit long before it was announced. Emery claims that:
"A coach has to have the strength to take responsibility, to be [in the firing line]. I protect the players and the club protects the manager. I'm a club man, that's what they signed. With Arsène Wenger it was different: he did everything. Now there's Raul [Sanllehi] and Edu, and I have to trust them to do their job. My job's the football. The club have people who handle other stuff, although that impacts on the pitch. Some of that hurt us."
"I had a decent level, although I needed to improve. When results are bad it's not the same. You lack the linguistic depth to explain. And take 'good ebening': OK, it's 'good evening', but when I said 'good ebening' and won it was fun; when we were losing it was a disgrace."
"The energy slips, things drift; everything does, everyone does. Some support you but you feel the atmosphere, relationships [shift]. And that transmits to the pitch. Losing leads against Palace and Wolves reflected our emotional state: we weren't right. It wasn't working. I told the players: 'I don't see the team I want.' That commitment and unity wasn't there any more. That's when I see I'm on my own. The club left me alone, and there was no solution."
"Indeed," Emery says.
"At every club, I've been protected: Lorca, Almería, Valencia, PSG. At Sevilla I had Monchi. At PSG Nasser al-Khelaifi protected me in the dressing room and publicly. At Arsenal they weren't able to, maybe because they came from Wenger, who did everything. They'd say: 'We're with you' but in front of fans and the dressing room they couldn't protect me. Truth is, I felt alone. And the results dictated I had to go."
Would Unai Emery have had a fruitful time at Arsenal if his transfer requests, club backing and the loss of four of his captains situation had resulted positively?
Or are these just one of those excuses from a failure?