Amongst the many superlatives and adjectives that are provided by the English language there is one word that always comes to mind when I think about Jamie Vardy and that is 'Inspiration'.
Vardy has proved himself time and again on the pitch and I think that it is definitely worth taking a sneak peek into what makes him such a prolific striker as well as a much-adored figure in the region of Leicester.
This is brief tribute to the player who started his way right from amateur teams where he juggled between a factory job and his games to one day becoming one of the most loved names in the footballing community.
Jamie Vardy first came to light in the mind blowing 2015-16 season which saw the rise of the underdogs and Leicester finally picking up the trophy after a long wait. Most of the star players of that team like Mahrez and N'Golo Kante have since left for greener pastures but not Jamie Vardy.
"Leaving Leicester? No way! They wanted me when nobody else did. I'm not going to let them down." This line by Jamie should be evidence enough of how loyal and dedicated he is to this team.
So on this occasion let us see how Vardy became this ruthless goal scoring machine. By watching all of his games under Leicester till now you can define his goals into three broad categories.
What has been even more surprising is his tactical evolution over the ages right from Claudio Ranieri where there was more focus on quick, direct passing and to Brendan Rogers where possession and slow build up is generally preferred.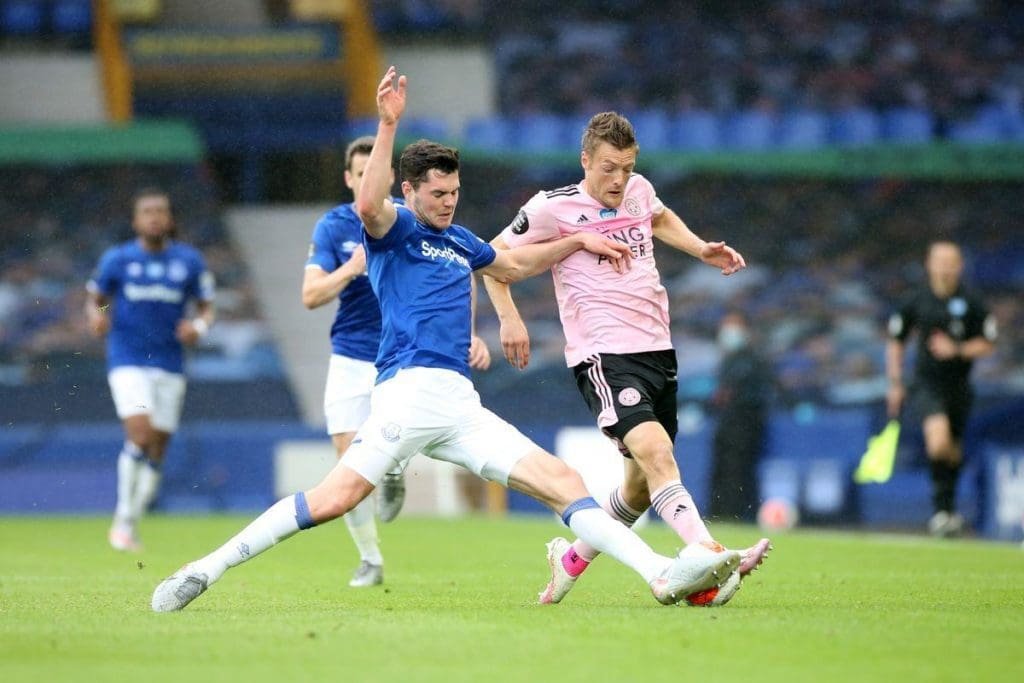 Without a doubt the most favourite goal that Jamie Vardy likes to score is Running in behind the defenders where he gets the ball and makes a dash for it mostly only stopping after the ball is in the back of the net. His pace and ability to shield the ball make is the perfect reflection of why he scores this kind of goal on a more regular basis.
He is also a great threat when the ball is put in the box where his sharp movements and hunger for the game also ensures that he gets those scrappy goals fighting for every inch and minute.
One should also note that out of the first 100 goals that he has scored 18 were penalties which tells you that he isn't shy from the spot and as composed as any of the top strikers from the so called 'BIG Teams'. The true mark of any leader!
The majority of his goals are from within the area and till date he has been assisted the most by Mahrez (14 times) because Mahrez had the knack of playing the perfect through ball in between the defences and who better to get on the end of them then Jamie Vardy himself.
They did prove some nightmare for the opposition's defenders and my god what a show they put up on their best days. The second in the list of assists has been Drinkwater who came up with 7 assists and thus this trio were a pivotal part of the title winning campaign.
But sadly, Vardy is the only one of them who is still at the club and that again shows why it is difficult for clubs like Leicester to achieve those feats on a regular basis but through it all Jamie has been the epitome of what it takes to make it big in the football world.
People may have left and gone and I'm certainly not pointing fingers but I will always remember Jamie Vardy as one of the most talented footballers of his time who loved his game and his club unlike most players today who would join their rivals without second thoughts just for a little more money or the allure of some trophies.