"Arsenal are walking in a winter wonderland!", do you remember these lines when Mesut Ozil dinked the ball over Simon Mignolet into the goalpost in Arsenal 3-3 draw against Liverpool in that iconic match? The German made it 3-2 after Arsenal went 2-0 down in the first half. Well, it's not winter, it's not Mesut Ozil and neither is it Arsene Wenger but Arsenal are well and truly walking in the wonderland this week. After losing to arch-rivals Tottenham Hotspur, Mikel Arteta's men turned it around and went on to beat two of the Premier League's, if not Europe's, best teams. If the critics could have called Arsenal's victory over Liverpool a pun of luck for the Premier League champions then the Gunners made it a point to not give any such opportunity against Manchester City. It was a tactical masterclass by Mikel Arteta and an implementable brilliance by his players.
Mikel Arteta once again sprung few surprises with his lineup as he started Ainsley Maitland Niles, a midfielder who has been usually deployed as a right-back, as a left wing-back, a decision which played huge dividends as discussed later in the article. Rob Holding. Who had a brilliant game against Liverpool was dropped for the usually error-prone Shkodran Mustafi. Cedric Soares, another player who has impressed the Arsenal fans in recent weeks was benched for Hector Bellerin, who's still searching for form since returning from his long term injury. Lucas Torreira, who also started against Liverpool, was replaced by an in-form Dani Ceballos. The only unsurprising change came in the form of Nicolas Pepe who replaced last match's match-winner Reiss Nelson.
Mikel Arteta went out with his preferred 3-4-3 formation. Emi Martnez kept his place between the sticks while Hector Bellerin and Ainsley Maitland Niles started as wing-backs on the right and left flanks respectively. Shkodran Mustafi, David Luiz and Kieran Tierney made up the back three. Dani Ceballos and Granit Xhaka played as the double pivot while Alexandre Lacazette, Pierre Emerick Aubameyang and Nicolas Pepe made up the front three for Arsenal.
The tactics deployed by Mikel Arteta were slightly tweaked and it might well have made the difference. Before discussing that, firstly, Arteta's choice of personals for this match should be discussed as they turn out to be key changes in respect of the match's outcome. A rather bold move was replacing Rob Holding for Shkodran Mustafi as the former Bolton man had a really solid game against Liverpool and there was a surge of support for him to be included ahead of Mustafi who has made a name for himself for conceding unforced errors. It was a bold choice by the Spaniard and the German international repaid his faith with a terrific performance on the day. While defensively he was unusually solid, however, it was his ball-playing abilities which tipped him ahead of Rob Holding, who isn't renowned as a ball-player defender. Arteta wanted to build from the back and he required a defender who could have the composure to implement his tactics.
Arsenal's build play was a key to their tactics on the day as they wanted to invite Manchester City's midfield to press them down so they could create a space behind them which would leave their defence vulnerable. Unai Emery in his time at the Emirates tried to implement the philosophy of build from the back, however, he wasn't really successful in doing so as he failed to use the goalkeeper as an active participant of the build-up. However, under Arteta and specifically in yesterday's game, there were a lot of instances where Emi Martinez played an exceptional role in the build-up. It was a back three of Shkodran Mustafi, Emi Martinez, David Luiz when Arsenal built from the back. Kieran Tierney and Hector Bellerin were closeby as conventional left-back and right-back respectively while Dani Ceballos and Granit Xhaka stationed themselves just in front of the back three.
This formation made City lose their shape and press Arsenal. Gabriel Jesus pressed Emi Martinez, Kevin de Bruyne and David Silva were arguably made to press Ceballos and Xhaka by Arsenal. That left Raheem Sterling and Riyad Mahrez with a choice to make, whether to press the centre back or the full-back. Which in Sterling's case were Mustafi and Bellerin and in Mahrez's case were Luiz and Tierney. Arsenal didn't play the ball out until they got one the wingers committed and created a space for the free defender to make a pass into the vacated space by de Bruyne and Silva. This space was usually exploited by Alexandre Lacazette, who's renowned for his hold up play, to build the attack for Arsenal's pacy wingers to run at an exposed city defense.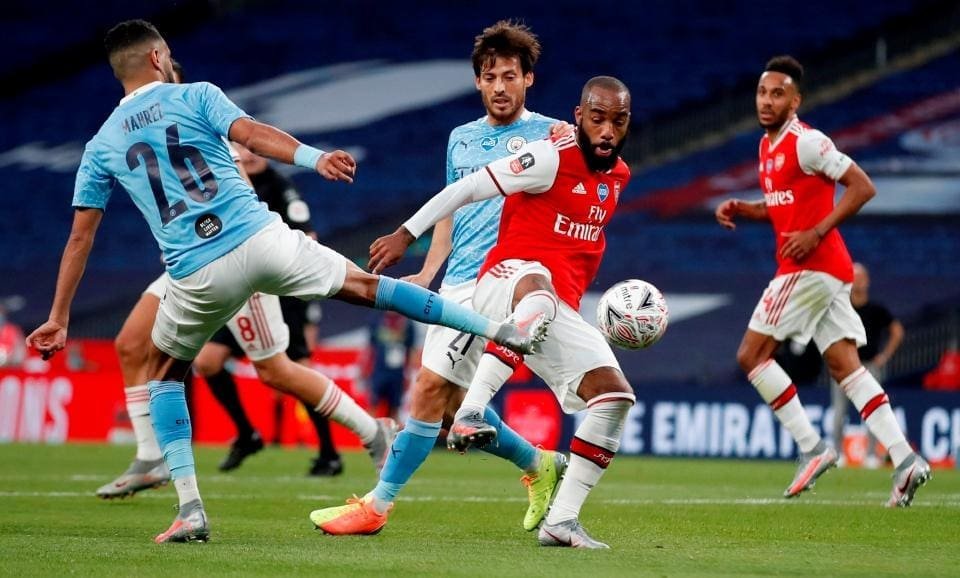 The two midfielders were told to guard the backline and play a deeper role to invite Manchester City's midfielders to press them high and in turn creating space for Arsenal to counter. Granit Xhaka, however, had a multidimensional role, in possession, he was asked to sit deep and help Arsenal build the play from the and out of possession he was tasked to press whoever among David Silva and Kevin de Bruyne went deep to receive the ball.
Now comes the tactical surprise of the match by Mikel Arteta, as he has exhibited a habit of springing new surprises each match, Ainsley Maitland Niles. When he was named in the lineup many were confused why Arsenal were playing with two right-backs. A possibility was playing a 4-3-3 with Maitland Niles playing as a central midfielder on the left, however, he was actually being played as a left wing-back. And the tactics paid dividends for the Gunners as the Alegerian's threat was arguably nullified by Maitland Niles.
The front three of Arsenal, on the other hand, did a tremendous job in nullifying Manchester City's build-up play, unlike against Liverpool they were told not to press City's backline as City didn't pose the same aerial threat as Liverpool did and neither were City centre backs as good as Liverpool to find their wingers behind Arsenal's backline. Manchester City's defenders were allowed the space to move into advanced areas but their passing lanes were cut off by Arsenal's front three consisting of Pierre Emerick Aubameyang, Alexandre Lacazette and Nicolas Pepe. While Aubameynag and Pepe blocked the passing lanes to City's full-backs Lacazette, on the other hand, was tasked with pressing Ilkay Gundogan, this tactic proved to be fruitful for Arsenal as it forced one of City's advanced midfielders, in Kevin de Bruyne and David Silva to drop deep and receive the ball, this resulted into a poor output from the midfield for Manchester City as they couldn't commit players higher up the pitch. And even the midfielder who dropped deep to receive the ball was pressed down by Granit Xhaka.
What this tactic also achieved was to invite Manchester City to play with a high backline which left enough space behind them for Aubameyang to exploit and so he did.
However, to give all the credit to Mikel Arteta for the result would be a gross injustice to the players as Arsenal players put in a genuine shift to deny Manchester City a much-expected win. Arsenal's defender put in a heroic performance as they denied Manchester City's otherwise lethal forward lines to score from 2 big chances that they created. David Luiz, in particular, showed his true colours and vindicated the unwavering support he had received from his managed, made 11 clearances, four interceptions, won all his aerial duels, lost just one of his ground duels, wasn't dribbled past once throughout the match, made 20 accurate passes and also created one big chance, to say he was absolutely immense for Arsenal wouldn't be an overstatement. He has come a long way since his performances against Manchester City in the Premier League at the Etihad stadium when he gave away a penalty and was sent off after being substituted in the match for an injured Pablo Mari.
Pep Guardiola's brilliance was, for once, challenged but by his own apprentice, Manchester City's might was arguably nullified by a rampant Arsenal and the Gunners went from a fallen giant to an uprising force in a matter of 90 minutes. Ilkay Gundogan statement after the match summed up the match perfectly as the German was quoted saying, "I think the energy we had starting the second half was exactly what we needed at the beginning of the game. Sometimes one very bad half is enough to lose the game and it looked like Arsenal wanted it more to go to the final which was the most frustrating part."
"We had two kind of good chances in the beginning when we won the ball in front of the Arsenal goal but after that our game was sloppy and slow and there was a lack of energy," the German international added.
"The energy was good (in the second half), we still struggled to create clear chances even though we had good shots but obviously the second goal killed the game," the former Dortmund man admitted.
If performance was a parameter for Arsenal's board to assess how much they should back their manager then Mikel Arteta has done all he can and shown what he could, the ball is in the Kroenkes's court.