Manchester City are struggling, at least by their superior standards. Ever since they lost 1-3 to Liverpool in a match full of controversy, City have not looked like themselves. A significant blow to their title chance seems to have affected the players more than anyone realised at the time. With another crushing blow against Manchester United last game week, City will now look to bounce back against Arsenal on Sunday. 
Arsenal's Dysfunctional Midfield Will Delight City
Arsenal has struggled like they haven't in the recent past, with just five wins in the 16 matches played so far. They have been consistently bad in defense over the past few seasons now. The club tried to rectify this by buying defenders like Mustafi, Holding, Mavropanos but to no avail. Their defense keeps shipping goals with every passing game week. 
While it has largely been the defense that has been criticized, it is vital to understand that the defense is not the sole culprit here. The midfield has done absolutely nothing to help them out. The midfield has not protected the defense enough by snuffing out attacks. In fact, Arsenal's midfield has been virtually non-existent when the opposition transitions into attack.  
Granit Xhaka has been the most favored midfielder under the current and the past two managers, which is rather mind-boggling given Arsenal's ineffectiveness in controlling games. While Xhaka definitely offers a wonderful range of passing, he has not been able to dictate the tempo of the game at all. Given a lot of time and space on the ball, the Swiss international will control the game and the tempo quite easily; however, time and space are at a premium in the Premier League. When the opposition press Xhaka, it is only a matter of time before he makes mistakes or turns over possession, which is a very dangerous situation to be in given their poor defensive record. He is not the most agile player around so recovering the all is quite a task for him too.
Xhaka is not to be blamed for all the problems we have in midfield. He has his strengths and weaknesses like any other footballer. What flusters the fans is the blind eye all managers seem to turn to this glaring problem in midfield. A solution to this problem was thought to be quite simple- place a defensive midfielder alongside Xhaka at the base of the midfield to protect him, thus enabling him to control the game. Torreira was brought in to do just that, or at least that's what the fans thought. Emery though seemed to have different plans; he deployed Torreira in a much more advanced position; almost like a box-to-box midfielder. 
This seems to have affected Torreira fundamentally, as he now looks to have lost his positional discipline completely. He no longer looks like the Uruguayan holding midfielder we saw at the World Cup or even the Serie A. Nowadays, you are just as likely to see Torreira taking a shot at the other end of the field rather than holding down the fort in the midfield.
This is certain to delight Manchester City. They will be licking their lips at the prospect of playing against this Arsenal midfield. City is one of the best teams when they are transitioning into attack, and given Arsenal's track record this season, they are bound to get many chances to score goals. According to Opta stats, only West Ham allow their opponents to transition from defense to attack quicker than Arsenal do. And with the pace and technical ability that City possesses, they should have no problems hurting Arsenal.
City's Defence Gives Arsenal Hope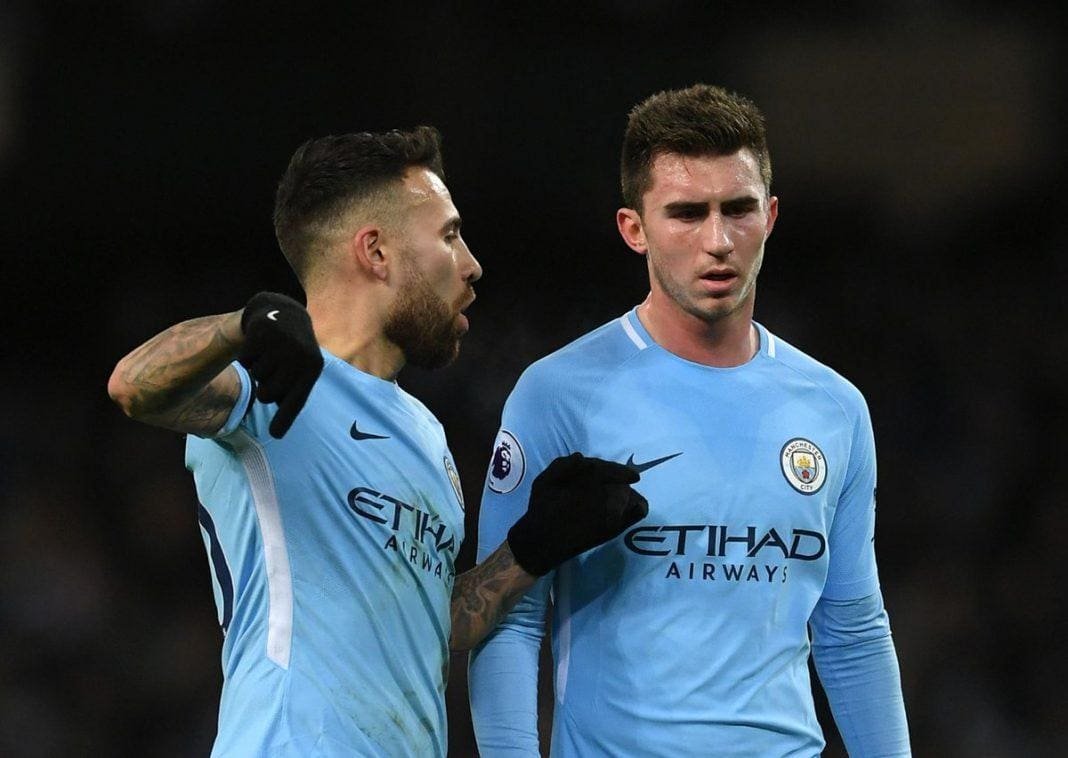 Manchester City is a quality team that can hurt anyone, but even they have one big problem and that is their defense too. Aymeric Laporte brought defensive stability to City that Guardiola struggled to get before the Frenchman was signed. With a long-term injury to Laporte, City started to lose the plot due to its defense. With Kompany no longer at the club, they not only lacked a leader but a cool presence at the back as well. 
Ever since their defeat to Liverpool, City looked off their best in all areas of the pitch. However, a thumping 4-1 victory against Burnley convinced everyone that they were back to their best; until they faced Manchester United that is. Nobody truly expected united to hurt City too much at the Etihad stadium. Boy were they wrong!
United looked like a team reborn with crisp and concise passing, quickly getting the ball into the final third. City's defense was left in tatters at times in the first half. Had United's attackers managed to get better shots on target, the game could have been over in the first half itself. But this just shows us the state of City's defense. While Fernandinho has coped with the responsibility somewhat, he is not a defender. He does have a tendency to get too far up the field to snuff out attacks, which could prove to be a boon for Arsenal's attack. Add to that the fact that Fernandinho won't be in the midfield protecting his defense, Arsenal may just have a chance of inflicting damage upon the champions. 
Apart from Rashford, United's attackers were low on confidence, but that mattered little ultimately. Surely with the likes Aubameyang, Pepe, Lacazette, Martinelli in Arsenal's attack, they can give City a run for their money.