Manchester City were evaluating numerous left-backs across Europe to solve their left-back conundrum. After losing out on Marc Cucurella, Man City also parted ways with their fan-favourite Oleksandr Zinchenko leaving them with just Joao Cancelo as a first-team worthy player who could excel as 'Pep Guardiola Full-Back'. City board have finally provided Pep Guardiola with a like-to-like replacement of Zinchenko in their new signing of Spanish wingback Sergio Gomez from RSC Anderlecht for just under £20 million including bonuses.
We are delighted to announce the signing of @sergiogm_10 on a four-year deal ✍️

Read more ⤵️

— Manchester City (@ManCity) August 16, 2022
At first, it was reported that Gomez will be joining as an EDS signing but, it was confirmed as a senior team signing after pictures of him donning Manchester City's iconic No. 21 shirt were leaked online. Let's analyze how Sergio Gomez and Manchester City can help each other during their time together from now.
GOOD NUMBERS
Remember the summer of 2017 when Phil Foden was awarded as the best player in U-17 FIFA World Cup held in India? Sergio Gomez was part of that competition representing Spain and he helped his country reach the finals and finish runner-up. In the competition, Gomez scored 25% of Spain's total goals finishing the competition with 2nd most goals for his country. Although things may have changed since that competition, Gomez is still a highly rated youngster in Europe.
Coming through from La Masia academy and representing Spain with the likes of Ferran Torres and Eric Garcia, Sergio's career may not have highlights as the latter duo but, his performance for Huesca and Anderlecht have been impressive.
With Spain U-17 he has 6 G/A in 7 appearances, whereas he helped Huesca to earn promotion and contributed to 6 important league goals. At Anderlecht, he had the best time in his career so far as he found consistency and played in an entirely new position. Contributing 6 goals and 11 assists from 39 games, Gomez became the first choice left-back in Felice Mazzu's setup.
So far, the only transfer that haven't worked for him is Dortmund and that too is not because of his style or form but, Dortmund were stacked with midfielders like Reus, Gotze, Kagawa, Sancho and Weigl so he found his chances hard to come by.
Considering his current form and Man City's condition on the left flank, the young Spaniard might get a handful of opportunities to prove himself at the top level.
TECHNICAL ABILITIES
Pep Guardiola loves to have technically superior players in the squad over physical beasts. Having previously coached Messi, Alba, Kimmich and now coaching players like Bernardo Silva, Cancelo and Mahrez; It's a pattern of utilizing each of these players in various setups successfully that earns the Catalan manager praise. Sergio Gomez was also regarded as one of the best technicians at his Belgian club and he has followed the Cryuff ideology since his time at La Masia.
Finishing 3rd in the league, Gomez had a good season individually. Finishing the season with the most expected assists xA (0.29), Crossing success (5.3), and accurate passes per 90 (5.3); Sergio Gomez was the best fullback in the league technically.
If we look at the system Kompany adopted, he preferred to set up his team in 4-3-3 and occasionally 4-4-1-1. In both systems, Kompany asked his defenders to play high and stay wide.
In the above picture, you can see the average time left-back spent on the field was at position similar to a winger. While utilizing the full width of the pitch, Gomez used to stay isolated on the left if the game was active on the right side of the pitch. This stretched the opposition's defence and Sergio Gomez was always an option to play a switch pass.
Similarly, Pep Guardiola prefers Cancelo up high and wide often flirting with the touchline and the half spaces on the flank.
As you can see, Gomez has the practice to play on a similar height of the pitch as well as he knows the role of an overlapping full-back, it may not take him much time to settle into his new club as tactically this is a system he understands fundamentally.
VERSATILITY
Manchester City let go of Zinchenko and have signed a player that offers similar if not more versatility than the Ukrainian. In his short career, Sergio Gomez have been part of setups that required him to play at numerous positions. Now active as a left-back, he was often used as a right-back as well for the last season. Even while shuffling positions regularly, Gomez never had more than 3 consecutive games where he blanked on goal or assist.
At the beginning of his career, Gomez was a typical no. 10 like Ozil. Skilful in spraying through passes and picking up wide positions that resulted in goal-scoring action; his youth coach at Spain U-17 saw his abilities and deployed him on the right wing. As a result, he was able to cut inside and score beautiful goals through his left boot and was also able to assist goals from the tiniest of spaces. As a result, Dortmund knocked on Barca's door for the youngster as a shout to replace ageing Marco Reus.
With competition too tough at Dortmund for starting berth, he pledged his services to Spanish club SD Huesca for two season-long loans. At Huesca, he was often utilized as an 8 while he also made substitute appearances on the flank. These positions helped Gomez to improve his work rate and gave him a better sense of playmaking and positional awareness. Having already played at RW, CAM, CM and LM; RSC Anderlecht mastermind Vincent Kompany utilized Gomez in a role similar to Zinchenko's.
His job was simple, stay high and wide, make runs off the ball and attempt crosses and through balls. There was never doubt about his attacking prowess hence, Kompany tried 3 at the back system to not risk Gomez's defensive mistakes and allowing him the license to stay wide for counter-attacking opportunities. Although he was a wilful runner, his speed didn't reach the speed of a few forwards in the league. Hence, Kompany switched back to 4 at the back system and asked Gomez to keep himself isolated for the ball and play crosses to the tall target men in Kouame and Zirkee.
Hence, we can safely say that Sergio Gomez can be a reliable option on the flanks as well as in the centre for Man City as both clubs' philosophy comes from the same origin.
SERGIO GOMEZ VS OTHER TARGETS
One could argue that Manchester City are taking a gamble by signing Gomez and this transfer may turn out to be Angelino 2.0. I say we can't disagree with their argument as there is room for improvement in the player. The physical nature of the Premier League may not suit his body we can't imagine 170 cm Gomez winning aerial duels against tall PL strikers. His speed may also be a concern as playing him risks Man City getting caught on a counterattack.
On the positive side, they have got a player who is superior to their other targets like Sosa, Ait-Nouri and Cucurella in terms of the attacking part of the game.
Gomez has recorded more successful dribbles than all three of them. In terms of set pieces, the former Dortmund youngster offers more services than the rest of the options. He has a 100% penalty success rate scoring in all 5 of his penalty attempts at Anderlecht.
While attacking from open plays, Gomez recorded more assists than all the other targets combined. His contribution was key in Zirkee's majority of 16 league goals last season. Now that Manchester City will be having Haaland upfront, Gomez's success in finding the man will increase due to the Norwegian's physique. Also, Haaland is one of the most clinical forwards in the world; Gomez can considerably improve his offensive stats with Manchester City this season.
WHAT MAY GO WRONG?
As previously discussed, Gomez's physicality and ability to win duels is still a question that needs to be answered. His mentality is not a problem but, if a player as talented as Zinchenko was frequently in-and-out of the City lineup, it will be difficult for Sergio Gomez to walk directly into the starting XI due to the presence of Cancelo and Ake.
Gomez has decent chances of enjoying starts in cup games but, it's a doubt whether he will be trusted in the European games. He is a jack of all positions except center-back and a striker, so there might be a possibility of him not finding his feet at the Eastlands if Pep uses him as a cover to all the positions. Because previous transfers like Angelino and Ferran Torres have failed to light up the league in such roles and Bernardo Silva lost form in 2019/20 when he was utilized in multiple roles. Hence, it is important for Sergio Gomez to have a fixed role on a consistent basis to excel at Manchester City.
Man City are also cooking Wilson-Esbrand and Rico Lewis as the young fullback duo are now part of Pep's first team setup. Youngsters may have to sacrifice some of their gametime at the hands of Sergio Gomez. This could also work vice versa, as Gomez can lose out on his place if any of the youngsters continue to impress Pep Guardiola.
This is a good scenario for Pep Guardiola to use competition as a way to bring the best out of youngsters but, we have a history of losing young gems due to too much competition just ask Sancho!
CONCLUSION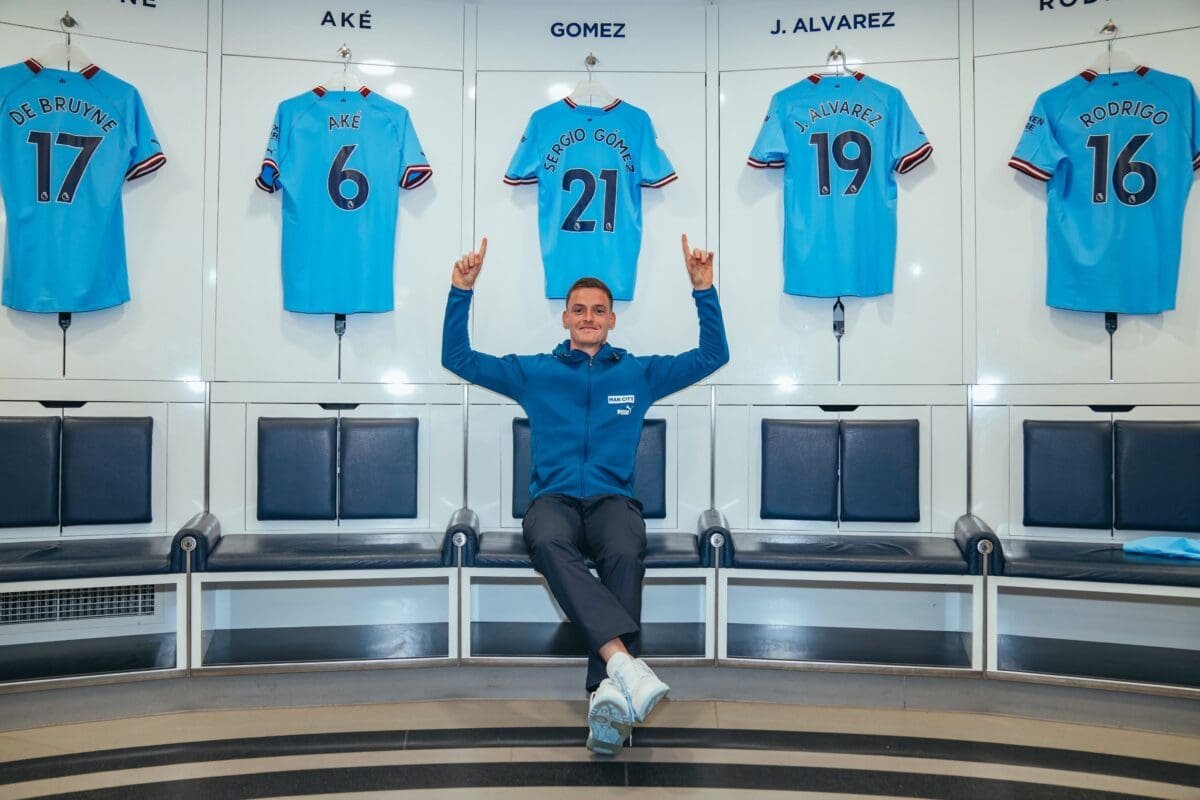 Now that we have discussed multiple sides, effects and possible natures of this transfer, it's time for our verdict. I see this transfer as a trial opportunity for Sergio Gomez and Manchester City till the January window. Although he will be training with the first team, there's a good chance of him appearing for the u-23s in terms to get familiar with the nature of Manchester City.
If Gomez keeps impressing Guardiola in games and training sessions, there is no stopping for the Spaniard to earn his place. He has a great future ahead of him and Manchester City have done a good business getting their hands on a young, consistent, versatile and prolific player for just under £20 million.
It seems like handing Sergio Gomez no.21 means the Manchester City hierarchy has high hopes from the youngster and as a result, there will be countless comparisons between him and Man City legend David Silva, Gomez can still be an amazing midfielder if he keeps improving his primary skills.