Nnamdi Collins, sixteen-year-old Borussia Dortmund academy defender, who is also the captain of the German Under-16 national team.
Dortmund have been working with Collins since he was twelve, having helped him in transition from an attacking midfielder to a centre-back. Collins established himself as a regular for Dortmund's U-17s this campaign, wearing the infamous Yellow's in twenty-one occassions, scoring four in the process.
Standing at 6ft 1in, apart from his aerial prowess, surprisingly, one of Collins' most notable attribute has been his pace and report claims he can run 30 meters in 3.8 seconds, which is a tenth away from ex-Dortmund striker and now Arsenal star Pierre-Emerick Aubameyang.
Nnamdi is a right-foot defender who likes to advance with the ball, someone who is confident in possession & loves to drop David Luiz-esque balls over the top. Given his physique & stature, he is always a presence from dead-balls. While his power and aerial ability are another attributes which he has been known to possess.
It has been revealed that the youngster has just one year remaining on his Dortmund contract and his club have been trying to negotiate a deal to extend his current contract beyond 2021, coupled with an offer of moving Collins straight into their Under-19 side, as well as offering him the chance to train with the first-team are been thought to be an offer considerably good enough to keep him at the club and fend off his suitors.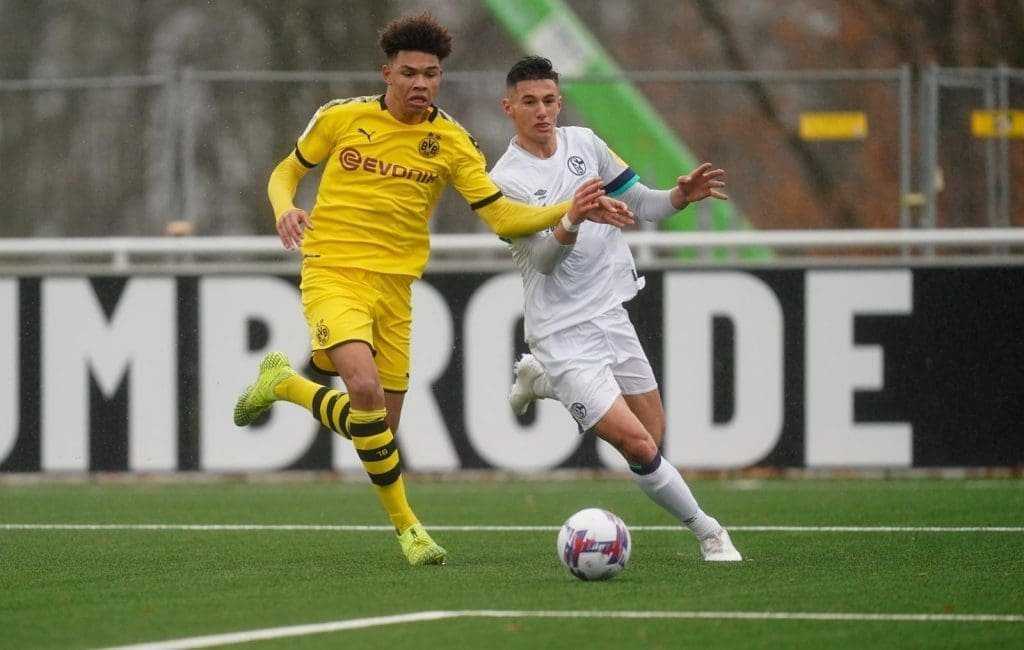 Chelsea are tagged favorites to land Collins irrespective of Manchester City's willing intrests amd the Stamford Bridge side are said to have already created a £2million kitty to land the German. Though Collins have also been on trials at Juventus and Inter Milan in the past.
Now, Chelsea are been tipped to be nearing a fruitful deal which will see the German youngster make a move to Stamford bridge this summer and join other talented academy players at the club, to continue his development with the hope of breaking into Chelsea's senior team in the nearest future.