Ross Barkely was signed from Everton back in 2018 and was seen as a brilliant signing for Chelsea. A young, creative, attacking midfielder renowned for his confidence and passion who was known for his electric performances.
A nasty hamstring injury had sidelined him for almost six months before his transfer to Chelsea in January, which caused him to lose some of his self-confidence and it reflected in his performances under Conte.
He had a brilliant start to last season under Mauricio Sarri, with his teammate Eden Hazard praising the former Evertonian, "I think Ross, if you give him the freedom to play and the confidence on the pitch, then he can be one of the best in the world in midfield."
"He is strong, powerful, can dribble; he is clever, can shoot and score. He has everything to be the best. I think he is a fantastic midfielder and if he has the players around him to help him play, then he can be one of the best."
But his form soon dropped in the second half of the season and a fully fit Ruben Loftus-Cheek was preferred in his place.
After the departure of Eden Hazard to Real Madrid, Barley admitted that he needed to step up and fill in the gap left by the Belgian, "You have to fill in. Everyone in the squad understands he was a great player but he is gone. He has new challenges now and we have to replace his goals and create the chances. We have that much quality in the squad we will all step up to the plate."
But he has hardly come close to what he had promised during pre-season. Earlier this season in November, he was pictured topless in a nightclub despite being injured at that time and manager Frank Lampard reprimanded him, adding that he saw it as a lack of professionalism. Barkley's best moment of the season perhaps came against Liverpool in the 2-0 win in the FA Cup.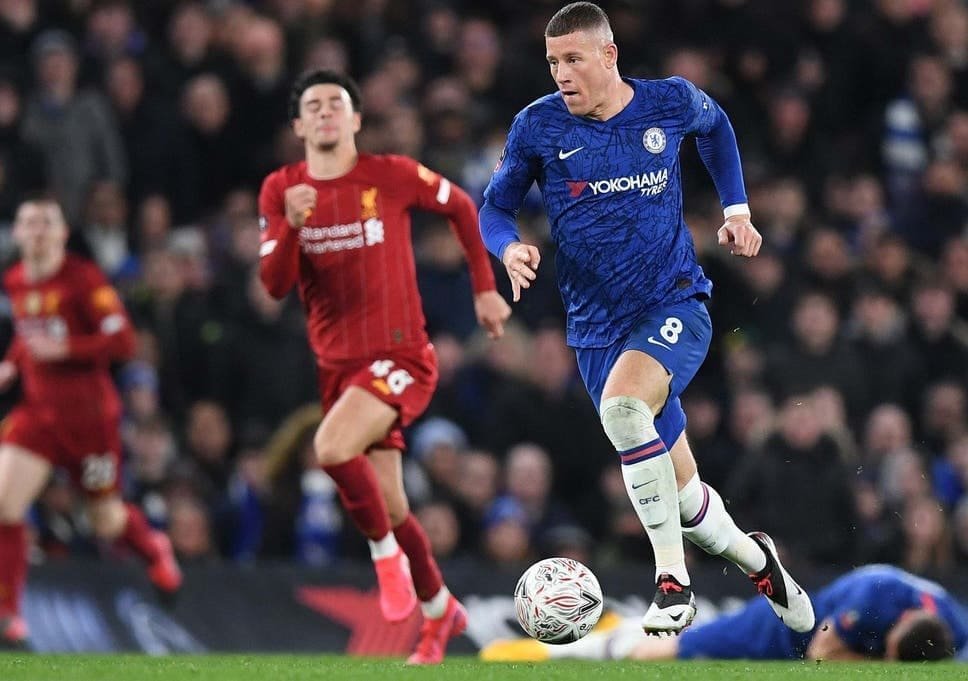 He carried the ball from his own half and ran through Liverpool's entire defense and went on to score a sensational goal, reminding fans of his exciting potential. But such performances have been too few and too less.
Chelsea's midfield has been a strong point this season, with Mateo Kovacic, Jorginho, Kante, Mason Mount and Billy Gilmour all performing consistently this season. Ruben Loftus-Cheek who was injured since the start of this season is now fully fit with the current pandemic giving him time to recover and is expected to be in contention when the football finally resumes. Chelsea have a plethora of talent in their ranks and even more like Conor Gallagher and Ethan Ampadu out on loan.
Barkley has shown flashes of brilliance from time to time but lacks consistency and has been pushed down the pecking order at Chelsea. Chelsea are looking to spend big in the upcoming transfer window with names likes Jadon Sancho and Philippe Coutinho linked to the club and they must clear out deadwood players who are surplus to requirements at the club. Barkley unfortunately falls into this category.
The 26-year-old is an impressive talent, but is running out of time at Stamford Bridge. In 72 appearances for the club, he had scored 8 times and assisted 10 goals and just hasn't hit the heights he was expected to reach at Chelsea.
There have been reports of a potential swap deal involving Declan Rice along with a big chunk of money, which West Ham will demand. But one way or another, Chelsea should look to sell on Ross Barkely before investing in the upcoming transfer window.