One of the most anticipated Gameweeks of the Premier League has finally arrived. It's the Blank GW32, and fantasy league managers can't keep calm. A Gameweek where several of the most well-liked FPL teams miss a game due to their participation in the FA Cup. GW32 won't include teams like Manchester City, Manchester United, Brighton, or Chelsea.
Why should you Freehit?
Most of the teams in Game Week 31 had at least 2 Brighton Hove Albion players, at least 2 Manchester United players, at least 1 Manchester City player, and maybe a few Chelsea players too. If the same was the case with your team, then you would have at least 5-8 players missing your Game Week 32 starting lineup. A few hits can help you field 8-10 players, but for a longer term, players that you would have to remove are Manchester City, Manchester United, and Brighton Hove Albion, who are going to double in Game Week 34 and Game Week 37. So this could backfire. Given that the majority of FPL managers are seeking to free-hit this game week, free hitting now would also help you advance and defend your rank. The only con of not using a free hit now is that going with only your regular team would increase your risk of receiving a red arrow if the chances you would take for the upcoming week won't pay off. Many managers will be on a Bench Boost in GW34 or would have wildcarded in GW33 and be in a stronger position for GW34.
FPL Freehit 32 vs. Freehit 34
For Freehit 32, If you have a team that includes players from the teams not in action, Gameweek 32 seems like the perfect opportunity to catch up to those players who have already used their Free Hit Chip. Such players will enter the week with a roster that may be significantly diminished.
By using your Free Hit Chip here, you may effectively form a team of 11 players to compete against several of these undermanned teams, giving you a real chance to move up the leaderboard.
For Freehit 34, The plan is to cut players from the teams with just one game remaining and assemble a free-hit squad made up exclusively of the teams with two games remaining.
The fact that clubs like Arsenal, Newcastle, and Spurs only have one game each, and all have players who are capable of achieving large numbers in a single game, makes it evident that this method has dangers. Nevertheless, the list of teams with two games includes Manchester City, Manchester United, Liverpool, Brighton, Fulham, and West Ham, providing a rather enticing menu for bettors who want to use their free hit. This can be a risk worth taking if your mini-league is behind.
Freehit 32 draft planning
We want to analyze and choose the top players and teams to target as you free hit this game week now that we've experienced the advantages and disadvantages of a game week 32 free hit. Let's start by examining this week's set of fixtures:
Arsenal vs. Southampton (3 Arsenal)
Despite recent mistakes, Arsenal's players remain a top focus for Blank Gameweek 32. I would choose three of their guys if I were utilizing the Free Hit chip. Their players are scoring goals with ease despite back-to-back 2-2 draws, and they have bottom-of-the-table Southampton visiting them next.
Bukayo Saka (£8.6 million), Gabriel Martinelli (£6.9 million), and Gabriel Jesus (£8.1 million) would be my top three picks since when utilizing the Free Hit chip, it's ideal to opt for players with a bigger upside. Ben White (£4.9m) of Arsenal would be my first choice if I were to choose a defender. In his previous six games, he has contributed significantly more on the offensive end, scoring two goals and dishing out two assists.
Liverpool vs. Nott'm Forest (3 Liverpool)
In other areas, Liverpool has shown this season that despite the club's inconsistent performance, certain of its assets are still worth investing in. If you're utilizing your free hit, Trent Alexander-Arnold (£7.3m) and Mohamed Salah (£12.8m) are lock-in options.
The pair would be priority purchases even if you weren't utilizing the chip: Next up for Liverpool is a home game against an uninspired Nottingham Forest, and they have a strong remaining schedule with a double in Gameweek 34. The best captain pick for this game week will undoubtedly be Salah. Also, I wouldn't object to doubling Liverpool defensively. Liverpool has a 54% probability of preserving a clean sheet, which is second only to Arsenal's 58% likelihood, according to OddsChecker. Both Andrew Robertson ($6.8 million) and Alisson ($5.4 million) are excellent choices, but I would go with the former. For ones preferring three attackers from Liverpool, Cody Gakpo(£7.6m), Diogo Jota(£8.7m), and Darwin Nunez(£8.7m) are the best options. All three have equal potential to come on the scoresheet. But Nunez and Jota will be sharing minutes with each other so I would be going for Gakpo as my third Liverpool asset.
Kieran Trippier(£6.2m)
Even though Trippier didn't receive as many points in the last few game weeks, going against him can be fatal. His ownership should be more than 80%, and with Newcastle's exceptional defense record, a clean sheet for him has hindered your ranks to a vast extent. Selecting him will safeguard your rank.
Ollie Watkins(£7.7m)
Aston Villa won for the fifth time in a row, giving them seven victories and a tie over their previous eight league contests. Since Unai Emery arrived over, they have performed absolutely fantastically. Ollie Watkins scored two goals and added two assists for a whopping 16 points. His season totals are at 14 goals and 7 assists. He is a must-have on your team.
Sam Johnstone(£4.4m)
The chances against a clean sheet this game week are by far higher for Arsenal and Liverpool. Naturally, Ramsdale and Alisson are good choices for Southampton and Nottingham Forest at home, respectively. Our major problem is that we'll probably need three outfielders from each of these clubs. Johnstone at home vs. Everton at 4.4 million is a nice choice this week because Palace is third in the chances for a clean sheet (Guaita is now injured). Nick Pope is a terrific choice if you're searching for something a little different. Newcastle still has one of the league's top defenders, despite not maintaining many clean sheets recently.
This leaves us with 9 must-haves in our team. Depending on whom you choose as your 3rd Liverpool player and 3rd Arsenal Player, you would need to fill 2 spots among Defenders, midfielders, and attackers. So I am listing a few safe picks and a few punts in each position
Defenders:
Álex Moreno – £4.5m
Tyrone Mings (£4.6m)
Marc Guehi (£4.4m)
Timothy Castangne (£4.3m) – Punt
Midfielders:
James Maddison (£8.1m)
Jarrod Bowen (£8.0m)
Eberechi Eze (£5.5m) – Punt
Forwards:
Harry Kane (£11.7m)
Dominic Solanke (£5.5m)
Ivan Toney(£7.7m)- Punt
Isak(£6.7m) – Punt
My Freehit Team: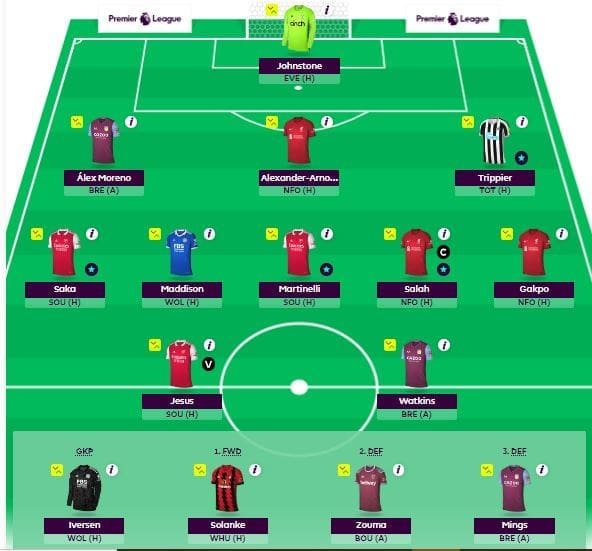 FPL GW32 Tips:
Given there is an early kickoff for Arsenal, Lineups can be leaked before the deadline. So, do check Twitter for some leaks to make last moment changes in your team. If Trossard starts, he will replace Saka in my team.
Gameweek 33 starts on Tuesday. So you will getting very less time to make transfers. Do bear in mind that Rashford and Shaw are back in Manchester United training and are to start Gameweek 33 before making your transfers.
 DO NOT FORGET TO ACTIVATE YOUR FREE HIT CHIP.