It was quite an enjoyable Boxing Day for the hosts as they emerged victorious after a thumping 4-1 victory against Newcastle. Man United went into the match wary of their opposition's compact defence as they knew they lacked the creativity to find attackers in space. However, Ole's decision to play Andreas Pereira's creativity over Jesse Lingard's pace paid off as United emerged victorious in a difficult fixture.
After being bossed in every part of the field for the first part of the half, Newcastle played a beautiful piece of football, after dispossessing Fred in midfield. A goal created by Gayle's long ball to Matty Longstaff, followed by a chip over Maguire to find Joelinton, who returned the ball to Longstaff which was then slotted into De Gea bottom right. In any situation this would be like sounding a death knell for United, having had a poor recent record of coming back and winning, but this time United weren't on the backfoot for very long and proceeded to take the game into their hands and held on till the final whistle.
Just seven minutes after Newcastle scored, Luke Shaw made a fine dribble on the left side of Newcastle's half and found Andrea Pereira at the edge of the box. Pereira turned away and laid the ball perfectly for Anthony Martial's shot. The frenchman's shot was too powerful for Dubravka and ended up in the net in spite of him getting a touch of the ball. Just 12 minutes after, Mason Greenwood got the ball at his feet after a mistake by Schar forced by Rashford and Pereiera's pressing. A couple of touches and Greenwood released a rocket off his Van Persie'esque' left foot, which beat the keeper. United looked to control the game easily, but were always hungry for more goals. In the 41st minute Scott McTominay won the ball in midfield and after a couple of passes between Fred and Pereira, the ball landed at Wan Bissaka's feet. Beating the defender, Wan Bissaka crossed and Rashford timing his jump perfectly scored with a brilliant header. There was no way back for Newcastle and they never seemed to control the ball for long. United went into halftime with 3 goals to 1.
The second half was played in similar fashion and to make things worse for Newcastle, Paul Pogba replaced Scott McTominay who sustained a knee injury. Pogba played a perfect midfielder role, tracking back, playing the long balls, keeping possession and troubled Newcastle in all parts of the pitch. In the 51st minute, Sean Longstaff was pressurized into playing the ball back, which however turned into the perfect throughball for Anthony Martial who went on to chip the ball over Dubravka, to complete his brace and seal the win.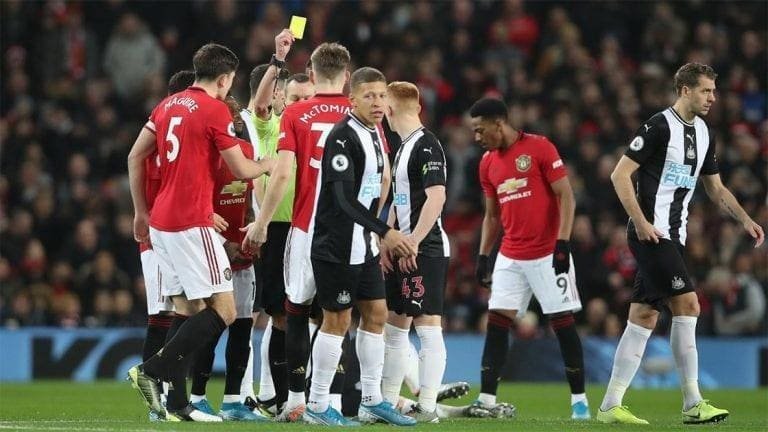 Newcastle United couldn't get back into the game after Greenwood's goal and proceeded to lose the match with a possession of just 29%. It was a dominating display by the Red Devils as they fired 22(10) shots as compared to Newcastle's 7(2). They made almost three times the passes made by Newcastle (814 and 284) with an accuracy of 90% versus 71%. It was an easy win for United as they move to 7th place, leaving Newcastle at 10. In the coming few matches United will be a difficult team to beat with Pogba back from injury and Greenwood racking up goals and Rashford and Martial looking to score and in fact scoring in every match. With Pereira and Pogba in the midfield, breaking compact defences may now become comparatively easy for Manchester United.