Great players are often said to be irreplaceable and with Ronaldo and Messi nearing the twilight of their footballing careers, people are starting to doubt whether there will ever be such an iconic pair of champions again. There are young wonderkids with the potential to take on the challenge of replacing the world greats with Kylian Mbappe already racking up goals and assists in Ligue 1, the Champions League and for France, internationally.
Cristiano Ronaldo, arguably the greatest footballer has made an impact on every team he has played in since his emergence. Manchester United, the team credited for Ronaldo's development has however found it difficult to replace him since his departure to Real Madrid. Several players have worn the prestigious number 7 since then, but none of them made an impact. Is this the doing of what is called, the number 7 curse; or is this simply due to sub par players.
Alexis Sanchez, Memphis Depay, Angel di Maria, Antonio Valencia and Michael Owen, were the players to wear the number 7 shirt after Ronaldo. The frightening fact is that from thee players, the one with the most goals, Michael Owen had shockingly just 5. All of these players scored merely 13 league goals in 138 matches. Each of these players had massive potential and Owen and Sanchez were proven winners. However, not one of them could last in Manchester United, with Sanchez now playing in Inter Milan.
The pressure to replace Ronaldo is undoubtedly a big ask, but the way it hampered the player's performances it seemed more like a matter of the players' competence than pressure. Michael Owen recently stated that his career started to go downhill from 2003, just a couple of years after winning the Ballon d'Or. He said that it was never his dream to play for Manchester United and a player who never wanted to play for the club, could never replace a club legend.
Di Maria wasn't seen as a proper player signing and was more of a marquee signing. It was a statement by Manchester United in terms of a then record breaking transfer fee and a payback for Real Madrid taking Ronaldo. Di Maria could replace Ronaldo and would have flourished if it wasn't for poor man management. Ronaldo and Di Maria both were wingers and both were well established players, attacking and cutting in and scoring. Louis Van Gaal however adopted a diamond formation which left no winger position for Di Maria to thrive in. It was stupid for United to think a replacement for Ronaldo would thrive in a position which wasn't Ronaldo's.
Alexis Sanchez, like Di Maria was nothing more than a marquee signing. He had an illustrious career with Arsenal and before that with Barcelona, but the move to Manchester United was simply an economic advantage for him. Being the highest earner in England is something players find difficult to turn down but is also what players take for granted. With his mind never really in the game, Sanchez had a woeful career at United with just a few goals and assists, albeit at crucial moments.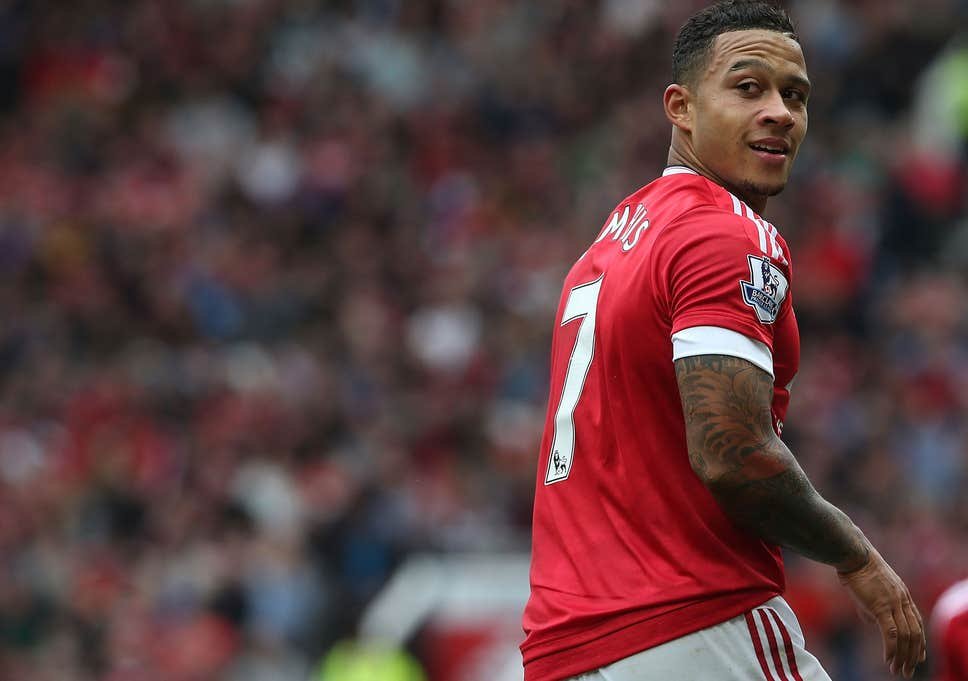 Memphis Depay was signed by United after 4 impressive seasons at PSV where he scored 39 goals in 90 games. Signed at the age of 20, Memphis Depay made just 33 appearances and scored just 2 goals and was consequently sold to Lyon where he scored 43 goals in 101 games. He had a goal ratio of only 0.06 in the Premier League as compared to 0.43 in the Dutch and the French league, which are significantly easy. Memphis Depay was like Cristiano Ronaldo, loving attractive football, filled with dribbling and tricks and beating opponents, which Van Gaal and Mourinho did not approve of. How would Depay replace Ronaldo if he wouldn't be allowed to express himself like Ronaldo?
When Valencia started his career at Wigan, his performances attracted a lot of big clubs which Manchester United eventually snapping up with Ecuadorian. However a string of injuries left Valencia out of form. He had a decent career at United, but never looked to be a world class player. He worked hard and tried his best, but he simply didn't look good enough or fit enough to replace the void filled by Ronaldo.
If the number 7 is a prestigious jersey, so is the number 10. Worn by United's first and second highest goal scorers, Wayne Rooney and Sir Bobby Charlton, the number 10 jersey is arguably more coveted. Players like George Best, Denis Law, David Beckham, Teddy Sheringham, Roy Keane, and Ruud van Nistelrooy have all worn the number 10 jersey and they all did spectacular in it. They too would be under pressure to replace the previous holders of the jersey, but it was sheer competency that helped them flourish.
More recently, Marcus Rashford, who wears the number 10 jersey has done amazing, beating his best ever goal tally and racking up goals in all competitions and against the top 6 sides. The notion of a cursed jersey is absurd and all it takes is one competent player to wear the number 7 jersey and show his skills without giving in to the 'pressure' to replace