Liverpool's right back Trent Alexander-Arnold has professed his long-term ambition to become Liverpool's captain, while also setting the target of becoming Premier League's best-ever right-back.
Arnold joined Liverpool's academy in 2004 at the age of six. He impressed in the under age level and went on to captain the Under-16 and Under-18 youth team under coach Pepijn Lijnders.
TAA has prior experience as a midfielder, followed by winger until he was eventually converted from a winger to a right-back owing to his pace, agility and accurate crosses.
Due to his sporadic rise, in the buildup to the 2015–16 season, Arnold was among the first team squad selected by manager Brendan Rodgers for the team's pre-season friendly against Swindon Town, where he eventually made his first unofficial debut for Liverpool in a 2–1 win.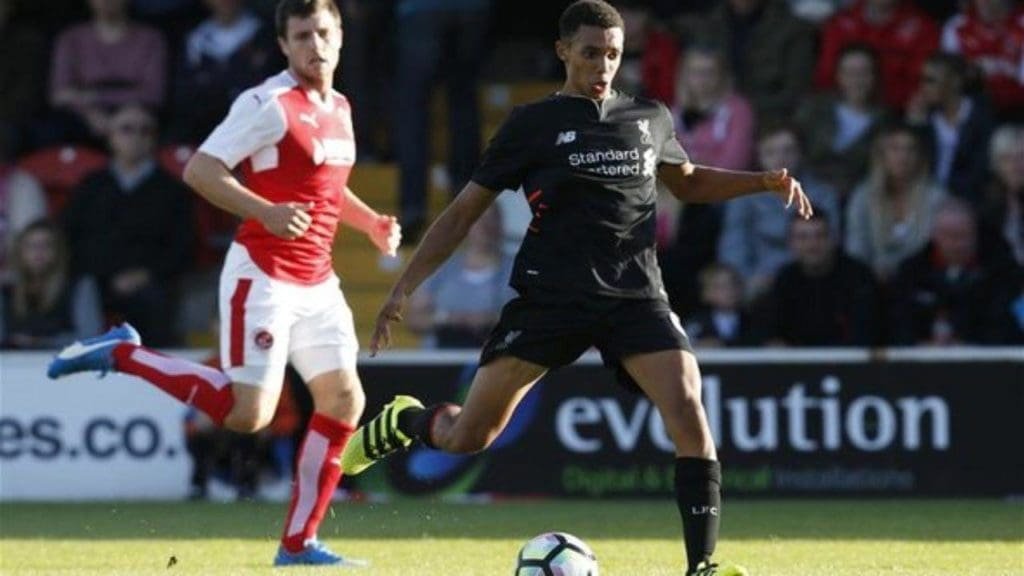 In November 2019, at just 21 years and 26 days, Arnold became the 4th youngest player ever to reach 100 appearances for the Reds, behind Michael Owen, Raheem Sterling and Robbie Fowler, and crowned the milestone by assisting Mané for the winning goal in a 2–1 win over Aston Villa.
Just a month later at the Ballon d'Or ceremony, Arnold was voted as the 19th-best player in the world and became the highest-ranked full-back.
In the match against West Ham around February 2020, following a 3–2 win, he equaled his previous league assist record and his overall Premier league assist tally (25) made him the third-youngest player in the league history to reach a quarter-century of assists behind former Arsenal star Cesc Fàbregas and Manchester United's icon Wayne Rooney.
He has been widely praised to be one of the best attacking full-backs in the world football due to his consistent penchant at occupying attacking spaces on the right side of the pitch and creating numerous goalscoring opportunities for his teammates.
His impressive passing range is attributed to his previous experience as a midfielder during his time in Liverpool's academy, and has been one of Liverpool's appointed set-piece taker since 2017/2018 campaign.
With Liverpool's manager Jürgen Klopp tactical set-up which placed creative responsibility on his full-backs, Arnold's switching of play, overlapping runs, high work rate up and down his flank and accuracy of his crossing saw him become a significant figure in the team's transitional, counter-attacking style of play.
His pivotal role in Jurgen Klopp's system has contributed in the team's successes both in the league and European competition. Within two season, they've been crowned Champions league winner, Club World Cup winner and most recently among their numerous achievements, they've now been crowned the Premier league Champion after 30 years wait.
Alexander-Arnold's importance, contributions and his influence in the team coupled with the captaincy responsibility being placed on him during his academy days, will surely put him in contention for the captaincy armband when current captain Henderson retires or leave the club.
The 21-yrs-old right back reveals in his statement with 'The Telegraph' that: "Becoming Liverpool captain eventually motives me every day. It is something I want to achieve. Obviously that will not be my decision, but if I did not manage that before the end of my career I would be disappointed.
"I have always thought about that. 'Whether it happens or not, I feel it is my job at Liverpool to lead by example. I always try to do that now – to be an example for the younger lads coming through."
He added: "I think about how I can go about becoming the best right-back the Premier League has ever seen.
"When everyone picks their best ever Premier League team, I want my name to be in their team and not his [Gary Neville's]."
At 21 years of age coupled with his quality and achievements, the question shouldn't be "can he be the next Liverpool's captain"? Because Alexander-Arnold definitely has what it takes to be a leader capable of leading by example on and off the pitch.
While the thought of superseding ex-England international right back as the country's best right back seems too hasty but surely, the youngster has an higher ceiling to become whatever he wants to be in his footballing career.