The 2019-20 Premier League season has hitherto, witnessed the hard-line approach of Liverpool in getting the job done i.e., three points. The Reds have failed to manifest themselves as the goal scoring prowess which they flaunted in the past two seasons. However, the late goals have placed them at the top of the table, outdoing the rest by at least 10 points with a game in hand. Leicester City and Manchester City both stand 10 and 11 points behind Liverpool respectively and have played a game more than the league leaders. Here, it can be understood that it'll only take a fiasco for Liverpool to not win the league this season.
Jurgen Klopp over the years has managed to build a massive sense of confidence in the players and the fans. The air that wafts through and through from the Anfield Road end to the Kop End gives a strong feeling of belief which seldom renders the players to lose their footing and instead they are propelled into tenacious action. The Reds currently stand at the top of the table with 17 games played and 49 points, and with another three points in the offing as they've played one game less due to their participation in the FIFA Club World Cup 2019, of which they became the champions.
Leicester City were the only club which could out do Liverpool and come up with a shocker like they did in the 2015-16 season, when their feat was hailed by the newspapers as the "greatest sporting shock ever". However, their recent loss against Manchester City in the Etihad Stadium has slimmed their chances significantly. Still, if one is to look at just numbers and disregard the momentum of Liverpool, one can still find champions in both Leicester and Manchester City.
There are many parallels which one can draw between the title winning Leicester side of 2015-16 season and the current Leicester squad— in both the cases the managers Claudio Ranieri and Brendan Rodgers began their first start to the season with the club and both impressing in their character and management.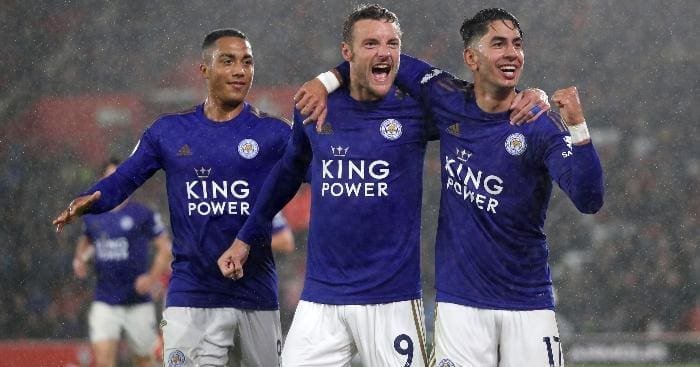 Moreover, in the 2015-16 season Jamie Vardy, their main man scored 13 goals over 11 consecutive matches and finished with 24 goals, one short of the golden boot. Similarly, in the current season Vardy scored in eight consecutive Premier League fixtures but failed to score against Norwich City in Gameweek 17; he currently stands as the top scorer with 17 goals in the Premier League.
However, during Leicester's title winning season, on 19 December, they defeated Everton 3-2 at Goodison Park to top the Premier League on Christmas Day, but in the current season they stand in second place with 10 points short and having played a game more than Liverpool. Therefore, it seems improbable for them to outperform The Reds and win the league title. Instead, they may find jubilation in their achievement if they secure a champions league spot.