Many of us may claim to be passionate or even obsessed over a thing. Many of us claim to be tactical geniuses after spending hours and hours honing our custom tactics on Fifa but what if I told you the story of a man who is the living epitome of this.
Today I present to you the story of Marcelo Bielsa the mad scientist of football.
This guy literally eats, breathes, and sleeps football and is one of the most influential managers that many may not even be aware of.
Currently, the manager of Leeds united many managers like Diego Simeone, Pep Guardiola, Mauricio Pochettino have even acknowledged his influence on their style of coaching and tactics.
Let us now focus on what makes this man so great.
He does a thorough analysis of the opposition, unlike any other coach you may have ever seen. He had this penchant right from a young age when he scouted 3000 players to form a squad of 20 whilst coaching the University team of Buenos aires.
There is nobody who can analyze the game as he does. When he came for the job interview of the Leeds united job he prepared a list of every formation that the other teams in the league had ever fielded.
Just thinking about the math is crazy but this man actually did it. One of his Leeds player Mateusz Klich even stated in an interview that, "He is very strict. It is all tactics, tactics, tactics, and fitness."
Bielsa prefers the direct attacking football with his players using the width as much as possible and all of this done at pace and an emphasis on retaining possession as soon as it is lost. Does this last part remind you of some other coach? Don't worry that's the kind of influence that this genius has.
His Leeds team plays with the formation of a 4-1-4-1 and transitions to a 3-3-1-3 with the full-backs pushing further on top.
The best part about this is that you will rarely see any static passing every player and even the full-backs are encouraged to swiftly take up a more attacking open space once they have passed the ball.
This really helps in creating overloads of players in the attacking half and every player is drilled about what to do in any situation and by any, we really mean any because we all know what Bielsa loves right!!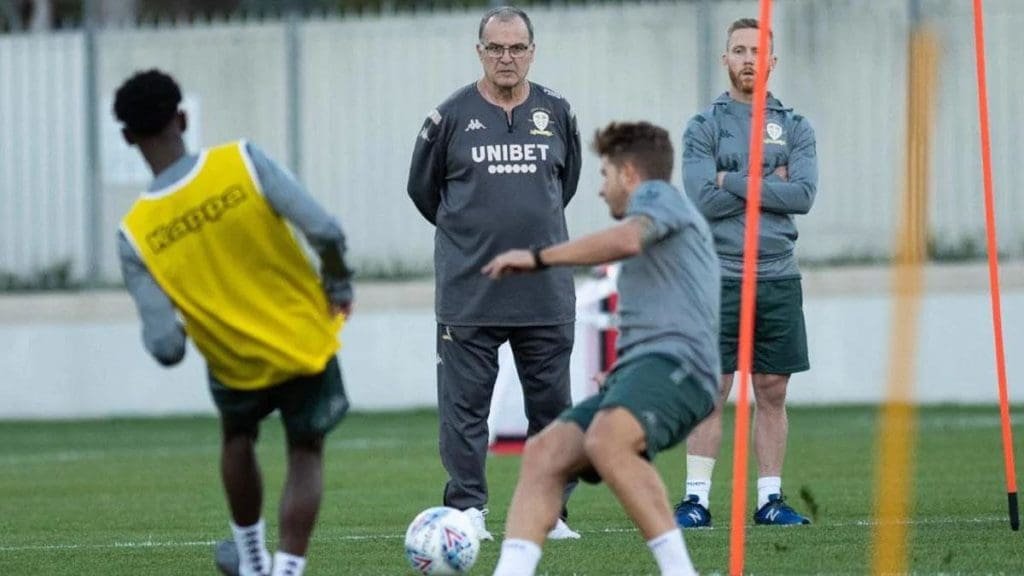 The central midfielders are very important in his style of play because they have to be on the move constantly and run in between the lines. They have a certain degree of rotation and flexibility to them.
It may be too premature but the kind of flexibility that will remind you of the old Ajax team that was renowned for its capability of playing players in different positions and how well versed they were with them all.
Despite all of these he hasn't won a lot of silverware that could reflect well on his CV.
Some of his most notable achievements maybe his 2004 Olympic gold medal with Argentina and his famous stint with Athletic Bilbao in the 2011/12 season where he led them to the Copa del Rey as well as the Europa League final. Unfortunately, they lost both of those.
Another famous stint was that with the Chilean national team in 2010 where he was praised for his complex style of play and also complimenting players like Arturo Vidal and Alexis Sanchez.
Leeds United sit currently sit on the top of the table in the Championship and it certainly feels like Bielsa is long overdue his time in the limelight but as they say, it ain't over till the final whistle.
What better stage for this mad scientist than arguably one of the biggest stages in world football to show off his skills. We certainly hope Leeds makes the cut but more importantly that Bielsa is there to take center stage when they do.