Liverpool are currently playing a fairy tale season, leading the league with 21 points! This is just after 25 games played. Captain and leader Jordan Henderson has had a phenomenal season up to this point, and fans are finally seeing in the same light as club legend Steven Gerrard.
While some have often wondered what makes him special, Henderson is showing exactly what and why this time around.
A leader of leaders
Look at this Liverpool team and the one thing that stands out is the embarrassment of riches when it comes to leaders. Virgil Van Dijk, Alisson Becker, James Milner, Andrew Robertson are excellent leaders in the team. The designated leader and captain of the team is Jordan Henderson. If you have seen Liverpool play this season, you know how important their captain is to this outfit.
Henderson arrived at the Merseyside club in 2011 from his hometown club Sunderland. Not long after he settled at Liverpool, people started comparing the midfielder to then captain, Steven Gerrard. Now this is typical of fans who are worried and anxious about a club legend nearing the end of his career.
Fans tend to prop up a younger player as the next incarnation of their legend. While this is understandable, it is something that usually does more damage than good to the younger player.
A prime example of this would be Nani. A player Manchester United hoped would replace the great Cristiano Ronaldo. Fans were quick to name Nani as the successor to Ronaldo, and to be fair, there were a ton of similarities between the two. Both were quick and agile wingers, both from Portugal and both had a ton of tricks and skills up their sleeves.
As we all know now, Nani not only failed to live up to the standards set by Ronaldo, but also struggled to carve out a unique identity for himself. He left the club in 2015, after 8 years with just 25 goals to his name.
However, in this case, it is now starting to look like Henderson might become a club legend himself.
Henderson the player
As Stevie G entered the twilight of his career, fans quickly labelled Henderson as the next Gerrard. His is a name that is difficult to live up to, especially in Merseyside. Another aspect separating the two players was their respective positions.
Gerrard went through a series of positions during his time at the club. He was deployed as a holding midfielder, a box-to-box midfielder and even as an attacking midfielder, playing just behind the strikers. Henderson was played exclusively as a holding midfielder during his first few years.
The biggest trophy Steven won during his time at Liverpool was the UEFA Champions League back in 2005. He was also named the UEFA Player of the Year that season. As Liverpool fans will painfully remember, he never won the Premier League. And by the looks of it, Henderson is about to do that soon. He already has a Champions League trophy from last season as well.
Jordan Henderson is a unique player. While he is a very good footballer in an all-round sense, his most valuable asset is not his technical quality or his goal scoring or play making. It is his relentless work rate and attitude on the field. Add that to the passion that Klopp inspires in his players, and you have a warrior on your hands. And Henderson is exactly that, a modern-day warrior.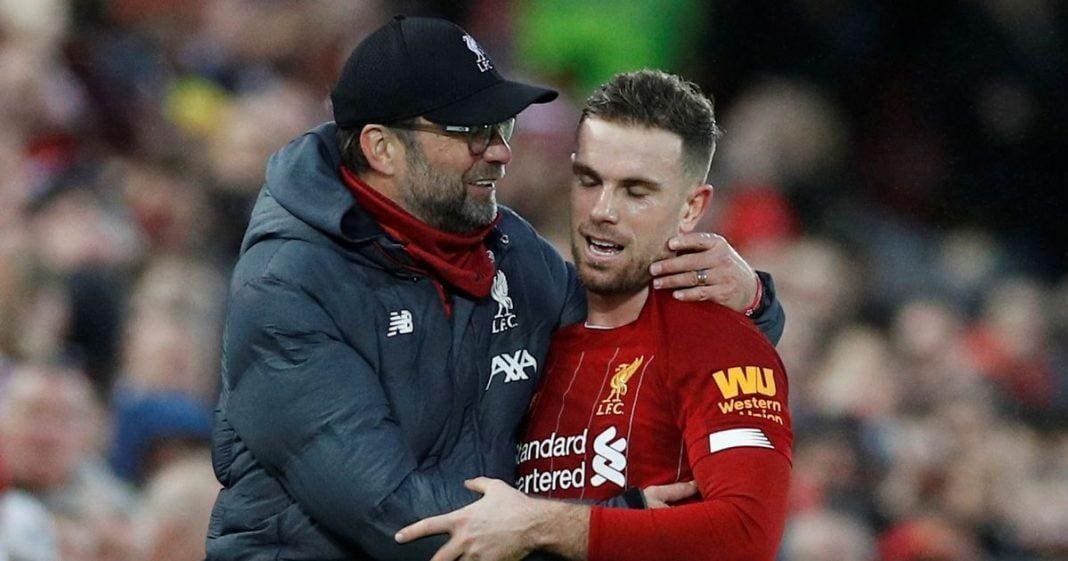 A lot of the credit goes to, surprise-surprise, Jurgen Klopp. The German manager has an unbelievable track record of improving players. Even an average player starts to look good once Klopp is done with him. And Henderson was a pretty good footballer already.
Under Klopp, though, he has gone up a class level. He now marshals the Liverpool midfield with supreme authority and unending energy. The one vital change that Klopp made was to move the man from the defensive midfielders position to more of a box-to-box midfielder. He gave the holding position to a certain specialist named Fabinho.
Now, the captain has the freedom to cover the length of the field and to run into spaces wherever they may appear. He does not shy away from making runs deep inside the opposition half. In fact, you will often see him well ahead of Firmino too. He might even pop up as a winger, delivering a sumptuous cross for one of the three attackers to head home.
The hyper nature of the pressing Liverpool employ under Klopp works very well for Henderson personally. He relishes the chance to close down the opposition players and venture forward as often as he can. In all the frenzy, he quickly transforms into a playmaker, creating chances for his teammates or even having a pop at the goal himself.
He does the same in defense to his credit. As we all know by now, Liverpool's two fullbacks spend more time in the oppositions half rather than their own. Now this has worked out well for them because if required, others cover up the spaces left by them. You will notice Henderson make a calculated decision of staying back and covering for his fullbacks when required.
All in all, Henderson has become a force in the football world, and he still has some ways to go in his career. Still just 29, he will surely embed himself in the history of this huge club in the years to come. And with Klopp around, you can bet your bottom dollar that he will keep performing.
So where do the comparisons with Gerrard stand? Well, I say he is well on his way to securing his status as a club legend. He will lift the Premier League trophy this season, something Gerrard could not do.
You might argue that certain trophies do not necessarily hint at a better player, but you simply cannot deny that Henderson is a vital cog in this Liverpool team. And this Liverpool team is possibly one of the greatest teams to ever play in Europe.
Henderson may not be technically as gifted as Steven; he may not score stunning goals as Gerrard did, but in a season that is potentially one of the greatest in England, Henderson has been a stand-out player.
If you do not agree with me, you might want to read what the great Alan Shearer said about Jordan.
"If the season was to end today, Jordan Henderson would be my player of the season."
So yes, I say Henderson is not only worthy of the comparisons with Gerrard, but he may end his career at Liverpool as a legend just as big as Steven Gerrard.