Three months into the Premier League, with eleven matches played apiece, all teams in England have become familiar with their strongest squads and have been given the opportunity to break down their squad and prepare for incoming's in the winter and next summer.
In this article we'll have a look at one signing which would be ideal for every traditional top 6 team of the Premier League.
MANCHESTER CITY
Niklas Sule
Boasting one of the most expensive and best squad in the world, even Manchester City is a squad that needs additions. The weakest position in this team would be the centre-backs with Aymeric Laporte, John Stones and Nicholas Otamendi, being the only competitors for the spot. Laporte being injured has forced manager Pep Guardiola to play youngster Eric Garcia or out of position Fernandinho, alongside the ageing Nicholas Otamendi or the inconsistent John Stones.
In the current market (with no disrespect to City's spending powers) Niklas Sule would be a perfect fit for Manchester City. Joining Bayern in 2017, Niklas Sule (24) has made 66 appearances for the German Giants in the Bundesliga, keeping a total of 24 clean sheets and scoring 4 goals. The youngster has a commanding height and great pace, with decent passing and high level of physicality. His tackles and positioning is pinpoint, and with age on his side he would mature into one of the greatest centre – backs.
LIVERPOOL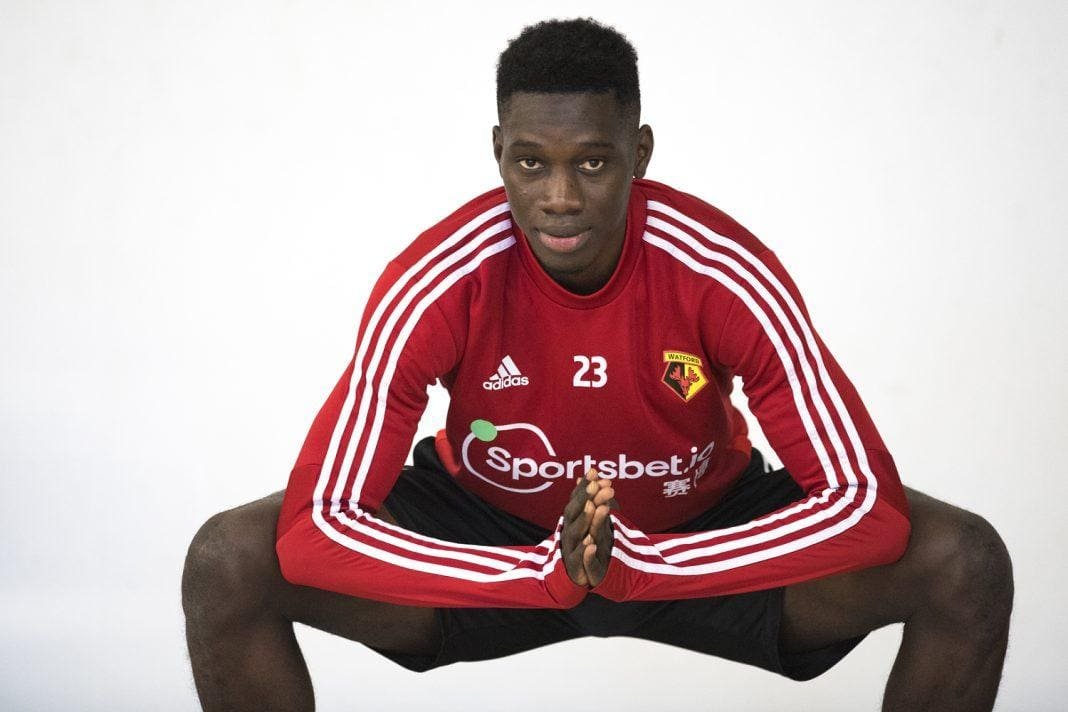 Ismaila Sarr
The same can be said for Liverpool, as City. They too require reinforcements in spite of fielding one of the most formidable squads in Europe. While Liverpool have one of the best strike force with Mohammad Salah, Roberto Firmino and Sadio Mane forming a firing trio, the lack of back – ups is concerning for the Reds.
Ismaila Sarr, bought by Watford, from Rennes in 2019 has been one of the hottest football prospects, scoring 13 goals in 59 appearances. Struggling at Watford, and yet to find the back of the night, Sarr could be available to Liverpool for a fairly cheap price. The lack of striking options, coupled with Sarr's quality will enable him to have several first team opportunities.
Sarr has lightning pace and great dribbling skills with a decent shot too. His passing has been a bit of a concern but, at just 21 years, Sarr has a lot to learn and could very much develop into one of the top wingers in football and can become the future at Liverpool.
MANCHESTER UNITED
James Maddison
Manchester United, hailed as one of the biggest club in the world has, in recent times been deteriorating in form and quality since Sir Alex Ferguson. Several areas of the squad requires revamping, however the midfield is one position requiring immediate improvement.
James Maddison, the 22 year old Leicester City midfielder has impressed in the championship and the premier league, scoring 10 goals and providing 9 assists in 46 games, but also creating 100 chances, with 52 coming from open play.
With Paul Pogba being a doubt for the next season and Manchester United's visible lack of creativity without him, James Maddison would be a great fit for the Red Devils. Maddison is an all round player with enough pace for an attacking midfielder, a fiery shot, great vision and passing range along with top dribbling skills. His ability to strike the dead ball will make him the first choice free-kick taker with Rashford's record being against him and Mata, another specialist being deemed to slow for Ole's football.
CHELSEA
Ricardo Pereira
This season has been an eye opening season for Chelsea, with them coming to realise that matches can be one even without incoming players, if trust is put in youngsters. Ricardo Pereira has been one of the stand out performers for Leicester City, playing 35 matches in the 2018-19 season and scoring 2 goals, assisting 6 and keeping 10 clean sheets.
With his good attacking work rate and quick feet with pace and dribbling coupled with crosses, Pereira acts as a dual player and can provide assists to the young and hungry Chelsea strike force. Reece James and Azpilicueta are the only two options in that position with one being too young and the other being too old. At the age of 26, Pereira will soon enter his best years and if he joins Chelsea, the future looks bright for the Portuguese international.
ARSENAL
Hakim Ziyech
Arsenal has been facing one of their worst years in the past few seasons under Emery and much of it is attributed to their lack of quality players. With Ozil being frozen out and Sanchez being sold, Arsenal lost their two main world class players and the addition of Lacazette and Aubameyang, albeit influential, couldn't get maximum returns due to absence of a great playmaker.
Hakim Ziyech, another one of Ajax's gems is a direct choice in the centre attacking midfield slot. Ziyech has great pace for an attacking midfielder and a dangerous shot too. His passing and vision is world class and along with his dribbling attributes he can be the one commanding matches. Having played 102 matches for Ajax, Ziyech has notched up 46 assists and scored 37 goals, in addition to the 7 goals in the champions league. He was instrumental in Ajax's champions league run to the semi-finals and the 26 year old Moroccan himself said that he used to be an avid Arsenal fan.
TOTTENHAM HOTSPUR
Gareth Bale
Tottenham have formed a really formidable duo with Son and Kane, however they lack pace down the right wing with midfielders Eriksen or Dele Alli often tasked with the job of making runs down the right. While there are several young and high potential right wingers out there, realistically Gareth Bale fits the bill. Tried and tested in the premier league with Southampton and Tottenham, the Welshman will try to revive his career in the toughest league in the world after being sidelined in the Real Madrid squad, paving the way for younger players.
While some could argue that Tottenham could follow this example and invest in young talents, the truth remains that they require to win. Mauricio Pochettino has no doubt transformed Spurs into a title contending team, but adding Bale to the wage bill could make them a title winning team. Although not in his best form, Bale is yet world class with his pace and dribbling enabling him to breakthrough defences with ease. His dangerous left foot shot and crosses makes him the one to rely on for scoring and supplying goals. Having spent 6 years in Spain, Bale has scored 65 goals for Real Madrid in La Liga and 11 goals in the champions league, including the bicycle kick winner versus Liverpool.