The matches between Manchester City, Liverpool and Tottenham Hotspur had serious implications on the title and top 4 races: Man City faced off against Spurs at a time when Liverpool were gaining momentum in the title race, and needed a win to enlarge the distance between them and their pursuers and dispel any ideas of a Liverpool comeback – in the minds of Liverpool supporters (AKA the whole of England) and, more importantly, in their own minds; Liverpool were hot on City's trail when they met Tottenham at Anfield, and had to win to give themselves the best chance of usurping City as they hoped for an upset in any of Manchester City's remaining fixtures; while Tottenham simply needed as many points as they could get, from big-hitters and fodder teams alike, to strengthen their claim for a champions league spot.
It's safe to say both Man City and Liverpool failed to get the desired results, thanks in no small part to the ruthlessness of the Kane-Son combination, but also to an airtight and insufferable Tottenham defence. Against that defence, City managed 3 shots on target from 20 shots, and Liverpool managed 3 from 22. Antonio Conte had coached a defensive masterclass.
There are, of course, a range of factors and variables that influenced the results from both games. But this article aims to pick apart only the methods used by City and Liverpool in their attempts to unlock the Tottenham defence. And to get a broader look into what approaches to take against 3 at the back formations in general.
The defensive shape
Conte's Tottenham always lineup in a 5-2-3, which morphs into a 5-4-1 as they move deeper and deeper into their defensive shape. Usually, in 3 at-the-back formations involving 2 wide forwards or wingers, the 2 forwards press alongside the CF as part of a front 3. But Spurs prefer to collapse their forwards and keep them close to the wing-backs, possibly as a means of guarding against wide combinations, which elite possession-based teams can use to effect chance creation and ball progression.
The forwards' tendency to fall back makes it quite easy to gain territory against Spurs, up until the middle third of the pitch – they don't bother with pressing or winning the ball high up the pitch, preferring to contain teams in a mid-deep block and prevent progression into their box. This does not mean Spurs are easily played through, however, as they employ an unusual method for stopping central progression: The double-pivot, mostly consisting of Bentancur and Hojbjerg, can step out to block passing lanes and apply pressure on opposition players in central areas.
This essentially creates the same 5-2-3 shape at times, but with the pivot acting as auxiliary forwards and the forwards tucking in towards the flanks, and in this shape Spurs are able to defend against wide combinations/overloads.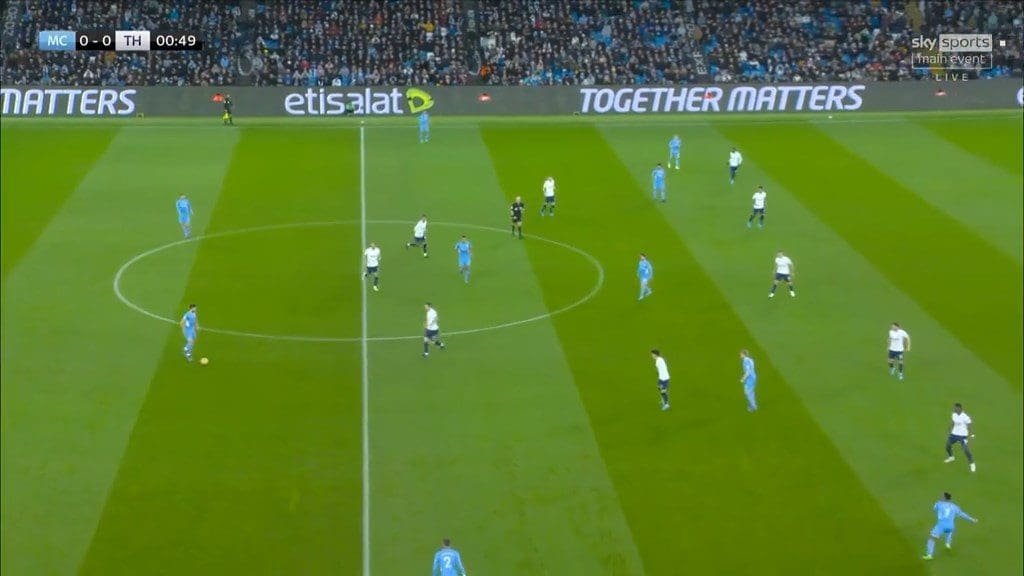 Whenever the ball is moved wide, the forwards try to prevent progression into central zones by pressing the player on the ball and using intelligent body orientation to block passing lanes.
All of these tendencies should be noted as we move forward. Other aspects of Spurs' defending will be touched on as we observe how they repelled against different attacking moves.
Manchester City's attack
Man City attacked in a constant 2-3-5 shape on the ball. In this shape, the different FBs have different tendencies in possession; Cancelo stays wide when he plays LB, and inverts more often on the right, Walker constantly inverts, becoming almost an extra CB; Stones, an actual CB, surprisingly stays wider when he fills in at RB; while Zinchenko inverts a lot more than Cancelo on the left. For this game, the FB pairing of Cancelo and Walker meant City would attack with Cancelo hugging the touchline and Walker inverted, almost creating a lopsided 3-1-6 shape as they attacked.
Cancelo's gravity and dribbling
Whenever City play against 3 at-the-back defensive set-ups, positioning one FB or both FB's wide creates a dilemma for the opponent. Because the opponents mostly press with narrow forwards, Manchester City can overload the opposition wing-back with one wide FB (mostly Cancelo) and the near-side winger for wide combinations. Man City have notably used this against Chelsea and Sporting Lisbon to good effect.
Against Tottenham, Kulusevski and Son's wide positioning and defensive involvement made it impossible for City to overload either wing-back and City's left-side combinations was made less threatening. But one way City looked to create danger in these situations was through Cancelo's ability to take players on and disrupt defences. Since his direct opponent was Kulusevski, direct dribbling was more of an option and he used that as much as he could.
Blindside movement
City played with a high #8 duo of Gundogan and De Bruyne. The use of Cancelo in advanced wide areas, the positioning of the left-winger (Sterling) wide and the ball-far players stretching Tottenham's defence often created space in the channels on the right side of Tottenham's defence. This space was mostly exposed whenever Emerson teamed up with Kukusevski to engage Cancelo or Sterling, and Gundogan tried to exploit this opening by making runs on the blindside of Emerson, creating angles for progression into the penalty area.
But, despite vacating space in the channels, the positioning and body orientation of Emerson and Kulusevski still ensured that the more dangerous spaces in the channels or behind Tottenham's defence were inaccessible. Which meant Gundogan could not be found via through balls and in more dangerous zones, but by simpler passes that gave Romero the chance to come across and stop the attack from developing.
The blindside runs and movement were, however, a well-worked tactic and still created some promising situations for City.
Pulling the defence deep and exploiting space
The ball-carrying ability of Sterling, Foden, Cancelo and Mahrez (later on in the game) had the effect of dragging Tottenham's defence deeper, and left space in front of their low block. Man City used this dynamic to create space for deeper players.
These deeper players were either natural creators like De Bruyne and Cancelo staying deep to find space, or players offering counter-movement and moving deep to rotate with teammates and create passing angles; like Sterling, in the build-up to Gundogan's goal, dropping deep after rotating positions with Cancelo and Rodri.
More often Tottenham didn't press these deeper players to avoid disorganizing their defensive shape, but instead trusted Lloris and the excellent box defending of Romero and Dier to eliminate the threat from these crosses. And, apart from Lloris' error leading to City's first goal, Spurs' defence handled these situations with relative ease.
Overloading to isolate; shifting Spurs' midfield line
This became more of a tactic in the second half when Mahrez came on and City's move construction shifted more to the right. The right being Rodri's strong side meant he was more involved in attacking play, and in so doing took up more offensive positions. Rodri's involvement attracted attention from Bentancur, and caused Spurs' midfield line to shift even more to that side. From this dynamic, City could isolate Kulusevski on the far side by switching the play quickly.
The move was made even more effective due to Kulusevski's tendency to tuck in rather than apply a vertical press on the player on the ball. As Cancelo/Laporte was often afforded ample time to pick out a passing option.
It's safe to say City created their best openings from these situations, like this Gundogan shot that forced Lloris into a spectacular save.
Liverpool's attack
For this game, Antonio Conte used the same lineup from the match against Man City. And Tottenham retained most of their defensive dynamics and ideas: Kulusevski and Son still tucked in, and were much involved in defensive work, Bentancur and PEH were tasked with applying vertical pressure, the block was oriented to prevent or curtail wide combinations, and so on.
Liverpool's shape in possession shifted between a 2-3-5 and a 2-4-4/4-2-4, retaining their usual possession dynamics in each shape.
Left-hand side interplay/rotations
Liverpool's right side has become more associated with passing combinations and triangles, with Henderson, Salah and Trent forming an impressive synergy on that flank in recent times. But against Tottenham's defence, their left was more active. Luis Diaz, Mane and Robertson repeatedly tried to pry open Spurs' defence through passing moves and combinations.
They showed a lack of real synergy, however, as they'd often miss good openings/moments to free up Robertson or release him close to Tottenham's penalty box.
Luis Diaz, too, showed a poor sense for the occupation of central zones whenever he'd vacate the flanks and take up positions between the lines or in front of Spurs' defence. Diaz lacked the ability to take a calm, unassuming first touch as opposed to a direct one, playing with too much spring in his step. He was also guilty of receiving with poor body orientation and was generally unable to be impactful in playmaking or linking play from central areas.
Diaz' shortcomings in this aspect of play and directness paired with Thiago's mostly deep positioning meant Mane was the only option for receiving passes between the lines when Liverpool had the ball on the left. Mane ultimately had no option to the interplay between the lines, and all of this limited the level of threat Liverpool posed from their left side combinations.
Thiago, from deep
Although Thiago didn't provide much presence between the lines, his deep positioning served an important purpose. Thiago notably played a more inventive role with his passing. He'd often try to find runners in behind Tottenham's last line, and/or make inswinging crosses to the far post.
This move was made possible mostly because, as explained in the foregone section on City, Spurs didn't hassle deeper players as long as they'd effectively blocked the forward passing lanes.
Regardless, Thiago was still able to create some threatening situations – but couldn't capitalize on Liverpool's most promising opening of the evening, when he overhit a pass to Trent who was lurking at the far post late in the game.
Pressing, counter-pressing and counter-attacking
Low blocks don't remain low blocks forever. Defending teams will have periods when they seek to hold on to the ball and construct attacking moves, or they might attempt to launch an attacking transition after winning the ball and get disoriented in the process, exposing space that can be exploited. Liverpool made sure to remember this against Tottenham, as they always tried to spring quick breaks after winning possession, either deep in their half or in Spurs' half.
Observations, Comparisons, Analysis
Full-back Profiles
Liverpool tried, although not consistently enough, to use one FB wide at a time and create overloads against the ball-near wing-back for Tottenham. The work rate and availability of Son and Kulusevski prevented Trent or Robertson from causing any real damage in these situations. And one thing was clear: the dribbling ability of Cancelo helped City create some threatening situations when he faced direct pressure from Kulusevski. That wasn't the case for Liverpool, both their full-backs being 'cross first' profiles meant Spurs could simply defend against them with smart body positioning.
An FB with expert ball-handling, in the ilk of Alphonso Davies, Nuno Mendes and Joao Cancelo, full-backs who can create space through their dribbling, would help Liverpool add some extra dynamism from the wide areas.
It's definitely not an urgent need, as Liverpool still have probably the finest assortment of chance creating full-backs of any team in Europe, but it's definitely something to keep in mind for whenever they look in the market.
Mane positioning
One obvious shortcoming of Liverpool's attack was the absence of blindside runs/movement, or runs into the halfspaces in high volume. While Thiago might not have the ability or willingness to attack space to  Gundogan's level, Henderson has shown both the ability and willingness to make those off-ball runs all through the season.
Liverpool's problem wasn't an absence of runners but a lack of the right structure to create space that facilitates or encourages movement.
City for example created the spaces to run into through the spread of players horizontally and stretching Tottenham's defense. The ball-far players maintained their deep positioning, and most importantly, the CF [Phil Foden or Bernardo Silva] stayed central and pinned the CBs with his positioning.
Since Spurs were getting pulled from both sides, it created a gap in the channels whenever Emerson engaged the player out wide.
Liverpool on the other hand had one structural flaw that prevented efficient use of space: Mane's positioning and movement. In his attempts to link play and be involved in move construction, Mane would often drop too close to the wide areas, bringing an extra CB (mostly Dier) with him and clogging space, making it impossible for Liverpool to use the channels or halfspace.
To clarify, this is merely an observation and analysis of the facts of the game, not a criticism of Mane's performance or overall ability. If anything, this issue was more of an indictment on the coaching instructions than on the player himself.
Man City's defending
For a team that had the more superior ideas against Spurs' defence, Manchester City still lost where Liverpool at least managed a point. This is not the tired 'a striker would be nice' positing but criticism of their defence. Liverpool have shown to have the better last-ditch defenders and ability to stay in games, whereas City struggles with personnel issues – duelling ability, reliability and decision making; structural issues – inconsistencies holding an offside trap and the often poor pressing structure. All of which played a part in Tottenham's early goal, and are partly responsible for their shortcomings in the CL.
For next season, given the context around Haaland's style of play compared to City's, and the fact Man City will be having one less intense ball chaser/defender where they used to have Foden or Sterling or Jesus, investments in defensive positions could prove important.