Chelsea, Manchester City, and Liverpool have something in common – the impact of their fullbacks on the ball. Chelsea's dynamic duo of Reece James and Ben Chilwell, Manchester City's mesmerizing Joao Cancelo, and Liverpool's ever-present Trent Alexander Arnold have been a key part of their team's early-season success. This article dives deep into the fullbacks and how their managers use them.
CHELSEA – REECE JAMES AND BEN CHILWELL
Thomas Tuchel's back 3 system has worked to perfection so far both in the Premier League and the Champions League. The competitiveness of the League and the influx of advanced analytics means that there is a need for managers and teams to constantly adapt to remain at the top level. The basic principles of Tuchel remain the same, but he has tweaked his tactics to be less predictable. That is where Reece James and Ben Chilwell come into play.
Both the fullbacks usually remained high and wide during his first season. This season it has been a different story. Tuchel instructs his fullbacks to tuck inside during different phases of play. When the full-backs come infield, it allows Chelsea's two number 10s to go wider. This positional rotation can cause trouble to the opposition defenders as it adds extra bodies in midfield and allows the likes of Mount, Hudson-Odoi to dribble at opposition full-back.
This was perfectly illustrated in the game against Leicester City. Brendan Rodgers decided to match Chelsea's 3-4-3. James and Chilwell remain wide during the goal kick but Chilwell drifts inside when the ball is played. Albrighton follows him.
As Chilwell drifts inside, one of Chelsea's front three – Hudson Odoi (highlighted in yellow) moves wider. Albrighton has a dilemma whether to follow Chilwell which then leaves Hudson-Odoi free or stick to the wide area. He chooses the latter option, allowing Chilwell to receive the ball in acres of space.
Chelsea win the second ball and this time it causes a problem in midfield for Leicester. James and Chilwell are already positioned infield as they overload the area.
Ndidi (circled in blue) is playing in a pivot and is tasked to mark Kante but now has an extra man to deal with in Chilwell. Kante makes a blindsided run into the space and Jorginho threads a pass to find him and Chelsea bypass the midfield with ease.
That is how Chelsea's "inverted wingbacks" operate. This has also led to an increase in the output of both the wingbacks. Reece James has already scored 4 and assisted 4 while Ben Chilwell has scored 3 and assisted 1 in just 6 matches. They also average more touches in the box than any other defenders in the league. The job of a wing-back is quite demanding physically but these two seem to operate at a high level.
MANCHESTER CITY – JOAO CANCELO
Pep Guardiola started the trend of inverted fullbacks at Bayern Munich with Phillip Lahm and David Alaba. He continued that in Manchester with the likes of Fabian Delph, Olexander Zinchenko, and Joao Cancelo. Usually, the inverted fullbacks drift inside instead of overlapping and look to make simple passes and keep the flow going. But Cancelo seems to be a different kind of an inverted fullback in a Pep Guardiola team.
His wonderful technique and his ability to find a pass with ease are fully used by Pep. The Spanish manager who is known for his rotation has started Cancelo in every game of the Premier League this season. He stands top in terms of passes completed into the 18-yard box and progressive passes among all the City players. He is the main creator from a fullback position this season.
On to the tactical side – Manchester City usually build up in a 2-3 shape with Cancelo inverting from a fullback position. This season he has been a bit wider during the first phase as he looks to cut inside and deliver a cross-field pass.
Cancelo usually likes to operate in the half-space areas during the second phase of play. He has the most touches in the half-spaces among all the players in the League (63). The opponents usually sit back and look to tighten the central areas near the edge of the box, so he receives the ball and looks to cut inside and deliver a cross into the box. This is how the Portuguese full-back got his second assist in the Manchester Derby.
The first goal in the Manchester derby was once again caused by Cancelo's brilliance. City's left winger – Phil Foden drifts into the box which allows Cancelo to move wider. At first, his fellow Portuguese national teammate – Bruno Fernandes anticipates Cancelo to cut inside.
However, the City player goes outside and delivers an outstanding ball with his left foot, into the six-yard box which is met by United centre-half Eric Bailly into his net. This just goes on to show Cancelo's ability in both the feet and you cannot leave any space for him to attack. Just like that, Pep and City have added another weapon to their creative armour.
Last season, the Portuguese international played the majority of the games from right-back often inverting to form a double pivot with Rodri. This season he has impressed everyone at left-back. A versatile player is a blessing and Pep is happy about it. Speaking to the press on Cancelo, he told:
"He can use both legs perfectly. His natural position is right but he is adapting very well on the left now. Joao since he arrived he played good but he has one huge quality – he loves playing football! When you find a player like that, you have a diamond in your hands"
Pep also compared him with Philipp Lahm and Dani Alves on how they are quite similar in terms of playing style under him. This is certainly huge praise and Cancelo will try and take confidence from Guardiola's words.
LIVERPOOL – TRENT ALEXANDER ARNOLD
Trent Alexander Arnold has matured over the years but it's hard to believe a player of his calibre is still just 23. Jurgen Klopp has utilised Trent to his strengths and in return, he has played an influential role in Liverpool's success over the recent years. He sums up the evolving and attacking nature of the fullback position.
Alexander Arnold's passing and the technique on his crosses are his standout features. He is known to deliver the ball into the box with precision and accuracy that defenders usually cannot deal with. He leads almost all the advanced passing statistics, notably he has the most Key Passes per 90 minutes among all the players in the League. Not bad for a fullback!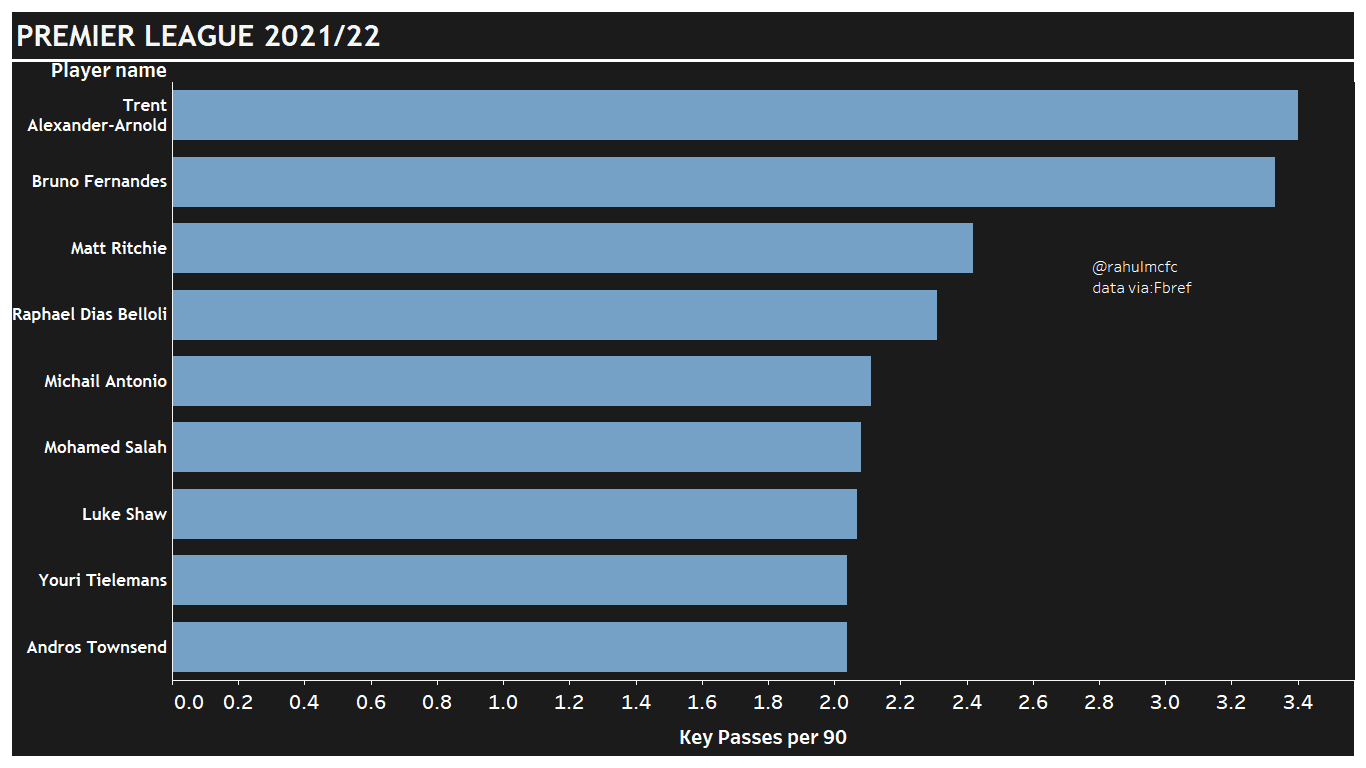 The Reds and Manchester City are quite similar in terms of shape on the ball. They usually build up with a front 5 but City use their wingers in the wide areas whereas Liverpool use their fullbacks to stretch the pitch. Alexander Arnold is part of that front five along with Andy Robertson. While the latter is much more of an outlet, Trent prefers the ball to his feet.
Alexander Arnold likes to deliver crosses into the box from the half-space. The area where he delivers the ball is so dangerous that Liverpool attackers are ready to feast on it. He usually whips his crosses with pace, between a zone where defenders cannot intercept and the goalkeepers cannot rush to collect it. What makes it special is that he delivers these kinds of crosses very regularly. Sign of a world-class player.
He constantly overlaps from the full-back position and delivers a low drilled cross from the byline across the six-yard box. Most of his crosses from this area are made with his first or second touch and the consistency is quite astonishing. Defenders usually don't have a sniff and it's begging for an attacker to tap it into the net. His crosses are very effective and they regularly result in an assist.
Set-pieces are an added benefit to an already remarkable skillset. He's not only well versed from corners, but his direct free-kicks is also a huge weapon to Liverpool. Unlike Manchester City, Liverpool try to play directly when pressed high and they utilise Trent's passing range effectively. He can switch the play with a diagonal or deliver a whipped long pass to Mo Salah – who usually acts as an outlet from the right-wing.
Trent has the technique and skillset many midfielders dream of.  There have been many arguments over him playing in a midfield role in the future but he seems to be content with playing as a full-back as of now. When asked about his experience of playing in central midfield for England, he told: "It was a bit more difficult to find space that I wanted to". He seems to be getting much more of the ball as a full-back in this Liverpool side and his ability to create with regularity means the Reds attackers thrive on it. The scary thing for others – he's just 23 and has so much time to further improve an already extraordinary career.
Full-backs have evolved so much in recent years. With James, Chilwell, Cancelo and Alexander Arnold, it looks like they have further evolved and have become the main creative source for the team. All the four are yet to reach their prime and with innovative coaches, at the helm, they can further develop and it will be interesting to watch them, to say the least.