The Thiago-Liverpool transfer saga has been going on for quite some time now. According to the Bild, the Bayern Munich midfielder has already agreed personal terms with Liverpool and is very close to a move to England.
Bild also claims that Bayern wants around £36m for Thiago but the Reds are willing to pay only £23million for the 29-year-old. The Spanish midfielder graduated from the infamous La Masia academy of FC Barcelona and made his first-team debut for the Catalan giants. He won eight trophies with Barcelona including two La Liga titles and a Champions League.
He joined Bayern Munich in 2013 for a transfer fee around €25 million. Since then, he has consecutively won seven Bundesliga titles with Bayern and also made it to the Bundesliga team of the season 2016-17. Thiago could be headed to Anfield if the Reds decide to trigger his £36m release clause. But with Liverpool already having quality midfielders at their disposal, where will Thiago fit in the line-up?
4-3-3: Thiago as a central midfielder
The 29-year-old midfielder has vast experience of playing in a 4-3-3 formation. He played as a midfielder at Barca and has played a similar role at Bayern. This is how Klopp can bring out the best in him at Liverpool. Klopp deploys a similar formation and he wouldn't have to tweak much to fit Thiago. Thiago's vision has always been talked about and this is where Liverpool will benefit the most. He can take many opponents out with his incisive passes – something that would benefit the attacking trio. He can boss the midfield as a number 8 alongside Fabinho and Henderson. However, his arrival would mean fewer minutes for Wijnaldum, Milner, Curtis Jones, Oxlade-Chamberlain and Keita.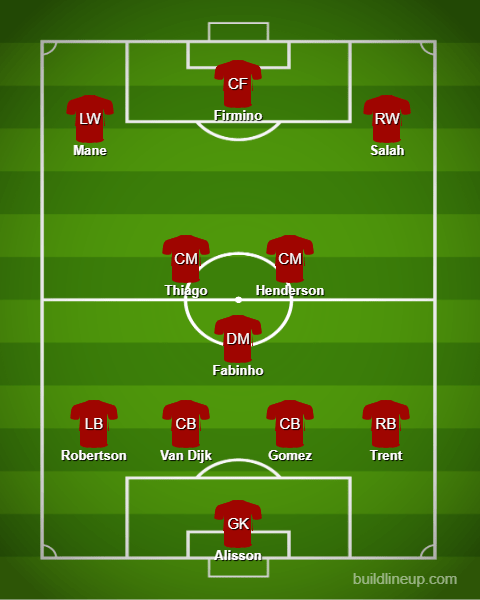 4-3-3: Thiago as a defensive midfielder
While Thiago is better in a number 8 role, he can play as a defensive midfielder some times. Fabinho has been crucial in Liverpool's Premier League win this season and Klopp may look towards Thiago to open up an option to rotate the Brazilian. Thiago can play in the deep-lying midfield and rest Fabinho ahead of important fixtures. However, he's not used to playing as a single pivot. Klopp has praised Thiago in the past and after a goalless draw against Bayern in the Champions League last season he said:
"Thiago is a world-class footballer. He played that deep-lying playmaker role very well. Alongside Martinez, they were very good."
4-2-3-1: Thiago alongside Fabinho in deep-midfield
Klopp has used this formation in the past with Origi as a striker. This formation is set up in a way that the attacking prowess is emphasised, while still being solid in the defence. Thiago can slot in as a deep-lying playmaker alongside Fabinho. This formation can quickly change into 4-2-1-3 as the wingers, Salah and Mane, will push further during attacks. Fabinho can stay deep and do the dirty work, creating space for Thiago to move forward and create chances for the attack. He has played this role ten times this season for Bayern, playing alongside Kimmich. Signing him would open up opportunities for a change in tactics & formation.