It doesn't happen often that all three promoted teams from the Championship are safe from relegation the next year. This unique happening has been the case this season. Nottingham Forest, Bournemouth, and Fulham have defied the odds. As a result, three seasoned veterans of the Premier League are destined to go down.
One of them, Southampton, have already had their fate sealed. As things stand currently, Leicester and Leeds look like the other favourites to go down. Everton are under threat too but their fate lies in their own hands and their game at home to Bournemouth looks the most straightforward of all.
Considering that, here are the top five players from Leicester, Leeds, and Southampton who are far too good for the Championship. In brief, their club might go down, but they should definitely be playing top-flight football next season.
NOTE: Names from Everton under honourable mentions since their likelihood of getting relegated is far less than Leicester and Leeds.
1. James Ward-Prowse
The set-piece wizard, Southampton captain James Ward-Prowse is the obvious choice. Affectionately known as "JWP", his guile in midfield, leadership qualities, and magical set-piece ability makes him a nailed-on prospect for Premier League football next season.
It can be argued that the only reason JWP hasn't already left Southampton is because of his love for his boyhood club.
With 12 goal contributions in the league (eight goals and four assists), James Ward-Prowse would be an asset to every club in the Premier League, even the conventional top-six.
Manchester United need a midfielder. Arsenal could do with a bit more leadership and steel in their squad. Chelsea need a player around whom their bloated squad can rally. Tottenham need all the help they can get. Liverpool are looking to refresh their midfield after missing out on Jude Bellingham. Only Manchester City look secure in this area but even that can change if Bernardo Silva is tempted by PSG or Barcelona.
With 124 shot-creating actions in 37 games, Ward-Prowse offers a guarantee of creativity that only a few players can match. Add to that his familiarity with the league, English homegrown status, and prior leadership credentials, it is a no-brainer signing for Premier League clubs looking for an elite "plug-and-play" player.
2. Harvey Barnes
The Burnley-born winger is a quintessential success story of the loan system. Coming through at Leicester City, he had encouraging loan spells at MK Dons, Barnsley, and West Brom before breaking out at Leicester.
Since his debut, Barnes has gone from strength to strength. Even this season, when Leicester have been mired in a relegation battle, Barnes has produced the best goalscoring season of his career. His 12 goals in the league make him Leicester's top goalscorer. His xA (Expected assists) of 3.04 but one assist shows how wasteful his teammates have been when at the end of chances created by him.
As an English homegrown attacker who has improved every season, Barnes is a player who will undoubtedly receive interest from several Premier League clubs.
In his career, Barnes has shown the ability to raise his game to match the standards of those around him. If he keeps that trait up, the sky is the limit for the right-footed left-winger. He could flourish at Tottenham or Arsenal, or he could move to a level below the top-six and continue his progression. His quality is under no doubt.
3. James Maddison
One look at Leicester's squad makes it painfully obvious that on the strength of the squad alone, Leicester shouldn't be anywhere near relegation spots, let alone favourites to go down.
After Harvey Barnes comes James Maddison. With ten goals and nine assists in the league, Maddison has been responsible for almost 40% of all Leicester City's goals in the Premier League.
Able to play as a No 10, No 8, or even out wide, Maddison is the ideal player for a "creator-in-chief" profile. Aged just 26, his best years are undoubtedly in front of him.
With 5.05 shot-creating actions/90, Maddison is in the 90th percentile of players across top-five leagues. He has achieved all this while playing in a team where the strikers have lost their shooting boots.
Maddison doing his thing in a functional and successful team is a tantalising prospect. Newcastle United have been credited with a longstanding interest. Arsenal have also been reportedly interested. No matter which club he chooses, it is a certainty that one of the Premier League's best attacking midfielders this season won't be suiting up in the Championship next season.
4. Tyler Adams 
The USMNT captain is a player to whom raw stats don't do justice. Every successful team should have a player like Tyler Adams in the squad. He is the perfect professional, utility player who is able to cover multiple positions and is always good for a 7/10 performance.
Tyler Adams is an absolute engine in whatever position he plays. For the modern elite teams where pressing in becoming increasingly the norm, the importance of a player like Adams has increased exponentially.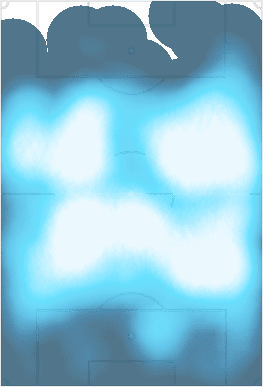 As can be seen from his heatmap above, Tyler Adams is absolutely everywhere in the middle of the park. His 3.72 tackles/90 puts him in the 98th percentile of players across top leagues in the same position.
If he added some goals to his game, he would be the ideal player for elite clubs. As it stands, he is a functional asset which every team could use. Manchester United have been credited with an interest and his similarities with cult favourite Ji-Sung Park are striking.
5. Romeo Lavia
A season in the Championship for a 19-year-old midfield prospect would normally be considered a great experience. However, Romeo Lavia is not a normal 19-year-old. The Manchester City academy prospect is one of the few gambles that worked for Southampton this season. Lavia came into the senior football scene and took to it like it was nothing.
Lavia made 28 appearances in the league at arguably the most difficult position for a young player to get right- The defensive midfield.
His reading of the game, progressive line-breaking passes, and the ability to be at the right place at the right time to cut off opposition attack belies his tender years.
Lavia has already proven he is Premier League starter quality. His ascent has been so rapid that Southampton might be resigned to losing him just a year after getting him. Manchester United could do with a younger protege for Casemiro, while Arsenal don't have anyone to deputise for Thomas Partey. Chelsea have also been credited with an interest and Manchester City have a buy-back clause.
Lavia will have his pick of clubs, but a season in the Championship would definitely be a step backwards.
Honourable mentions
If Everton get relegated, the likes of Dominic Calvert-Lewin and Jordan Pickford are sure to receive Premier League interest. Players like Wilfried Ndidi, Ricardo Pereira, and James Justin could also lead the mass exodus at Leicester. At Southampton, Armel Bella-Kotchap, Mohamed Salisu, and Kyle Walker-Peters are the same.
Leeds don't have to worry about it as much but Illan Meslier and Brendan Aaronson could be intriguing buys for Premier League clubs.