Amid rumours of Erling Haaland joining Manchester United, the player has helped himself gain a little more fame by posting a photo in his Instagram story wherein he can be seen signing a United jersey.
Manchester United were head over heels after watching the image that could possibly become a reality. But their merriment was short lived as minutes after posting the photo of United shirt, Haaland shared photos of several other signed shirts including Napoli and Leeds.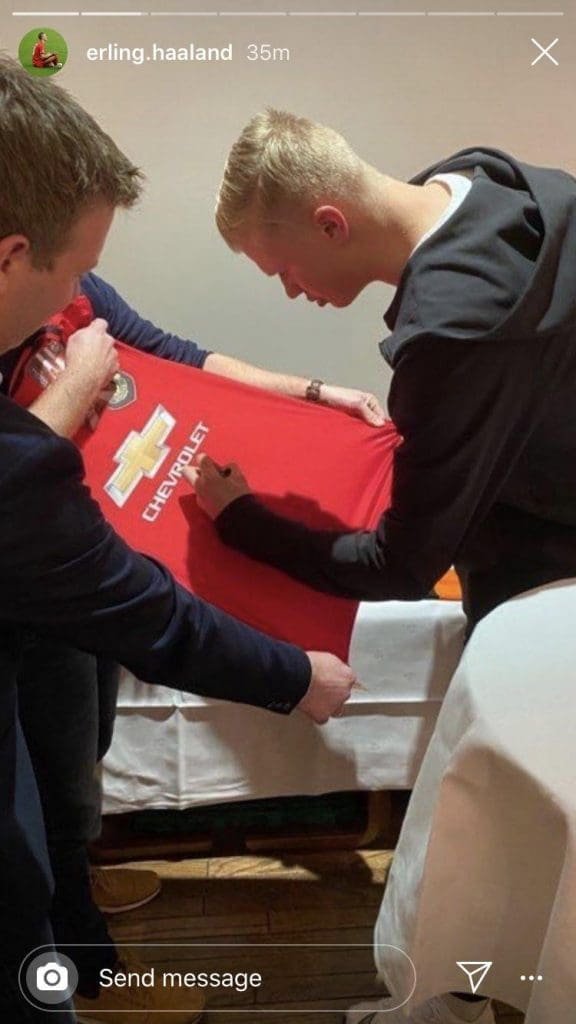 A prank? Maybe. But chances of it being a possibility are heavy as the transfer window nears. The Norwegian striker is determined to sign a big club after having a brainstorming performance for Salzburg.
In both, Champions League and Bundesliga combined, Haaland has scored a whopping 28 goals in only 22 games. A goalscoring sensation that he proved out to be, he has high chances of penning an official contract with the jersey that he was signing last night.
Stringed to the expectations of Haaland joining United are the fans who await the transfer window with extreme impatience. And the fact that he did not sign a Dortmund shirt reveals the fans even more. The Bundesliga powerhouse were proving to be United's biggest competitor in signing the youngster which after Haaland's post seem not to be.
The 19-year-old is rumoured to have struck a £76 million deal already with United and only an official entry is being awaited. A reunion of Solksjaer and Haaland is on the cards as we gear ourself for the winter window.
Only a few days more that we have to hold our nerve!!!!