When the name Hazard is mentioned in football, people often refer to Eden Hazard, the ex-Chelsea superstar, who know plays for Real Madrid.
But his younger brother Thorgan Hazard, is slowly making his name in the world football as well, and is now an important player at Dortmund and the Belgian national team. His rapid progress and development into a world class footballer could remind Chelsea of another prospect who they let slip.
A load of players like Kevin De Bruyne, Romelu Lukaku, Salah who were released by Chelsea have now become superstars at their respective clubs.
Thorgan began his career in France at Lens while his elder brother Eden joined their rivals Lille. Thorgan played for the club's academy and soon signed a professional contract in 2010. He made only 16 appearances for the club at senior level, before Chelsea signed him alongside Eden in 2012.
The younger Hazard was then loaned out to Belgian club Zulte Waregem to aid in his development for two seasons and was named the best footballer in the league in 2014, and was also honored with the Belgian Golden Shoe.
He was also made his debut for the Belgian senior team in 2013, and has since been a part of the squad, also getting a call up for the FIFA 2018 World Cup.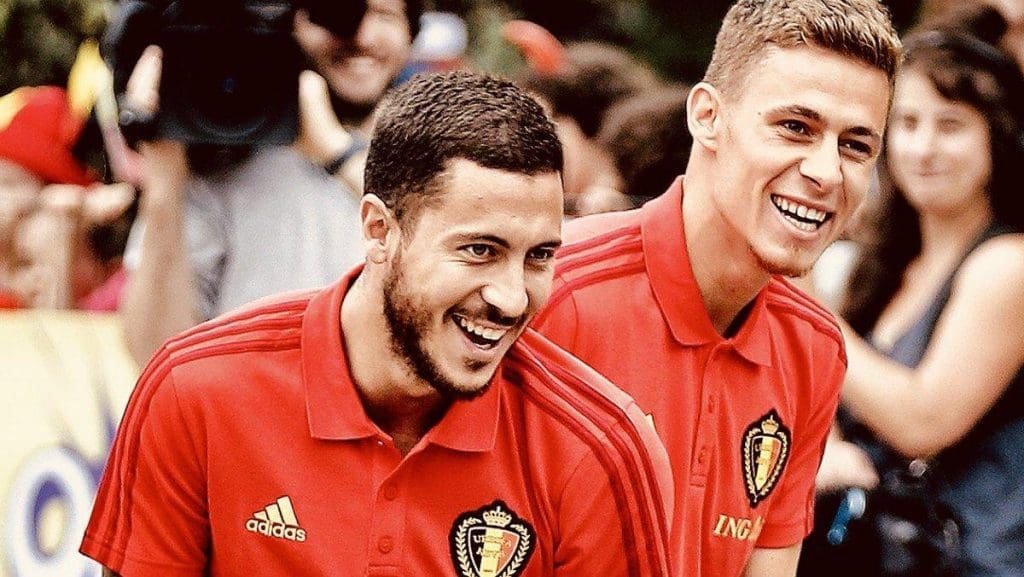 Thorgon was loaned out to Borussia Mönchengladbach in 2014 and played 41 matches for the club in his first season at Borussia-Park, and netted 5 goals. His impressive performances at the club led to Mönchengladbach to permanently sign him after the end of the season from Chelsea.
The deal was fixed at around €8 million and also allegedly included a buy-back clause for the player.
Thorgan had admitted later in an interview then that he wanted to play for Chelsea in the future, "I am focusing on excelling at Borussia Monchengladbach, but I still hope to play for Chelsea one day."
Hazard spent 5 successful seasons at Gladbach, made 182 appearances for the club, and had 91 goal contributions for them before Borussia Dortmund signed the Belgian last summer on a five-year contract around €28m, a very good deal considering the current inflated market.
Chelsea were linked with the winger, to bring him back using his buy-back clause, but there was confusion if such a clause existed and he signed for Dortmund.
Thorgan is a complete modern attacker, with the ability and talent to play in a array of different positions.
He is surrounded by exciting players like Sancho, Erling Haaland and Julian Brandt at Dortmund and he will only improve at the club. He is already a proven goalscorer and Thorgan also contributes defensively, often tracking back when required.
With Thorgan at left-wing, Sancho at the right and Haaland through the middle, Dortmund have an incredible front three setup at their disposal.
There is no doubt seeing Thorgans rise to the top that Chelsea have let another gem slip through their hands.
WATCH: Eden Hazard is Good but… Thorgan Hazard is UNSTOPPABLE in 2020!