In the last month, we all have certainly lost count on the number of times the word 'inevitable' is mentioned whenever Erling Haaland slides the ball into the net. His influence at Manchester City has been incredible and fans all over the world are stupefied if he doesn't score every week. 12 goals in 8 games with two hat-tricks to his name already is a start many dreams of, but for Haaland, it is the reality and he's making it look easy.
Of course, Pep Guardiola's men are the masters in creating chances, but it is easy to forget that they have played without a striker in the past two years. So Erling Haaland has unquestionably bought a new dynamic to the side, and it looks like the team has adapted to Haaland's strengths rather than the other way round.
While many players from Bundesliga have had difficulty transferring their form to the Premier League, Haaland has fit in like a glove and is dominating the league. His quality in and around the penalty box, combined with his spatial awareness, has been a huge part of his success, as he always seems to be in the right place at the right time. So, here is an article studying his movements both in the progression and creation phase and how he has adapted to his new environment.
The Fox in the box
Before diving into Haaland's 'fox in the box' nature, let's look at some of his amusing stats. The sample is small, but he is miles above the rest in terms of numbers. The Norwegian has the least average distance from the goal of all shots taken among strikers and wingers in the league (9.8 yards from the goal). This statistic clearly states his ability and timing to arrive in the box. Haaland also tops the chart for goals per shot taken (per 90) along with non-penalty goals minus expected goals which shows his ruthlessness in front of goal.
In the opening day Premier League fixture against West Ham, Haaland made constant runs in behind the defence, but Man City – like they usually play, slowed down the game and did not look to pick him up-front. But he quickly realized this and became more involved in the passage of plays as West Ham sat deeper. Haaland dropped deeper to drag a center-back with him and create space for others and looked to play one-touch passes.
But he usually gets his head down and targets the space in behind the defender when Man City's midfielders have time on the ball. In this instance, Haaland is already dashing to run past the defender. Although his teammate does not play him the pass, he wins the penalty by making a similar run during the game.
As Gundogan decides to play the ball wide to Grealish, Haaland re-positions himself and now looks to get in between the fullback and center-back.
And when Grealish cuts inside and crosses, Haaland is ready to be positioned in the six-yard box between Cresswell and Zouma. Kurt Zouma is blindsided and Cresswell has Foden on his back, so Haaland – like world-class number 9s, constantly looks to drift between the two players in the box.
Below is another one of his trademark moves (a certain Kun Aguero reminder). As Grealish from the left side is ready to deliver the cross, Haaland steps outside and is angling his run between the center half and the fullback again.
However, as Zouma takes a step back to mark him, the forward now makes a run inside between the center halves, therefore catching Zouma on the wrong foot. Grealish failed to pick him, but he has scored plenty of goals in this manner before and will continue to do so.
People frequently remark that a creative player is one step ahead of the rest of the players on the pitch when he weaves a pass that nobody sees. However, Erling Haaland against Aston Villa exhibits this awareness without really affecting the play. De Bruyne – himself a master of finding space, glances behind his marker and makes an overlapping run. Haaland, witnessing this, has already spotted the gap between the fullback and center half.
The connection between these two players is blossoming and once again it showed here. With just one quick scan, the Belgian picks out an inch-perfect cross, which Haaland taps it home. It looks easy on the eye, but De Bruyne and especially Haaland are one step ahead of the defenders here.
And once again, 3 days later – the duo caused havoc, and this time to Sevilla. De Bruyne makes an underlapping run and Haaland is once again in the 6-yard-box finishing the move. This move also shows how the Man City players arrive in the box. Bernardo Silva drags his run in the box, attracting one of the center halves towards him, which in turn frees Erling Haaland. Rinse and repeat!
Game awareness
While Haaland's movement in the box is highly appreciated, his game awareness and the way he creates space for his teammates go under the radar. As seen during his goal against Aston Villa, his awareness to spot Kevin De Bruyne's run and make his way into the penalty area is brilliant. He has been at the club for a couple of months but has massively developed a sense of understanding with the creative hub of the team (De Bruyne, Foden, and Gundogan).
In this situation, Joao Cancelo is looking for options. Haaland here does not make himself available by dropping deeper but instead stands in an offside position on the blindside of his marker as he witnesses Foden making a move from midfield. And as Foden receives the pass, he has a head start over the Bournemouth defenders and is ready for a tap-in. Simple, but nevertheless efficient move which further cites his exceptional game awareness.
Manchester City's first goal against Newcastle United perfectly captures his ability to get others involved without even touching the ball. As City bypasses Newcastle's press, Haaland drifts in behind and drags a defender with him. This meant that Man City overload the left side as Trippier is isolated.
Haaland strays offside as Bernardo Silva chooses to keep hold of the ball and assess his option. He now has De Bruyne wide, who positions himself for a first-time cross. And look where the Norwegian is. He sees De Bruyne and aligns himself for a simple finish by staying in the offside position.
But once again, Bernardo Silva waits and cuts inside (thanks to Kyle Walker's run) and this time he finds an overload in the penalty box. Haaland, meanwhile, is scanning his surroundings and knows that Trippier is isolated if he can attract a center half with him.
And so, he exactly does that – blocking Fabian Schar, which leaves Gundogan in acres of space to complete an excellent move. Note that Haaland did not touch the ball once, but his influence created a numerical superiority in the box and Man City eventually scored.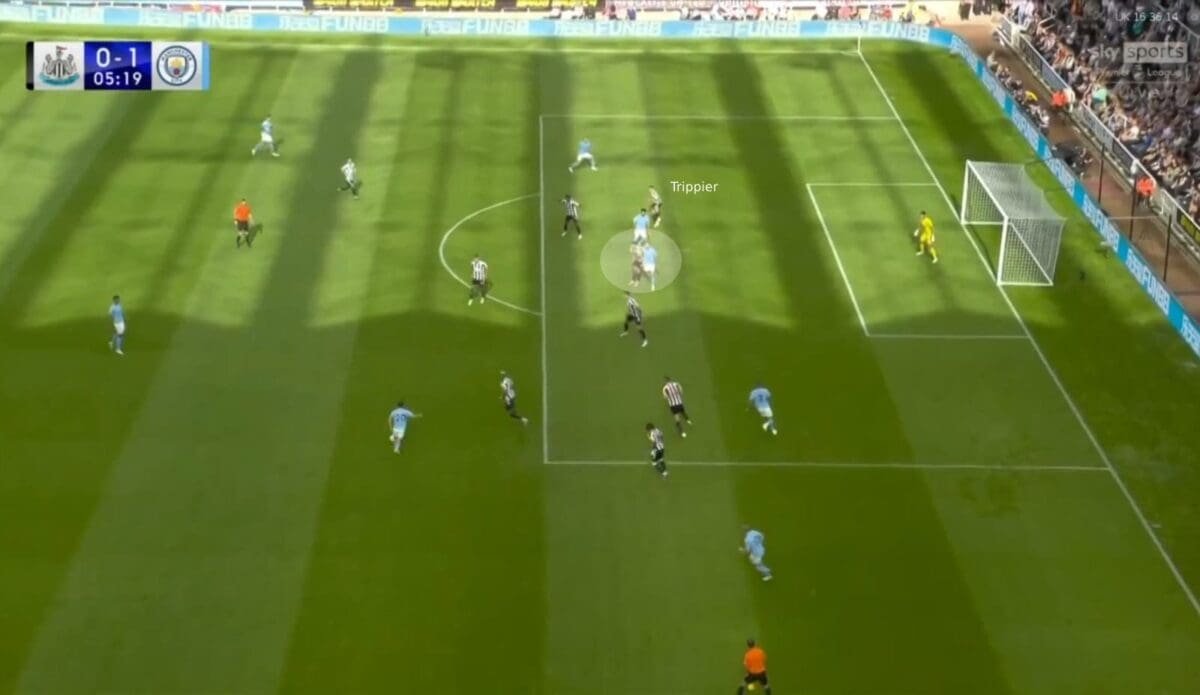 The former Dortmund player's touches against Bournemouth in the second game were heavily discussed in the media and many questioned his potential to influence games against teams defending in a low block. However, Haaland undoubtedly influenced the game, as seen when Gundogan opened the scoring. Here, notice how he points out a pass to be played to the German.
As Walker plays it to him, Haaland uses his back against his marker before playing a one-two with Gundogan. But once again he demands the defenders' attention, which ultimately created the space for his teammate to score. Funnily enough, the assist was two of his eight touches in the game.
Although the Blues take time on the ball before finding the killer pass, Haaland's capacity to run in behind the defense has made them go direct at times. While it is a good option to have, the team has been caught on breaks, especially against Crystal Palace. This is an area where Pep Guardiola and his players have to analyze to find when and when not to play the big number 9 through.
Having said that, Erling Haaland has contributed several goals to Manchester City and has no plans to slow down anytime soon. He will also look to further improve his connection with the likes of Kevin De Bruyne, Phil Foden, and the rest; Pep also constantly stated that he can improve certain areas of his game. Haaland's potential is unquestionably scary for the rest, as the sky is the limit for him and it's no wonder fans use the word 'inevitable' when it comes to Erling Haaland.