Former Arsenal full-back Bacary Sagna has opened up on his struggles at the Emirates. He regularly featured as a right-back for the Gunners, however, he also played some games as a centre-back. Former manager Wenger described him as the best right-back in the Premier League.
Sagna has been without a club this year after finishing 2018-19 season with Montreal Impact. Sagna wrote for Arsenal's official website and explained his problems throughout his career.
"I would have played free of mind, I could have done better, I could have been more decisive. Whether that was with Arsenal or the national team, I know I could have done better.
"It started in February 2008. February 13, exactly one week before the second leg of our Champions League last-16 game against AC Milan, I lost my brother in a way I didn't expect. Fine one day and then the next, gone. Just 28. His funeral was in Senegal but I didn't go, I came back to Arsenal to play in the second leg.
"Back home everyone was very upset, so my father told me to come back to play. The manager trusted me as well. He didn't tell me what to do or take me out of the team, I made my own decisions and he respected them.
"At the end of the day, I couldn't let the team down. It felt like I had managed to separate my private life and my work, but then the next month it got even tougher."
Sagna then revealed that in his first season against an experienced Chelsea side, he scored but was later forced off the pitch after picking up an injury. It was his last game of the season for him as he spent the rest of the games on the sidelines.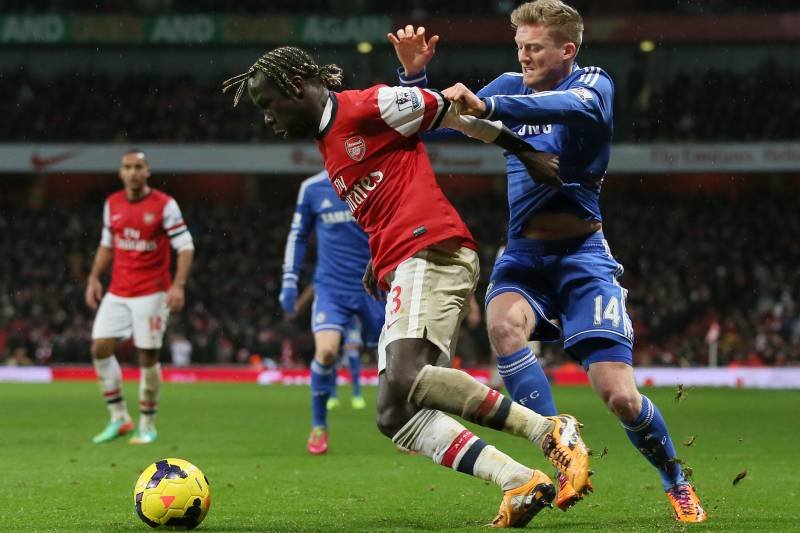 "We were playing against Chelsea, one of the best teams in the league with so many big players. I used to watch them all on TV and all of a sudden, there I was playing against them and scoring my first Arsenal goal at Stamford Bridge.
"I was full of emotions but then later in the game, I tried playing a pass, and something went wrong. I remember the pitch was a bit slippery and when I played the ball, my back heel slipped a bit more than it should and I tore my ligament.
"At first, it didn't feel that bad and I played on. But then about five minutes later I realised I couldn't play any more. I had to come off and then they scored maybe two minutes after that. It was a terrible scenario.
"Imagine the high of scoring your first Arsenal goal, only to get injured and then not win the game. I thought we were going to win that game, that we were confident and that maybe we could go on to better things. But at the end of the day, I got injured, we lost points and it felt like we lost it all. It was the end of my season."
However, despite the injury, he still made it to the PFA Team of the Year in his first Premier League season.
"I fought hard to come back over the summer. Being named in the PFA Team of the Year for my first season gave me lots of confidence but when I came back, everything became slow. I struggled to focus and I made mistakes. I was not myself and I knew I could perform better."
Sagna signed for Arsenal in the summer of 2007 from AJ Auxerre. He spent seven seasons under Wenger's Arsenal and won a FA Cup and an EFL Cup. He then joined Manchester City in 2014 and made 86 appearances for the club. In 2018, he joined Serie A side, Benevento, on a six months deal. In 2018 summer he joined Montreal Impact and has been out of the club since leaving the Canadian side.