Arsenal will be hosting Leicester City at the Emirates Stadium on Tuesday, 7th July 2020. This encounter will be their 34th league fixture this season as the season is set to round up very soon, both sides will be looking to get the maximum three points which will put either of them in contention for European competitions.
Base on current form, Arsenal seems to have the upper hand, nevertheless, the Foxes could spring up some surprises as they did against Crystal Palace side with a clean sheet.
Though the Foxes' third position seems to be in danger as both Chelsea and Manchester United are just one and three points away from leapfrogging Leicester on the league table.
Meanwhile, Arsenal are on the rise, with four wins on a bounce since losing against Manchester City and Brighton respectively after the league restarted. Mikel Arteta's side have been able to bounce back from their poor outings and show their determination to get back up.
Even with the manager's tactics, some key players have unarguably proved their ability and consistency, while some players have been a figure of surprises amid their impressive performances thus far.
Both clubs are obviously blessed with some quality and technically gifted players, who are capable of deciding the outcome of a match with their skills, influence and all-round performance.
The major focus will be on such players, who the fans will be relying upon to make the difference and show their level of consistency and willingness to win the match in favour of their team.
Here 5 Key clashes to forward to:
Aubameyang vs Jamie Vardy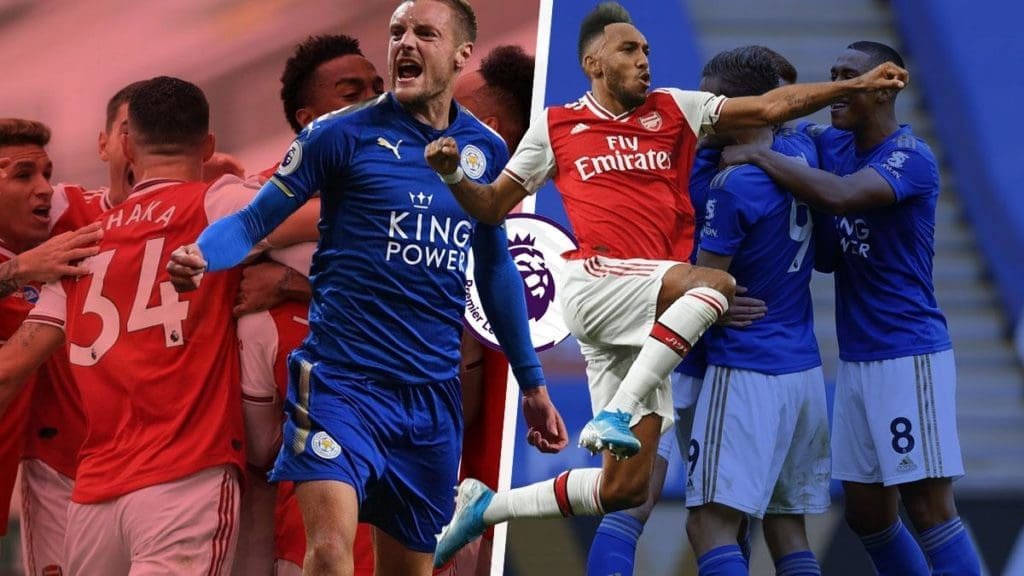 Arsenal's prolific goal scorer and club captain Aubameyang has been one of the most outstanding player for Arsenal this season, that has contributed in so many ways for the Gunners.
Moving out of his comfort zone on the left, Aubameyang never seems to have given up on his goal scoring duties, as the Gabonese striker has found the back of the net 19 times in league games thus far, with just two goals behind current leader Jamie Vardy.
Aubameyang's contribution in Arsenal's games can't be overlooked likewise, his importance against Leicester will be highly immeasurable considering his pace, skills, experience and goal scoring instinct.
With Leicester's first choice right back Pereira still out injured, this will undoubtedly give some technical advantage to Aubameyang over James Justin.
While Leicester's record breaking goalscorer Jamie Vardy will still be basking in the euphoria of his 100 goals milestone which he achieved and surpassed against Crystal Palace.
Since the Foxes were promoted to the top-flight, Jamie Vardy has impressively been consistent in front of goal. This season, the Englishman has scored 21 league goals already, with five games left, Vardy looks to have enough matches to increase his goal tally and possibly claim the golden boot for the highest goal scorer.
Jamie Vardy seems to enjoy playing against Arsenal, as the England international striker has netted eight goals in eight matches against the Gunners, them goals includes three braces as well. His goal ratio against the hosts will be a sign of warning to Arsenal especially to their defenders. Though Mustafi and David Luiz has formed a formidable partnership but the danger Vardy possess seems not to have limitations when it comes to goal scoring.
Bukayo Saka vs Kelechi Iheanacho
Bukayo Saka is already turning the heads of fans and pundits with his consistent and mature displays since breaking into the first team this season.
At the beginning of the season, the youngster wasn't part of the four academy graduates that were promoted to the first team following their commendable progress from the Under-23 side, but the teenager broke into the first team in a surprising fashion.
Saka has already played in atleast four different roles already while his level of performance never dropped all through. He stepped into the left back position, played as a creative midfielder, left wing and right wing as well, with his recent performance and goal coming from the right wing in absence of Nicolas Pepe, has earned a lot of praises from fans and pundits all over.
Bukayo's role under Mikel Arteta has been one of the most vital part of the manager's tactics which has obviously yielded great return. Saka's ability to create chances either by crossing or laying through pass makes him a huge creative force that needs to be monitored by Leicester's defenders if they are to nullify his threat. His age looks deceptive considering his enormous talent and threat he posses on the field.
While Leicester's rejuvenated forward Kelechi Iheanacho looks to have finally found his goal scoring boots. The Nigerian international forward seems to be lost and mostly a shadow of himself since joining the Foxes from Manchester City. As he has been mostly outshine by Jamie Vardy while the Nigerian forward hasn't done himself much favour considering his below par performances whenever he's being given an opportunity to impress.
Iheanacho was deemed to be having his last moments with the Foxes but his recent improved performances would be enough to change his fortune at the club. His goal against Crystal Palace was his second consecutive goal in the space of a week.
Playing alongside highly rated Jamie Vardy, Iheanacho looks to have found his best role which suits his style of play and enhances his performance. If Arsenal will want to focus their attention on Vardy, that might prove detrimental due to Iheanacho's penchant for goals.
Dani Ceballos vs James Maddison
With the 23-year-old Spanish international midfielder finally adjusting to the league's pace and ruggedness, Ceballos has now been able to show the qualities.  His loan move from Real Madrid looked to be a very shrewd business but lack of right coaching, injuries and inconsistency has led to the Spanish international to be considered as an unwanted player who does not have what it takes to adapt nor have the ability to match the hype that surrounded his transfer.
Under Mikel Arteta, Dani Ceballos couldn't convince his fellow country man and manager Mikel Arteta at the start of his reign, but his rejuvenated spirit and determination coupled with the right guidance has spring up Ceballos quality and influence in the manager's tactics.
His ability to dictate play from deep position in the midfield looks so astonishing. With his diminutive stature, he has the energy to cover every blades of the grass, while making vital tackles, interceptions and intelligent passes. His movements on the ball seems more of Cazorla-esque.
Ceballos work in the midfield will need to be keenly monitored and nullified. Leicester's midfielder will surely have a lot to do to stop the Spanish player.
James Maddison as been tagged as a doubt for the match against the Gunners but his inclusion when slightly fit will be undoubtedly considered base on the quality he posses an his importance in the match. But notwithstanding, Maddison's all-round ability and consistency can't be overlooked even when he's half fit.
The englishman has been instrumental in the Foxes' midfield. He could connect with players around him effortlessly, while causing a lot of problems for his opponents through his movements and skills set. Maddison has being a respected playmaker whose performances has caught the attention of England's national team's coach Gareth Southgate.
His set-piece threat and long range shots can win any game at any time when given the opportunity to do so. Arsenal will need to be careful and intelligently limits the spaces which Maddison will want to operate or cause attacking threats.
Granit Xhaka vs Wilfred Ndidi
Many wouldn't have expected to see Xhaka still playing for the Gunners deep into this season, not to talk of being a cornerstone. Xhaka who's underwhelming display and criticism from the fans led to his outburst and losing the captain's armband to Aubameyang.
Under former manager Unai Emery, Granit Xhaka seemed like a lost character in the team. His commitment in the dressing room couldn't be equaled with his performance on the field of play but with Arteta taking over from Unai Emery, Xhaka has turned out to be Arsenal's most important and consistent player so far.
Arsenal has lost majority of the match which Xhaka didn't feature while they've won most of the matches he has featured so far. In the opening games after the league restarted, Xhaka got injured very early in the match against Manchester City which Arsenal eventually lost, followed by another against Brighton.
Since Granit Xhaka's return against Southampton, Arsenal has won all their matches including against the pundits favourite Wolverhampton. Xhaka's role is being simplified by Arteta but his importance is immeasurable. Starting another match against the Foxes looks to be another victory for the Gunners unless Brendan Rodgers can solve the mystery behind Xhaka's role and influence on the game.
Meanwhile, Leicester's tough tackler Wilfred Ndidi is known to be another important player in Brendan Rodger's team. Just like Granit, having Ndidi in the starting lineup has brought more victory for the team. This claim was evident when Ndidi got injured in the middle of the season. While Ndidi had been out, missing five matches due to knee injury, Leicester lost three matches against Southampton, Burnley, Manchester City and drew two against Chelsea and Wolves during those five games.
Wilfred Ndidi is an astute tackler and good at interceptions. His ability to position himself in a way where he can effortlessly cut off counter attacks or any other attacking threats makes him a rock that needs to be avoided or outsmart if the Gunners wants to have enough chances at goal.
David Luiz vs Caglar Soyuncu
David Luiz comes with a wealth of experience and great techniques having joined from London rival Chelsea, in a 12-months deal. David Luiz' presence in the team has brought the needed maturity, experience, influence and winning mentality which Arsenal have been lacking since sometime now. Only few past players like present coach Mikel Arteta, Per Mertesacker and Koscielny could be highlighted as those that possess same leadership qualities and influence.
Though, Luiz has been prone to a lot of mistakes lately but his contributions both defensively and offensively can't be overlooked. The Brazilian international's ability to pick out a void which he could play a through ball from the defense to the attackers makes him an outstanding ball playing centre-back which many coach would be delighted to have. His importance offensively could be highlighted by his assist against Everton this season, where he played a through ball to Aubameyang who raced to the ball and calmly place the ball into the net.
Meanwhile, Caglar Soyuncu is also a ball playing centre-back with the ability to play the ball out from the back very calmly and composed.
All round defensive actions makes the Turkish international a strong and reliable defender coupled with consistent performances since he filled the void left by Harry Maguire who signed for Manchester United last summer.
Soyuncu's presence has brought the needed aggression at the back line, while it has also transformed the defense to be more compact and difficult to penetrate either through aerial balls or ground passes.
With Soyuncu at the defense, Leicester has impressively kept 11 clean sheets thus far. Which means, Arsenal needs to be smart around the young defender and try to exploit any weakness they could be lucky enough to discover about the Foxes' defense.