Thomas Partey's move to Arsenal just took a major step forward, as according to Corriere dello Sport, it was gathered that Arsenal have an upper hand to land long term target, having already submitted a €50 million offer to Atletico Madrid.
The Italian source has a reputation of providing genuine transfer news. It was previously revealed by Thomas Partey's agent that his client has a £43.5 million release clause in his contract with Atletico Madrid.
His agent explained that: "I can say right now, I haven't talked to anyone, even if Inter are a top club," he told Passione via. Football Ghana.
"There's a €50m (£43.5m) release clause in his contract, a figure that's considerably cheap for a player like Thomas."
CONSISTENCY UNDER SIMEONE
The ridiculously low release clause in his contract has undeniably made the interest in Partey's signature more competitive. With consistent performances at elite level with Atletico makes him one of the most sort after midfielder in Europe.
He has been a rock at the middle of the park for Atletico Madrid since breaking into the first team. Partey has been known to be solid at defending, ball interception, dribbling, long shot, passing and tackling.His constant solid displays in the midfield has made him a nightmare and a tough player who doesn't hesitate to neutralize any form of attack with intelligence and brutality.
So far this season, the 26-year-old Ghanian International has made impressive contributions by amassing an average of 2.5 tackles, 1.4 interceptions and 1.2 clearances per game.
Interest from Arsenal has been on the cards for someime now, but no concrete offer were made.
Thomas signed a contract extension with Athletico Madrid through 2022 on 14 February 2017. Following his impressive performances for the club, he was rewarded with another contract on 1 March 2018, this time until 2023.
Thomas Partey sporadically became a key player at Atletico Madrid, which resulted in the club's attempt to get the player to sign another deal at the Wanda Metropolitano Stadium which would raise his release clause to £92.3 million.
The offer was reported to have been on the table for months but Partey seems to be delaying the signing due to his "intention to listen to offers."
The player had previously talked about his desire to play in the Premier League, which gave Arsenal's hope of signing the Ghanian International a major boost.
ADMISSION…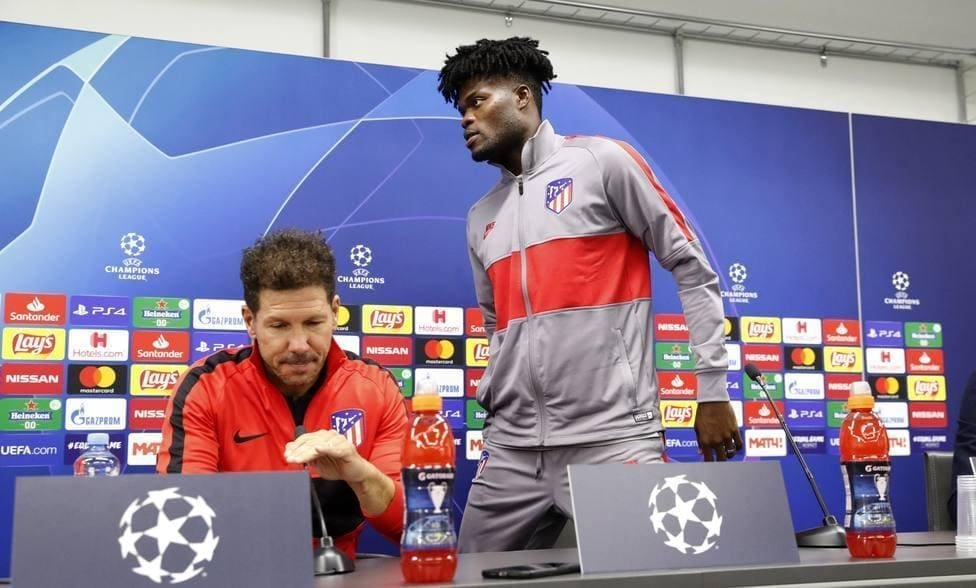 Thomas Partey revealed in an interview with ESPN last summer, where he stated that: "At the moment, I am happy at my club, but in football, you never know when and where you'll be in the next day or year".
"The Premier League is a good league, it's very competitive and has some of the best players in the world," he added. "Hopefully, one day. I would like to play there".
"My agents are on it so I will leave everything for them," he added.
"For me, I am happy playing football and I will continue to play where I am now until something comes up for consideration."
While Partey's father also confirmed his son's desire to move to England one day, while speaking on Enigye FM, Ghana. He said: "I personally told him to move on, if he is not wanted at where he is right now, because he might be wanted at somewhere else and so he will like to move to England if he gets the chance".
ARSENAL, A LIKELY DESTINATION
It's no more a news that Arsenal have been in search of a combative midfielder, who is capable of replicating the Invisible's midfield maestro "Patrick Vieira". The profile and style of player of Thomas Partey looks more like the perfect replica of their Invisible captain, in terms of power, athletism, skill set, tackling and defending.
Arteta's team would definitely benefit greatly with the addition of Partey's quality and turns the midfield to become more compact and tough to break, if they can eventually convince him to sign for Arsenal.
With the release clause been tabled by Arsenal, Arsenal fans would be hoping to see the arrival of what would be one of Arsenal's best midfielder signing in history for a ridiculously low fee.
Dreams do come true; Arsenal fans can as well dream of Partey in an Arsenal jersey next season….
WATCH: This Is Why Arsenal Want To Sign Thomas Partey 2020