Yes, the title is stolen from Peter Durry's famous lines from the iconic match between AS Roma and Barcelona which the Italian side won 4-0 to turn the tie around after conceding a deficit of 3 goals in the first leg. And Arsenal's 2-1 win over the Premier League champions, Liverpool was as unlikely if not more than Roma's win over Barcelona. It was the "Greek God" Kostas Manolas who proved to be the match-winner for Roma that night and it was "English Kid" Reiss Nelson who sealed the match for Arsenal yesterday. It was one of the most unlikely nights that Premier League has witnessed in recent times as the dominant force of Jurgen Klopp's men was facing the sheepish might of Mikel Arteta's red and whites and who would have thought that the Sheep would outdo the German's tricky reds.
The expectations of Arsenal fans could have been judged by the fact that many of them were not only confined but also satisfied by just a spirited performance by their team irrespective of the result, which says a lot about the current state of affairs at the football club. And their expectations were dampened even further by Mikel Arteta's decision to rest regular first-team starters like Pierre Emerick Aubameyang, Hector Bellerin, Dani Ceballos and Shkodran Mustafi and going with a rather weakened team with Reiss Nelson, Cedric Soares and Lucas Torreira all starting.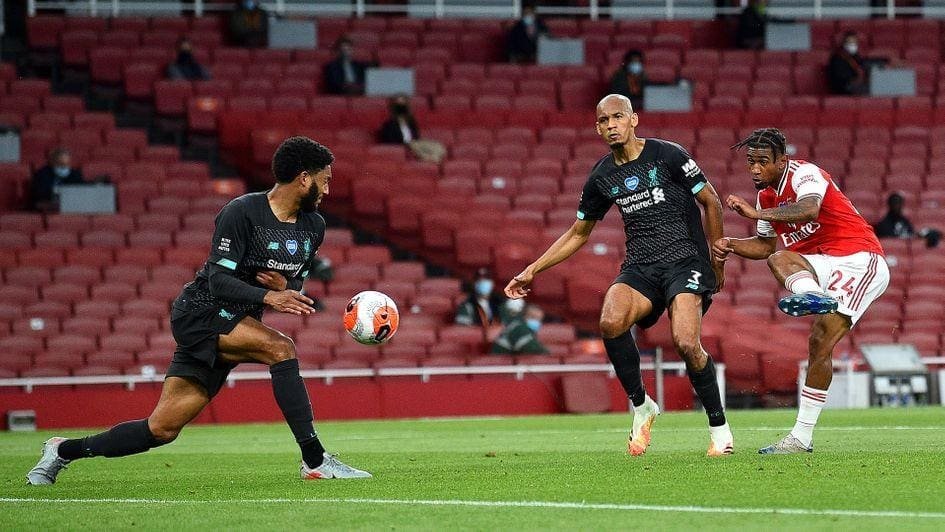 Arsenal went in with their tried and tested formation of 3-4-3 with Emi Martinez guarding the goal post, Kieran Tierney, David Luiz and Rob Holding completing a new-look back three with Shkodran Mustafi and Sead Kolasinac both dropping out. Cedric Soares got the nod ahead of Hector Bellerin and Ainsley Maitland Niles at right wing-back. With Kieran Tierney shifting into the backline, it was Bukayo Saka who was asked to fill in as left wing-back. Arsenal persisted with the tactics of playing double pivot in the midfield, however, it was Lucas Torreira who was partnering Granit Xhaka instead of Dani Ceballos with the Argentine seen as a more defensively competent player than the Spaniard.
The front line was the surprise package from Mikel Arteta as he rested his captain, Arsenal's leading goalscorer and arguably their best player in Pierre Emerick Aubameyang. While this decision came as a shock to many Arsenal fans, it was still a decision which made sense as the Gabon international has played each and every game for Arsenal since the restart and with an important match near the horizon against Manchester City, it was only justified to rest one of the important players. Alexandre Lacazette took the armband from his strike partner as he started as the centre forward with Nicolas Pepe and Reiss Nelson on the wings.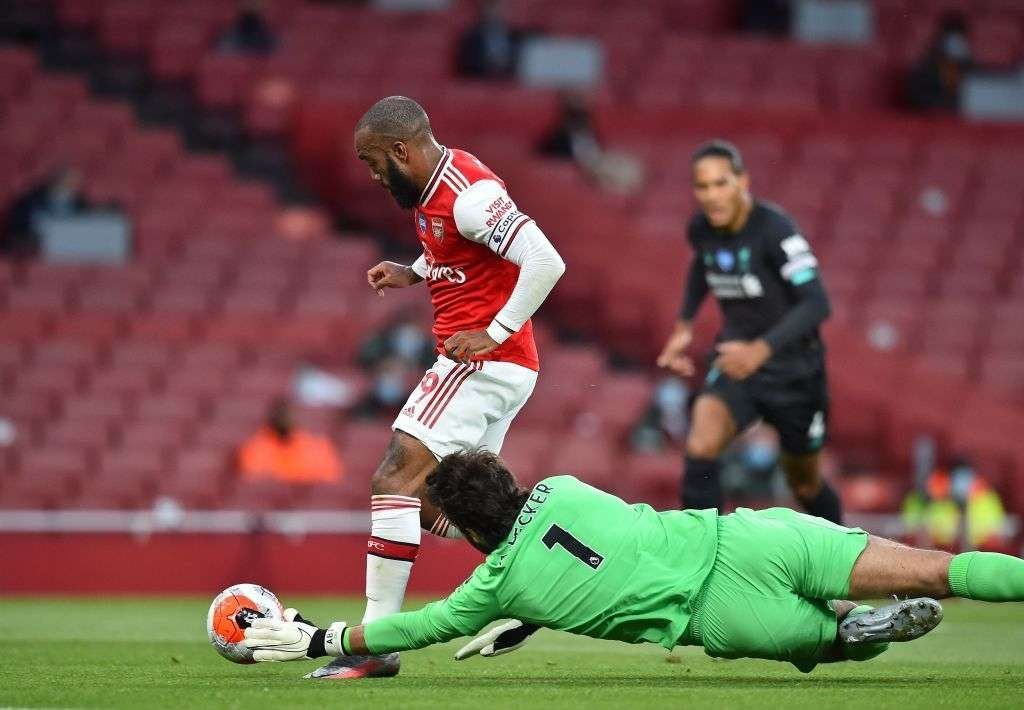 With Nicolas Pepe and Reiss Nelson both starting, Mikel Arteta had two right-wingers on the pitch and as has been the precedence, the junior was expected to make way for the senior man in his natural position. However, it was Nicolas Pepe who started on the right-wing and it was an interesting move to have a left-footed player on the left-wing which would have allowed him to play more as a typical winger then inside forward. However, it wasn't to be as he continued to play in the half-spaces rather than hugging the touchline and was getting barred from Liverpool players from all sides and couldn't really ever use his space to the deadly effect that he is capable of. Having said that, it would very well have not been his fault and the reason lies in the formation that Arsenal were playing.
On paper it was 3-4-3, however, it was more 3-4-1-2 in possession with Alexandre Lacazette dropping deep time and again and playing more as a "False 9" than an out and out centre forward. Which meant that Nicolas Pepe and Reiss Nelson were Arsenal's only two outlets when they were in possession and they had to be more centrally involved to create passing lanes between the line or they would have been easily isolated on the wings. Arsenal tried to take advantage of Liverpool's high pressing game, which demanded them to play with a high backline, by playing long balls behind the Liverpool defenders trying to find their wingers who were stationed at the shoulder of Liverpool's defensive line. This tactic was rather effective or was structured more around Nelson as Pepe was used more as a target man whose job was to be an outlet that Arsenal could play out to. Reiss Nelson, on the other hand, was allowed the freedom to stay as close to Liverpool's defensive line as he could and then try to use his pace to get behind them and create goal-scoring opportunities. 
It is not a phrase that you usually associate with Arsenal but the Gunners showed some real steel to hold onto to an emphatic win. And the fact that they did so with a certain David Luiz in their defence, a player renowned for his error-prone defending, is not only surprising but also commendable. David Luiz's role is to be the leader in that back-line who can marshal his troops, especially when it comes to playing out from the back. ANd lead the line brilliantly for Aesenal, he did have a role to play in Liverpool's opening goal although it was more Granit Xhaka's error than his. His partners in crime at the defence were Rob Holding and Kieran Tierney, both of whom showed commendable resilience and strength to hold off one of Europe's most lethal attacks. Tierney, in particular, was tasked to mark Mohamed Salah and it won't be an overstatement to claim that he shut down the Egyptian maestro completely. Salah's presence was almost made ineffective by the Scottish international, to an extent that Salah had to adjust his positioning shift into more central areas and even then he couldn't make an impact before being substituted for Divock Origi.
Rob Holding had another solid game and the former Bolton man looks ever so close to his former self every time he plays. While he was not able to shut down Sadio Mane in a similar way as Tierney could, however, that was down to the fact that the Senegalese star's movement was far more tricky than Salah and hence why Mane was far more effective than the former Chelsea star. Aside from the goal that Mane scored, which Holding wasn't at fault for, he was able to dilute Liverpool's primary threat. While Arsenal paid the price for sitting back by conceding a total of 24 shots from Liverpool. However, Liverpool's eventual downfall was brought by the lack of clear cut chances that they made, which accounted for just three. This was not just a major letdown by Liverpool but also one of the biggest improvements that Arsenal have shown under Arteta as they were able to maintain their shape even under severe pressure from Liverpool.
Not many Arsenal fans would be proud of the fact that this was a typical Jose Mourinho performance by Arsenal, however, they won't mind the result that it produced. Arsenal sat back, soaked the pressure and then capitalized on Liverpool's mistakes. Exactly what Jose Mourinho's Tottenham Hotspurs did to them. This win might not be enough to qualify them for European football, but last night, Arsenal football club rose from its ruins to demolish one of the primer teams of Europe.