As the Premier League nears a one-month break, Manchester City are set to hire a new set-piece analyst in order to improve their performance in dead ball situations. The City hierarchy has chosen Brentford's Jack Wilson, who will begin his tenure in Manchester after the FIFA World Cup. From the top tier of club management to several performance analysts, specialists have become a crucial part of football clubs to gain an edge over their competitors.
One of Pep Guardiola's coaching staff – Carlos Vicens was assigned the set piece duty last year, but the club has poached Jack Wilson, who is considered one of the best in the business. Vicens was Man City's under-18 coach and his success saw him promoted to the first team under Pep Guardiola just last season. He will continue his role alongside the newly hired set piece analyst. Before his stint at Brentford, Wilson previously worked as a performance analyst and set piece coach at clubs like Hearts and Dundee United as well as the Northern Ireland international team.
#ManCity have secured the services of highly-regarded Brentford analyst Jack Wilson for a role focusing on set pieces. Wilson is due to begin work in Manchester during the World Cup break.

[via @David_Ornstein]

— City Xtra (@City_Xtra) November 7, 2022
While the Blues have an excellent record from set pieces in recent years, their performance in this area has relatively dipped this campaign. So, the appointment makes sense, as Pep Guardiola's side will look to retain the prestigious Premier League title once again. Brentford's set piece routines are successful and certainly eye-catching, to say the least, and this article looks at what Wilson can bring to Manchester City to propel them further.
Brentford's numbers under Jack Wilson
After the takeover by Matthew Benham, Brentford have become the pioneer in improving performance levels through data analysis, and their focus on little details to gain an advantage are second to none. Nicholas Jover made his name as one of the best set-piece coaches at Brentford and he is currently weaving his magic at Arsenal.
The Gunners have vastly improved in dead-ball situations. As a result, they have unquestionably become one of the Premier League's best at set pieces, with Gabriel scoring a winner against Chelsea from a corner just last week. Interestingly, Wilson's career path mirrors Jover. The latter also moved from Brentford to Manchester City back in 2019 and he significantly improved the team's set-piece routines.
Last season, Brentford's corners, and more importantly their improvised throw-ins created havoc for their opponents. Wilson's work was evident right from Brentford's first Premier League game against Arsenal, where Christian Norgaard scored the second goal from a long throw. During the last campaign, the Bees had 88 shots from corners, only bettered by Manchester City, Liverpool, Chelsea, and Arsenal. They only scored seven goals from corners, but their xG (Expected Goals) was at 9.43, with only 4 teams performing better than Brentford's tally (Man City, Liverpool, Southampton, and Burnley)
As mentioned above, their throw-in routines have been excellent and, as a result, they scored six goals last season from set-pieces (long-range free-kicks and throw-ins). Manchester City were the only team in the league with a better record with seven to their name. Out of their 48 goals, 13 were from set pieces and corners, and 19 goals inside the six-yard box. Although there has been a drop in numbers this season, Brentford still look threatening from dead ball situations and their fresh improvised routines have bamboozled some opponents as well.
Set piece routines
What better way to start than looking at Brentford's interesting, rather nerdy routine against Manchester United. Thomas Frank's side, of course, thumped United by four goals without reply and Ben Mee scored the third one via a corner. Man United used a mixture of zonal and man marking. As Mbuemo placed the ball near the corner flag, Brentford lined up eight players in the 18-yard-box, before splitting quickly, therefore creating a corner of uncertainty for Manchester United.
Three players were positioned on the edge of the box, while two moved to the six-yard box, where United used zonal marking. Ivan Toney was joined by the two center halves, as Christian Eriksen marked the striker.
Toney saw the opportunity and spun around Eriksen to the far post, while the two center-backs positioned themselves in a chaotic six-yard box. Mbumeo delivered the ball to the far post and Toney got the better of his marker before teeing up Ben Mee in the six-yard box. Brentford clearly targeted the penalty area by using their tall and physical center-backs, as David de Gea is not the best at claiming crosses.
Against Wolves last season, their free-kick routine led to Ivan Toney's equalizer. All of Brentford's center halves and Toney did not look to occupy different zones, but instead cramped in the far post, which created overloads.
The plan was to create space for Toney, and it worked to perfection. The center-backs were quick to block the Wolves players in the box as the ball found Toney in acres of space and he scored a stunning volley.
Wolves were deceived by Brentford's dead ball situations this season as well. This time, it seemed like Toney was not willing to take part in the play and rather moving into the box. Meanwhile, Wolves used a mixture of zonal and man marking approach while Brentford had five players in the box.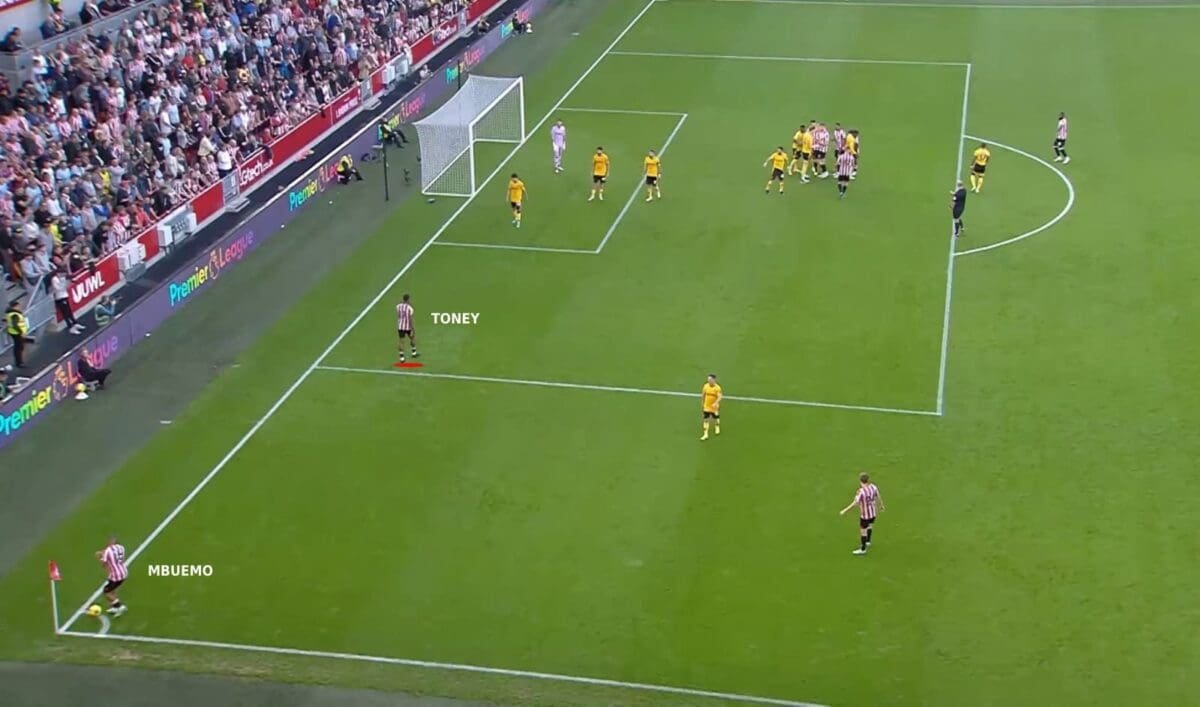 Toney, however, quickly turns and plays a short pass to Mikel Damsgaard behind. Also notice the movement in the box as two players drift outside to the edge of the box, while the three center-backs are busy looking to attack the six-yard-box.
As a result of Toney dropping in, there is a 3v2 overload in the wide areas. Two center-backs in the box are busy occupying the Wolves defenders, while the other one positions himself in the far post. Mbuemo eventually plays the ball and Ben Mee scores an excellent volley.
Brentford are also extremely adept at winning second balls during set-piece situations and use it to their advantage. Contrary to the practice of defenders moving back to their positions after a failed set piece, Brentford's center-backs stay in the box to pounce on their opponents' back line getting caught after winning the first ball. The below passage of play last season against Watford serves as a great example.
Their approach to dead ball situations also varies according to different opponents. Sometimes, they deliver a near post cross and try to get a flick on to the far post, while at other times, they directly target Ivan Toney, who is usually positioned at the far post.
When compared to Brentford, Manchester City's degree in terms of depending on set pieces is less, but Wilson's work on different routines and areas to target a particular team will certainly benefit them. Although the blues have scored five goals from corners, they are yet to score from set pieces, which was unquestinably an important aspect of their game during both their title victories in the last two seasons. Wilson will look to implement certain routines and we wouldn't be surprised if Pep Guardiola's side look threatening from dead-ball situations after the World Cup.