It is a rare occurrence, but sometimes outfield players have to go above and beyond the call of duty, and take their place between the sticks.
The latest round of Champions League action saw Manchester City's Kyle Walker add his name to the litany of players in that select group, and he took his opportunity with aplomb, immediately saving a free kick against one of Serie A's fastest-growing and most attack-minded clubs.
Such a flashpoint usually comes after a calamitous moment, when a goalkeeper is sent off or injured – which is rare enough in itself. Here we look at five other infamous examples of heroics between the sticks from outfielders.
John Terry
If there is one man who epitomised Chelsea at their absolute best under Jose Mourinho, it is John Terry. He was the anchor behind the Blues' record tally of just 15 goals conceded throughout 2004/05, but in October 2006, just 18 months after receiving his first Premier League winner's medal, Terry became an impromptu goalkeeper.
There is, of course, nothing remotely funny about the circumstances which put him between the sticks. Firstly, Chelsea's chief custodian Petr Cech was stretchered off with a potentially life-threatening head injury, and ever since recovering, he has been medically required to wear a scrum cap.
Just minutes before the final whistle, substitute goalkeeper Carlo Cudicini collided with Reading defender Ibrahima Sonko and was knocked unconscious. With the substitutes all used, and no reserve goalkeeper remaining, Terry was Mourinho's pick. He had nothing to do in the time remaining, and his defence ensured that he would not be called into action, as the then-champions held out to win 1-0.
Rio Ferdinand
England boasted some excellent defensive talents in the 2000s, and though John Terry was the definitive defensive don in the middle of that decade, the late 2000s unquestionably belonged to Manchester United's Rio Ferdinand. In 2008, his jubilation after being on the winning side of a Champions League final penalty shootout contrasted greatly to Terry's infamous tears, but said shootout would have brought back memories of conceding a penalty as a goalkeeper just months earlier.
The opposition in question was Portsmouth, and the venom-footed Sulley Muntari, with Rio Ferdinand facing a penalty after the injured Edwin van der Sar's replacement Tomasz Kuszczak had fouled Milan Baros in the area. As the last man, Kuszczak was under a mandate to be sent off, and Ferdinand was tasked with stopping Portsmouth from taking the lead.
Ferdinand guessed correctly, but had no earthly chance of stopping Muntari's blast into Ferdinand's bottom left-hand corner. 1-0 was how it stayed in that FA Cup quarter-final, and Portsmouth famously went on to lift the FA Cup that year. Had Ferdinand saved the penalty, the Red Devils may well have gone on to emulate their 'treble' of 1999 – but thanks to Kuszczak's earlier blundering, it was not to be.
Jan Koller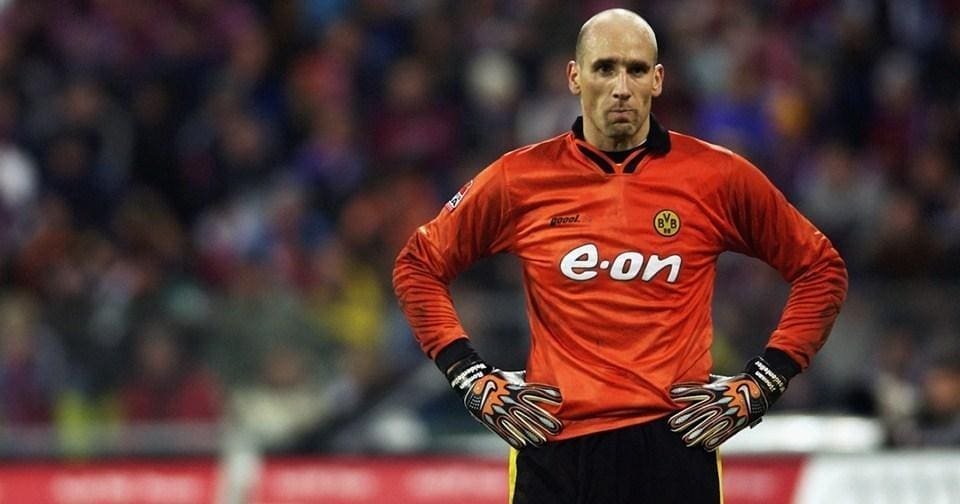 At 6'7, Czech colossus Jan Koller dwarfs even some of history's most successful goalkeepers. He earned his impromptu goalkeeping gig based on size alone, and it came in November 2002, during a ferociously-fought Klassiker between Bayern Munich and Borussia Dortmund.
Before the incident that led to his deployment, Koller had given Dortmund the lead, but shortly after the hour mark 'Die Roten' turned it around completely. Suitably narked, defender Torsten Frings and original Dortmund goalkeeper Jens Lehmann were sent off for foul play and dissent respectively, giving Koller his big moment.
Koller's performance was a goalkeeping masterclass for the ages, and his addition to the Kicker magazine's 'player of the week' feature (as a goalkeeper) was as surreal as it was deserved.
However, nothing can best the simple fact that he is, perhaps, the only player this century across Europe's top leagues to have ever scored a goal as an outfielder, and then kept a personal clean sheet for the remainder of the match.
Steve Staunton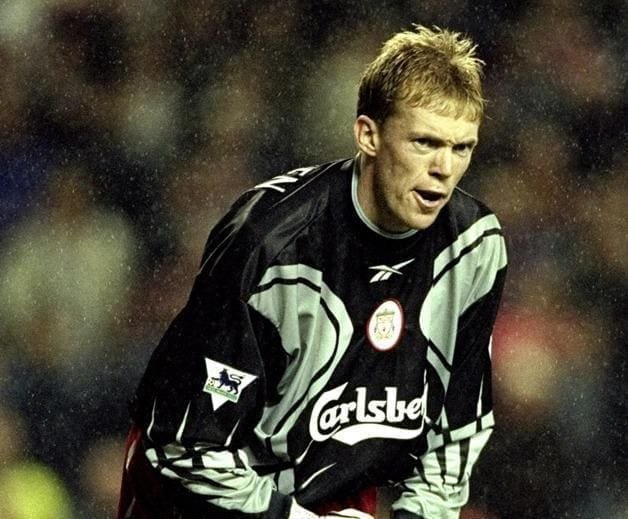 Today, the most exciting football betting prices surround Liverpool and their very real chances of a Champions League and Premier League double. Two decades ago though, it was all very different, as Liverpool's dreadful start to 1999/00 reached a new nadir, with a home defeat to Everton live on Sky.
Anfield has seldom been a happy hunting ground for Everton in Merseyside derbies. September 1999 remains the last time any Toffees side took full points from the venue, and February 1986 is the last occasion on which they won a league encounter at Anfield by a margin of two or more goals.
The latter record looked ripe for breaking during the former undertaking, when Liverpool goalkeeper Sander Westerveld duked it out with Everton striker Francis Jeffers after a heated exchange.
Both men walked, but with Everton already leading 1-0 thanks to Kevin Campbell's earlier strike, it seemed like a much more telling blow for the Reds, as veteran defender Steve Staunton went in goal. Like most Merseyside derbies, the remainder of the match was but a war of attrition, but Staunton repelled some purposeful Everton attacks nonetheless.
Though Liverpool went on to lose with the scoreline unchanged, the Irishman was one of few very Reds who could leave the field with his head high after the final whistle.
Vinnie Jones
Vinnie Jones is an example of just how much nominating the wrong replacement goalkeeper from outfield can cause distress. If there are any mitigating circumstances to his side's 6-1 drubbing on that day, it came against a Newcastle side that was destroying all in its wake, en-route to a yuletide lead in double figures.
In the 55th minute, Newcastle were already 3-0 up and coasting thanks to an opener from Steve Howey and a brace from the irrepressible Les Ferdinand. A foul on Ferdinand saw Wimbledon keeper Paul Heald receive a second booking, and with no substitute goalkeeper to hand, Jones was Joe Kinnear's pick for the sticks.
Sticks quickly became 'styx', with Jones' hellish half of goalkeeping seeing Lee Clark score within four minutes of Heald's dismissal. Though Marcus Gayle pulled back a goal straight away, all hopes of a fightback quickly went down the river, with Ferdinand completing his hat trick just three minutes later.
Though Newcastle's self-assurance of victory – and subsequent relaxation – was a likely factor, Jones grew into his new role, but Philippe Albert scored seven minutes from time to complete the rout.