It was an enthralling display at The Etihad, as both teams for Manchester tried their level best to clinch the win in the 179th derby. The match was of high relevance not only for the two teams, due to their domestic rivalry, but also for the two managers, as Pep Guardiola hoped to win their 3rd successive league title; and Ole keeps his managerial hopes alive and continue his unbeaten streak versus the top 6.
It was Ole's red army who emerged victorious and won the battle, 2-1. It was a fantastic display, well contested with both teams looking strong going forward and the midfield working tirelessly with City's army, more attacking, but United's defensive midfield neutralizing the threat.
Manchester United started the match on the front foot and from the 4th minute onwards, till the second half, it was all United. The attacking quartet of United, composed of Rashford, Martial, James and Lingard linked up perfectly with amazing long passes along the ground to find each other in space. They managed to pass the midfield with ease and City's midfield trio of Rodri, David Silva and Kevin de Bruyne often caught further upfield.
The centre back pairing was a makeshift one, with John Stones's inconsistent performances and Fernandinho playing out of position. United were able to make scintillating runs in and around the Manchester City and managed to get 7 shots on target, as compared to City's 5. Manchester City were also able to attack with beautifully placed passes through the midfield and, which found both wingers on either side, Sterling and Bernado Silva.
However, the final piece was missing with United's tight compact defence neautralizing any threat from them. Both wingers were nullified with their crosses blocked by Luke Shaw and Aaron Wan Bissaka and if any crosses did reach in front of goal, it was immediately dealt with Lindelof and Maguire.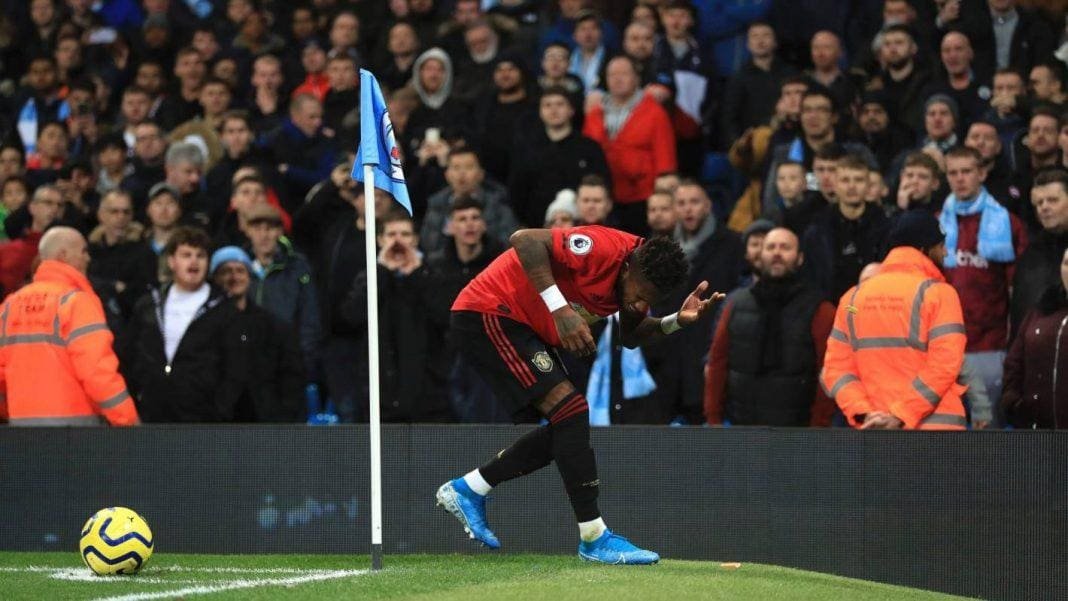 Martial and Rashford continued their attacking display with both having a combined 6 shots and 3 on target, two of which were goals, which Rashford converted from the penalty spot in the 23rd minute and Martial's strike into Ederson lower left corner. Dan James and Lingard too had great games with both having a combined 4 shots with all on target.
Daniel James made threatening runs throughout the match and got one assist for it, along with 4 chance creations. They both made a total of 15 passes into the final third to feed Martial and Rashford.
Manchester City held a mind boggling 72% of possession, made 660 passes with 89% accuracy rate and had 16 corners in the game. However, the defence of Manchester United was so strong, they couldn't get goals to their name. Wan Bissaka made 5 tackles out of the 5 attempted, won 7 duels and made 2 interceptions and his full back comrade, Shaw, won 5 duels, with 2 in the air and made 2 interceptions. Maguire made 1 tackle and won 7 duels with 2 in the air along with 3 interceptions and Lindelof made Lindelof made 2 tackles and won 7 duels with 2 in the air. McTominay had a good defensive game with ne tackle, 17 duels won, with 4 in the air with 3 interceptions.
Manchester United legend Roy Keane who supposedly visited Old Trafford to fire up the squad said it was a proper Manchester United performance and said it wasn't only counter-attacking football, but also pin point passes between the United quartet. Ole Gunnar Solskjaer was absolutely delighted with the performance and said that they had painted the city red. He was full of praise for his team, saying they absolutely deserved it. Sir Alex Ferguson, United's legendary manager was seen beaming in the stands at half time and at full time he couldn't stop smiling when Ole clapped towards him in the stands.
Ole should make it his goal to knock Manchester City off its f*****g perch, a sentence which United fans cherished when SAF said the same about Liverpool.
Overall it was a wonderful match with both teams trying their level best, but one who inched slightly ahead were the Reds of Manchester. They conceded a goal off Otamendi's header, but that will trouble them minutely as at the moment they are cherishing the win against their 'noisy neighbours' as they aim for a top 4 finish.